Hey guys! Presenting to you our latest update, Teamie Cinnamon! As you know cinnamon is healthy for you, and so are we 😉
Let's sum up the talking points first!
Emoji support for both web and mobile platform
User Expiry as an optional feature
Quiz taking enhancements
Transcoding of existing video submissions
Excluding offline tests from Sidebar Mini Stats Count
Let's do some digging now.
Emojis support for both web and mobile platform
Teamie is now more social than before! Now you can leverage the much-awaited emoji support and create eye-catching content that stands out.
Currently, you can paste emojis in your content on Teamie's web platform. In coming releases, we will enhance this feature to attain auto conversion of the emojis. So stay tuned and stay upbeat 🙂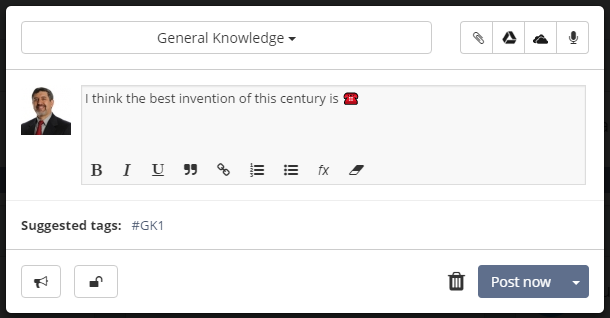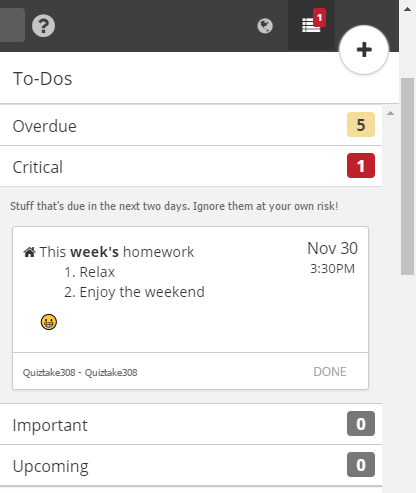 Emojis garner quite a fan club as they communicate quickly, effortlessly and across language barriers. We at Teamie believe in being social and mobile, and therefore would like to add a little more social element to the mobile as well 😉 (see what we just did with an emoji!). You will be able to view and use emojis while creating posts, comments or replies through the Teamie mobile apps as well.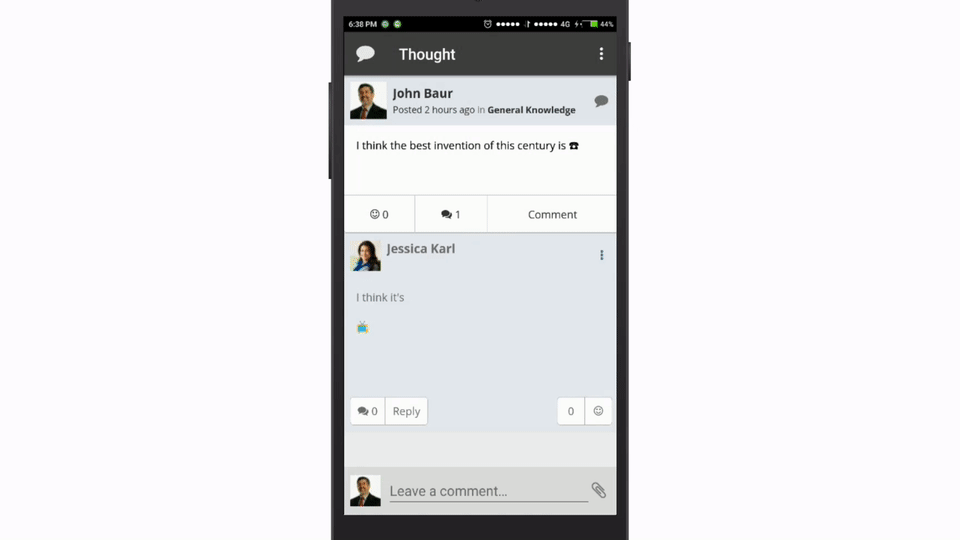 User Expiry as an optional feature
User expiration feature enables administrators to set expiry dates for users on their site. On the selected expiry date, the user will get automatically blocked at 12 AM.
This will be especially useful for the administrators who find it cumbersome to manage users on their sites and update their status from active to blocked. This way they don't have to be on the lookout for any users whose memberships are supposed to be over. Therefore, avoiding any overage charges for those accounts. This is one ground rule of keeping clients happy; bill them fairly 🙂
We have set this as an optional feature and you can enable / disable this feature anytime you feel like.
Just access the Manage Optional Features page from the Dash sidebar.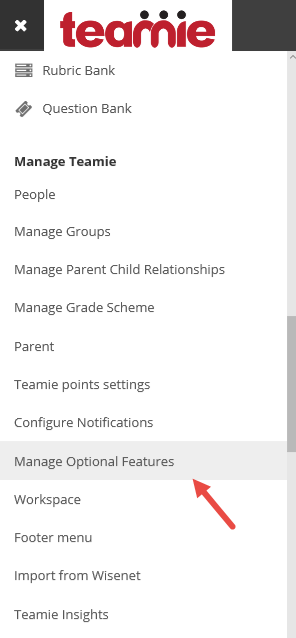 And enable / disable the feature from our user-friendly interface.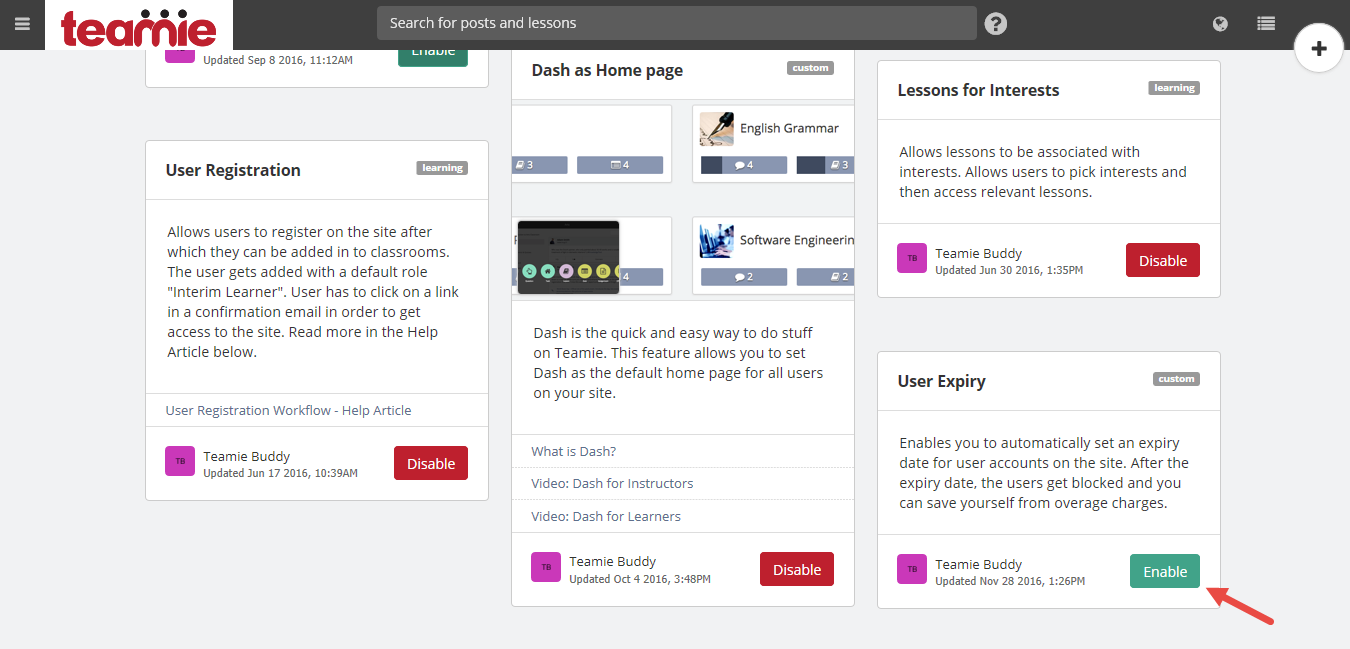 Once you have enabled the feature, then you can edit any user's profile (remember in the last release how we made it even easier for you to edit user profiles) to set the expiration date for his / her account after which they will be blocked from the site level and and will not be considered for any further billing.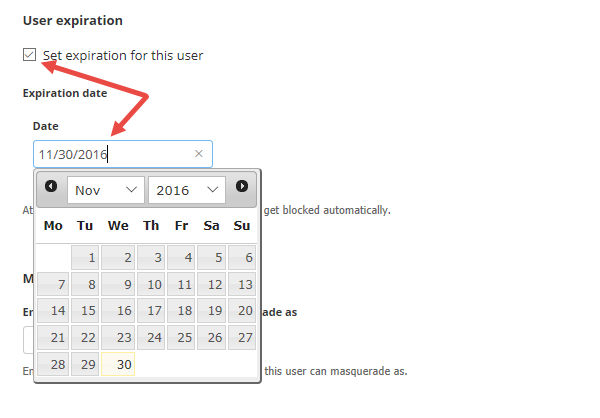 In case you wish to set the expiry dates in bulk, then don't sweat it, we have the right solution for you. Just go to the Manage People page, select the required users (apply our nifty filters to get the right set of users). Set the date you want for the selected user accounts to expire. Execute and relax, you deserve it!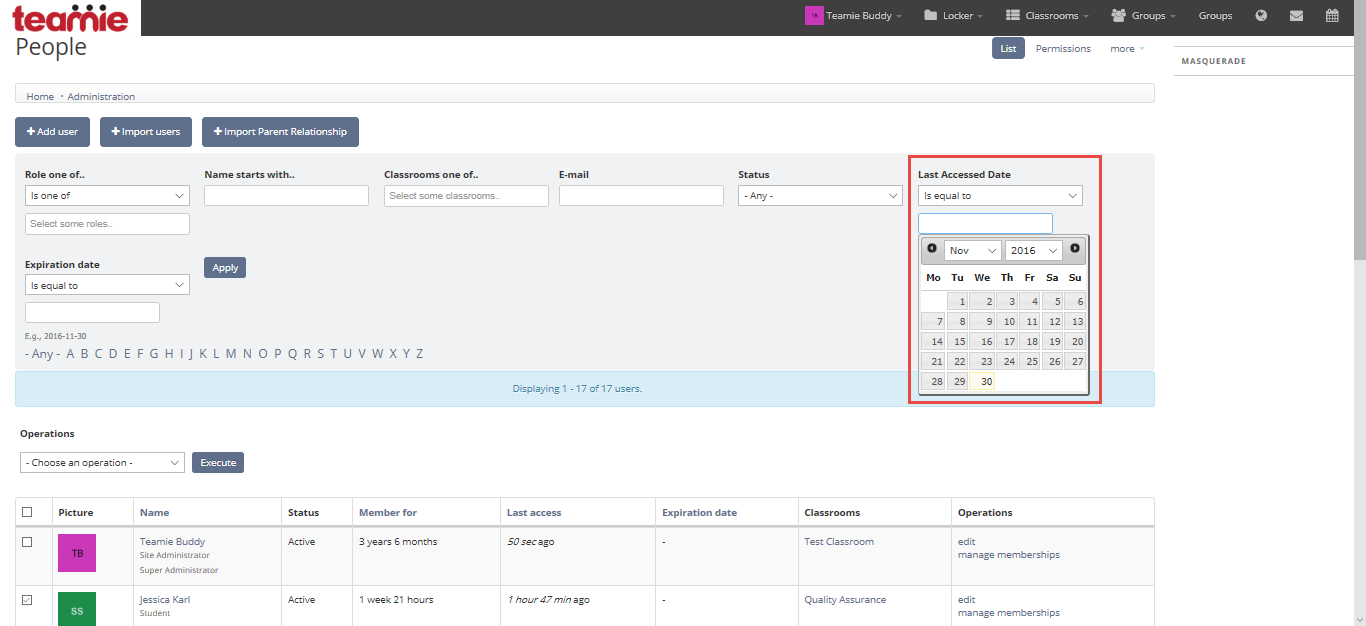 The selected user accounts will be blocked at 12 AM on the selected date. So that's all that needs to be done. So sit back, sip on your favorite mocaccino and pat our backs! Don't we deserve it?
Quiz Enhancements
A couple of releases back we introduced the quiz taking workflow in Dash for learners. We have made some important enhancements to it in order to achieve greater efficiency and consistency.
While taking quizzes with group submissions enabled, learners will be able to see a list of their group members along with the group name. Other quiz related information will also be presented to the group members, such as, the number of attempts made till then and which member of the group made the latest attempt.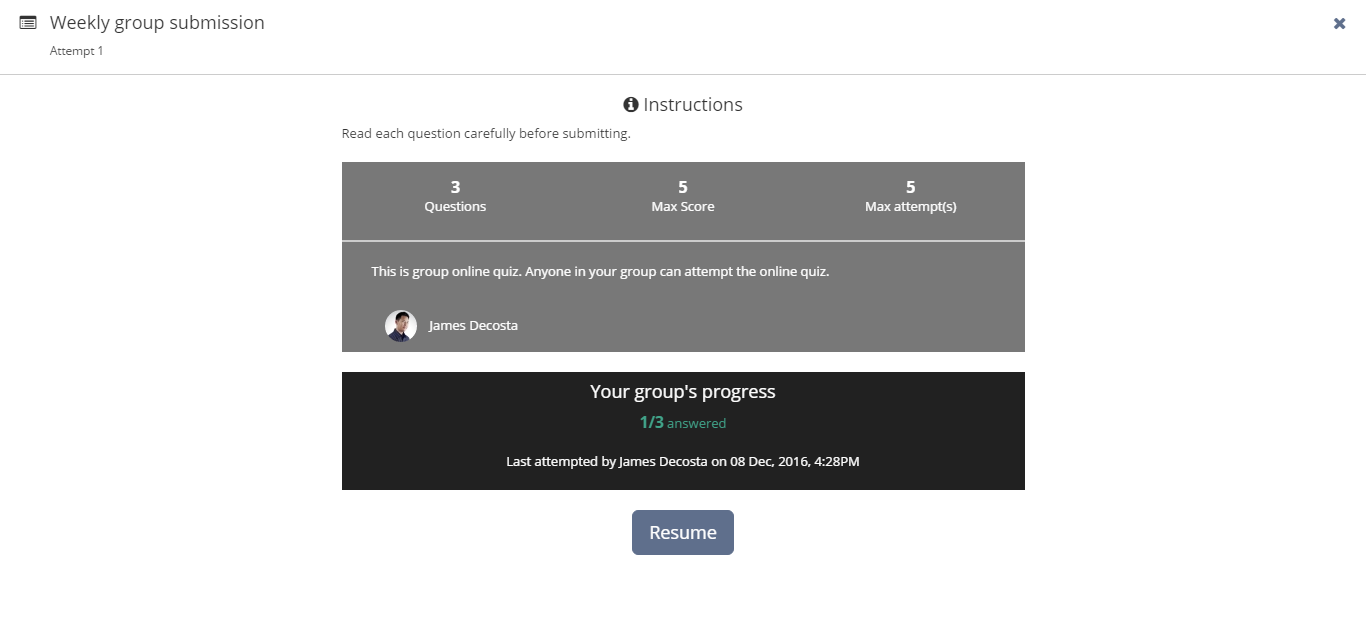 Instructors who are very meticulous and want to preview their quiz before making it available to the learners can now do that easily. All they need to do is click the "Preview" link on the quiz edit page.This will take them to our new quiz taking interface.
The quiz taking interface will mimic the conditions when learners take the quiz (including the timed quizzes). This will help instructors see the picture from the learner's point of view. This way instructors can create an even better learning and quiz taking environment for learners.

Minor Enhancements
A couple of minor enhancements that we would like to draw your attention to are as follows.
Transcoding Existing Video Submissions
In the last release, we took up the challenge of transcoding video submissions made to assessments. However, video submissions made before the last release were not transcoded.
So keeping this in mind we decided to work on transcoding existing video submissions too. So, all the video submissions made to any active classroom assignments will get transcoded after this release and you will be able to playback the video submissions within the browser itself 🙂
Do note that this transcoding process will only be carried out for the video submissions in active classrooms. Furthermore, if an archived classroom is made active then its video submissions won't get auto-transcoded.
Excluding Offline Test from Sidebar Mini Stats Count
We have decided to exclude offline tests stats from the sidebar mini stats count. The main purpose of these stats was to help learners keep track of the progress they are making in their classrooms. But the purpose kind of felt defeated.
In sidebar mini stats, offline tests were automatically considered as completed since only their scores are recorded on Teamie. This can lead to confusion; one such scenario being that of a newly added learner. Since a newly added learner, with offline tests in his classrooms, can see completion status without making any submissions.
So, we decided it is better to let go of offline tests in sidebar mini stats.
That's it for this release. Do write to us at support@theteamie.com in case you feel we could have done things differently, or just to show your appreciation. It means a lot to us 🙂