We are back with a new Teamie release 1.19 (didn't we say "We will be back!"?). In this release, we take a step forward in order to cover the three very important aspects of Teamie – what you wish, what we wish and what all of us wish! You wanted to be more aware of what is happening on the platform; we give you the 'Activity Stream'. Activity stream will be your go-to place for tracking any important activities happening in your classrooms (Yeah! We are making Teamie a more "happening" place, pun intended).
Now, let's talk about what we wanted! We wanted to build our product to serve your needs in a better, efficient and awesome manner. We wanted to keep you updated, without the hassle of multiple related notifications. That's why we created a more intuitive notification system; what we call clubbed notifications.
Coming to what all of us wanted! A revamped lesson interface. Yes, it's here and you will love it. It was high time the lesson creation became more powerful and snappier; we give you the all new "Lesson Interface". The ease of creating and managing lessons will amaze you. If you have been using the Stories add-on, you will definitely notice the uncanny resemblance.
And it doesn't end there!! We have more for you. Read on, to know what we are talking about.
Clubbing Related Notifications
Notifications are a great way to keep people updated. But, sometimes the flooding of related notifications can demotivate people, from checking their notifications regularly. This was determined by a recent analysis that our team did. We noticed that many Teamie users are not checking their notifications and that the huge number of notifications is the key culprit.
To elaborate, let's take an example. Stuart is a learner and gets 10 different notifications when his single post is liked 10 times, due to which he has lost motivation to regularly check his notifications list. Teamie now clubs related notifications and keeps the bulletin board uncluttered. So, from now onwards when Stuart gets 10 likes on his post, then he will receive only a single notification saying "Adam, Eve and 8 others like your post."
Similarly Rene, who's an instructor will get only one notification for all student submissions made to her assessment (Tom, Harry and 15 others made a new submission to the Online quiz Cinematography). Yes Rene, we heard the pleas of instructors like you! We always strive to make your life easier, and this brings us one step closer to achieving that goal.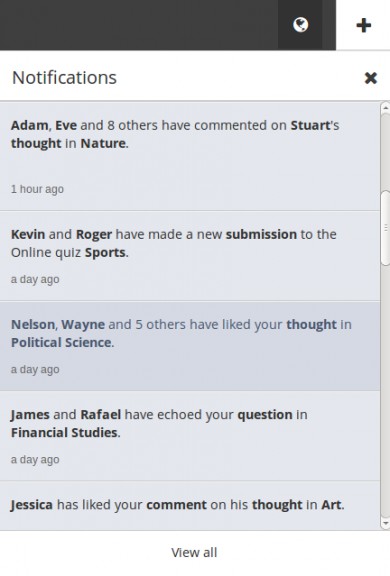 Activity Stream
The aim of Activity Stream is to make our learning platform more transparent. It will serve as a gateway for you to know which user performed what action at what time in your classroom. So, now you don't have to keep wondering which action led to the problem that you might be facing.
As an instructor or administrator, you can see when a learner in your classroom finished reading a lesson, or any user deleted his post, or someone replied to a post, and various other scenarios which will help keep you in loop with what's happening in a classroom. As they say, "Knowledge is power, information is liberating".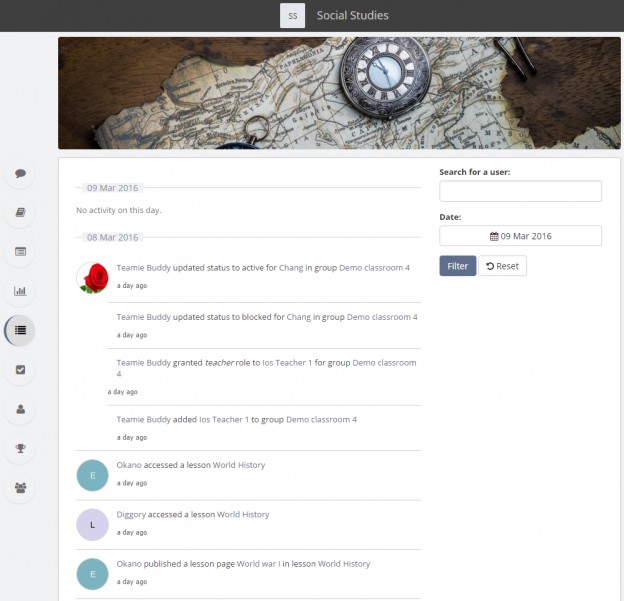 To access the ActivityStream of your classroom head to your classroom Dashboard in Dash and click on the "Activity Stream" tab. Currently, Activity Stream is only accessible to instructors and administrators.
New Lesson Interface
We have completely revamped the look and feel of lesson creation, and all for good. We present to you the "New Lesson Interface". It's simpler, easier to create and looks amazing.
Check out this video first!
When we migrated the lesson creation interface from our current UI to Dash, we didn't want to blindly redo what we had done in our current interface. We wanted to refine and enhance the interface, based on all the feedback we had received thus far. And that's exactly what we've done.
You can view the lesson list in the both card view and list view. Decide the order of lessons in your classroom; you can even add a new lesson at the top or bottom of the lesson list or in between any two lessons, as you wish!
The Lesson creation workflow is now facilitated with the inclusion of the drag and drop feature. You can now simply drag and drop media to add it to the lesson page. The Reading Progress bar for each lesson will display the number of learners who have not yet started reading the lesson, who are in progress, and the number of learners who have finished reading all the lesson pages. You can also send email reminders to notify the learners who have not yet started reading the lesson or who are in progress. Reading progress can also be viewed as a well-structured donut chart in the listing view.
Instructor can easily set the date and time from which the lesson will be available to the learners along with the date and time till which the lesson will be available. The lesson can be easily shared with multiple classrooms. For instructors who wants to share their lesson with their colleagues can easily do that by sharing the lesson with the lesson bank.
A very handy feature of the new lesson interface is the auto-save feature. Whatever changes are made during the lesson creation or during editing will get auto-saved. So, you need not worry about saving your progress again and again.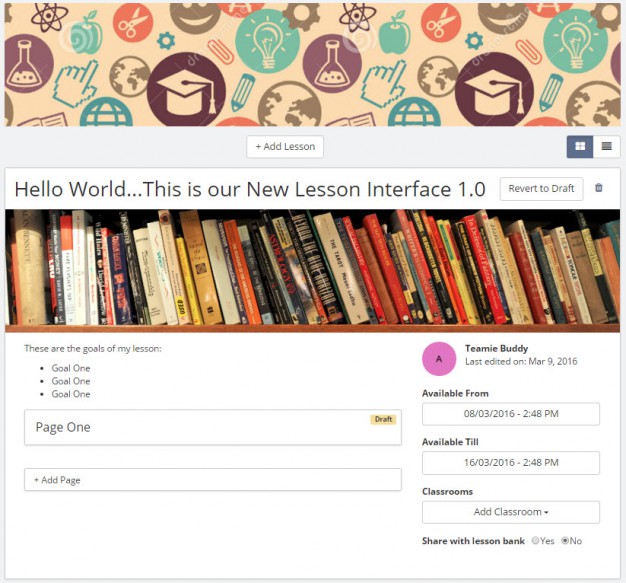 Showing fresh posts count for a classroom
Some of our early adopters of Dash mentioned that they are unable to see which classrooms have new posts.
Now you will be able to view the number of new posts in a classroom on your Dash homepage! This will also be shown in the sidebar. The counter will disappear once you visit that classroom.


Download your Stories
As a learner, I put in my blood and sweat to create an awesome story. What happens after that? How can I get it out of Teamie, if I wish to put it up somewhere else?
You can now download your stories for offline use. All media in your story (file, image, audio, video and document attachments) will get downloaded as a .zip file. The content of your story will be downloaded as an HTML file. This will help you keep a copy of your story along with the memories associated with it. This way you can also share your story outside of Teamie.

So, that's it for this release. We will be bringing you some exciting new features in our next release. Till then, enjoy your learning and take care 🙂