Hey everyone! How's life treating you? Hopefully great! And it's going to be better and much more relaxed with the new improved Teamie app login. What are we talking about? Let's get into the details.
Login is the gateway to any application, whether it's web-based or mobile-based. You need to first enter an arena in order to compete for a match. You need to first enter your favorite shopping destination in order to indulge your cravings (shopaholics will know what i am talking about 😉 ). Similarly, you need to first login to the Teamie app in order to use all the amazing features it offers with the tap of a finger.
We have made the process of logging into the Teamie app a lot simpler. Now, you don't have to remember the unique name of your institute to login to the Teamie app. You simply need to enter the website URL of your Teamie site on the institute selection screen.
Note: In case your Teamie site URL doesn't end with theteamie.com, then you can easily empty the text field and key in the URL from scratch.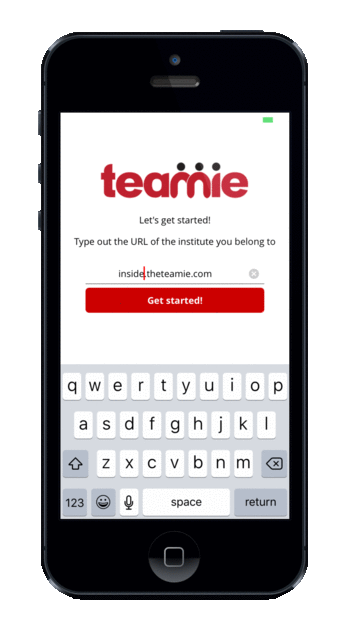 Once you have filled the URL, tap the Get started! button and you will be taken to the login page. Enter your login credentials (username/ password) or Login with Google. On successful authentication, you will be taken to your Newsfeed. Once you reach the Newsfeed, you know the avenues of social learning are now open to you. So, enjoy the mobile way of learning and make the most of it.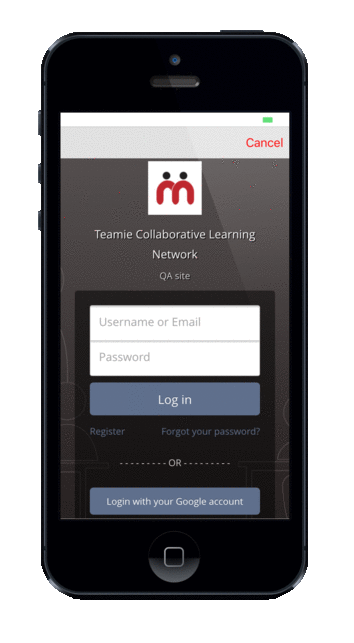 One more thing. You don't need to type in your website URL each time you logout and login again. You just need to enter the details once while logging in to the Teamie app for the first time. From the next time onwards, details will be auto-filled. Isn't that awesome!
Our thinking behind this change in the login workflow was to give Teamie users the least number of things to remember. You may already have enough on your plate even without a website URL and institute name to remember. Therefore, to make everyone's life simpler, we decided to make you remember only the URL 🙂
This update is currently available for the Teamie iOS app (Version 2.5), and will soon be available for the Android app as well.