We're back again with a feature release, and this time it is iOS. Tired of typing on your phones? Tired of scrolling? Unable to find quickly newsfeed posts you haven't seen? Then, the iOS 2.2 update is for you!
Attaching Audio to Posts
Sarah Woodman, a History Instructor, from an International School in Singapore, met Mr. Peter Lee in the MRT, while commuting to work. She didn't want to miss this opportunity to let her students know about the kind of work he does and to get a sense of curating items for a museum. She quickly grabs her iPhone from her handbag and begins to record an audio interview. And she posts it to Teamie instantly while on the MRT!
You don't have to limit yourself to speech or voice. You can use it for recording Music lessons too. Or if you're feeling lazy to type 😀 You can record up to 2 hours. And you can add multiple audio recordings to a single post.
Rich Text Attachment
Sarah Woodman likes to post many excerpts from the Internet to cite references and sources of content she shares with her students, while browsing on her PC. She copies the exact text from Wikipedia and attaches it as Rich Text in her post. With the Rich Text Attachment feature, which is now available on the Teamie app, her students can easily follow up on the references she attaches with her post.
Quickly Share Links
The Teamie app is intelligent enough to detect copied links, which you might have in your clipboard. Whenever you copy a hyperlink and open up the Teamie app, it will ask you if you want to "Share" it by attaching that link to a post. Tapping on "Share" will open up the post share screen with the link pre-attached.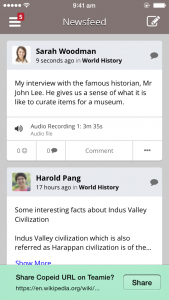 So the next time you find something interesting in any other app you use, simply copy the link. Open up the Teamie app and tap Share to share it to your classrooms.
New Posts
Did you ever miss reading a new post in the newsfeed? Now, you simply have to look out for the "new" label. It's situated in the top right corner of every post you have not seen.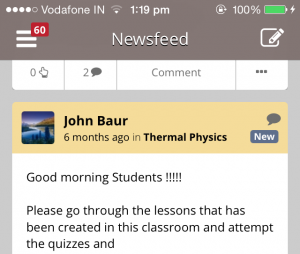 Show More/Less
Harold Pang, is a brilliant student in Sarah Woodman's classroom, who asks a lot of questions. Alas, he can't keep them short 🙂 But, Sarah doesn't have to scroll all the way down his posts anymore, as we introduce "Show More/Less". Posts having long text get collapsed automatically. Your thumbs will thank us 🙂
Next Up
Here's a sneak peek on what's coming up in the next release of the Teamie iOS App.
Pinned Posts
With the 2.3 app update, you'll be able to see pinned posts on top of your classroom newsfeeds, exactly as you'd see them on Teamie Web. Look out for posts with a "Pinned" label.
More to Come!
We hope you are enjoying the new features of our iOS App! We are dedicated to providing you with a great experience on all mobile platforms. There's more to come. We always love to hear your feedback and requests. If you have any suggestions, please drop us an email at contactus@theteamie.com
But before that, go ahead and try out the app yourself!
Happy Posting! 😉