Teamie 1.9 is out! And here's a quick overview of some of the features we've pushed out in this update.
Classroom Dashboard
One place for instructors to view progress made by learners in a classroom. One place to see how active a classroom is, with regard to posts, lessons and assessments. How often are people accessing the classroom? How has this activity varied over the past month? What progress has each learner made? These are some questions that you'd get quick answers to, by visiting the new classroom dashboard page!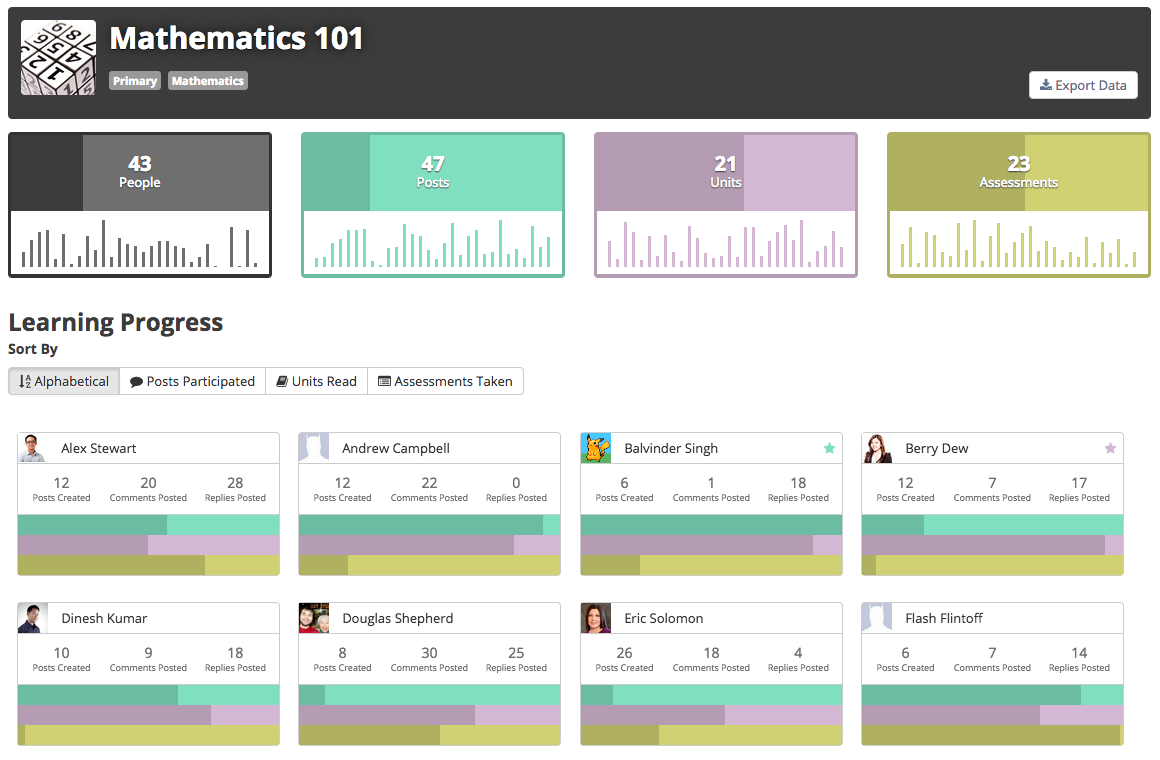 How do you access it? Head to the classroom dropdown in the navigation bar and click the new "Dashboard" icon!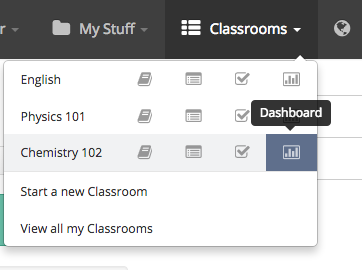 Future enhancements we're planning in this direction are:
Giving administrators the ability to view these stats across multiple classrooms (grouped together based on meta information like department, grade, level etc.)
Allowing users to filter the stats based on time (week, month, year etc.) and other parameters
Exposing the data points that Teamie tracks and providing an interface for users to create their own custom reports!
These are challenging problems we're aiming to tackle in the coming months.
Learner Gradebook view
The current gradebook view for a learner is dull and boring (a table and a bar chart that doesn't tell you much). We've redesigned it now to highlight relevant information.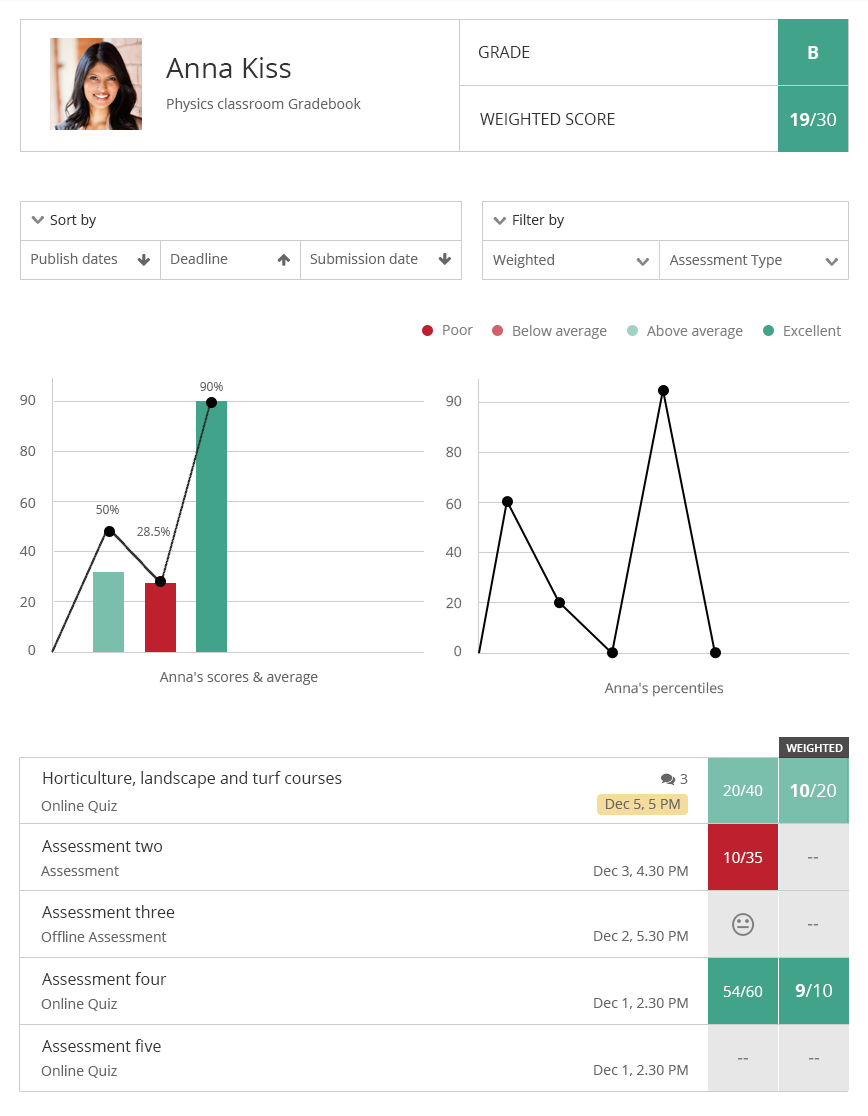 A learner can not only see his scores across all assessments in a classroom, he / she can also see how they've fared compared to the rest of the classroom. The graphs and scores are color-coded with varying shades of red and green. Darker the shade of red, more dangerous is the learner's performance. Darker the green, then the more awesome it is!
The learner can also see assessments for which he/she hasn't made a submission (represented by a double dash). And assessments for which submission has been made, but is pending grading (represented by the meh smiley).
There's also a percentile graph for the learner to know where he/she stands in comparison to the rest of the classroom.
Quiz Enhancements
Little things often matter. As an instructor, when you're editing an online quiz, there will be a new "Preview" button to quickly preview the quiz. You can close the preview and get back to editing with just a click. The "Delete" link too would now just be a click away. The last updated date and time of the quiz has also been made visible.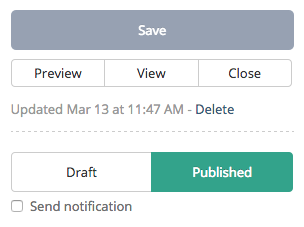 Adding options for MCQ questions has been made easier. Just press "Enter" and keep adding more options. We plan to keep refining the interface in subsequent updates too!
NOTE: These changes will kick in only if the new Quiz 2.0 interface is enabled for your site. Read the Manage Optional Features section in this article to find out how to enable it.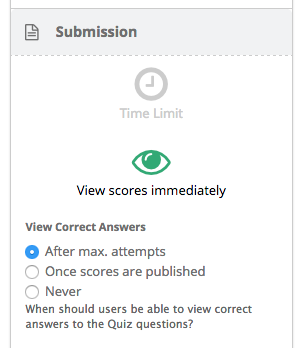 Sometimes instructors want to create an online quiz that learners can take and then view the correct answers, once they've finished taking it. Without the instructor having to go to the quiz and publishing the scores. We've addressed this painpoint with a new View Correct Answers option in the Submissions section of the online quiz edit page. This lets instructors choose when learners should get access to the right answers. Selecting "After max. attempts" will let learners see the correct answers as soon as they finish attempting it the maximum number of times. (If you're feeling protective about your questions, and do not wish to enlighten your learners with the right answers, you could also choose "Never". To never show the correct answers to the learners!)
Simpler Offline Grading
One place to edit the scores of all offline assessments in a classroom. And a quick way to add a new offline assessment!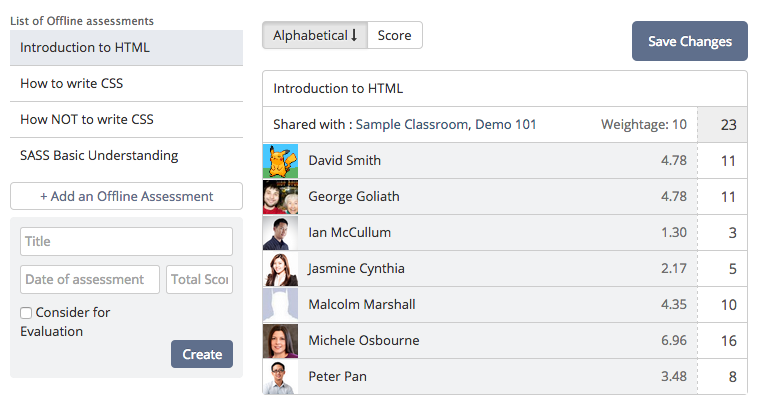 Why did we do this? Simple. Some instructors found it tedious to edit scores for multiple offline assessments.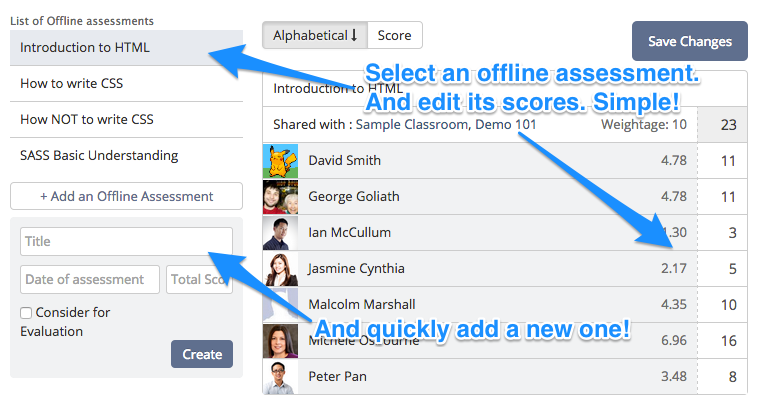 NOTE: To access this feature, head to the a classroom page, expand the Assessments block in the sidebar and select "Record Scores for Offline Test".
Google Document submission for Assignment
This is for our Google Apps for Education customers, who had requested the ability for us to lock a Google document once the learner has made the submission, and automatically share it with the instructors so that they can provide feedback.
We also realise that some assignments are meant to allow for easy updates and collaboration, which leverage the power of Google Docs, and hence, while creating the assignment, instructors can define whether they want to lock the assignment. If locked, the learner will not be able to make further changes to the Google document, and the document will automatically be shared with the instructor(s) of the classroom, where the assignment is shared.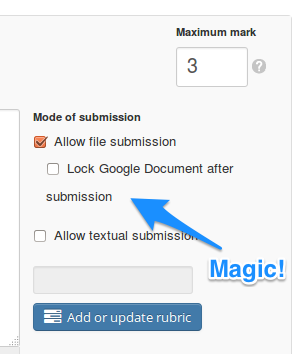 Lesson UX Changes
The lesson reading experience on Teamie gets a minor but important enhancement. We noticed that once learners land on a lesson, it's not clear how many pages they've read so far, how they can navigate to different pages, and importantly, which classroom they're in, so they can go back to their classroom to continue their learning.
We are introducing a new progress bar on the lesson landing page, which tells the user how much have they've progressed in the lesson, and from where they can continue to learn.

While reading a lesson, once a learner nears the bottom of the page, the arrow to move to the next page automatically gets highlighted in green. This makes it clear to the learner that there is more content for them to view. Once a learner is done reading the last page of the lesson, he/she will see a popover that has a link to get back to the classroom from where they had started their lesson reading experience.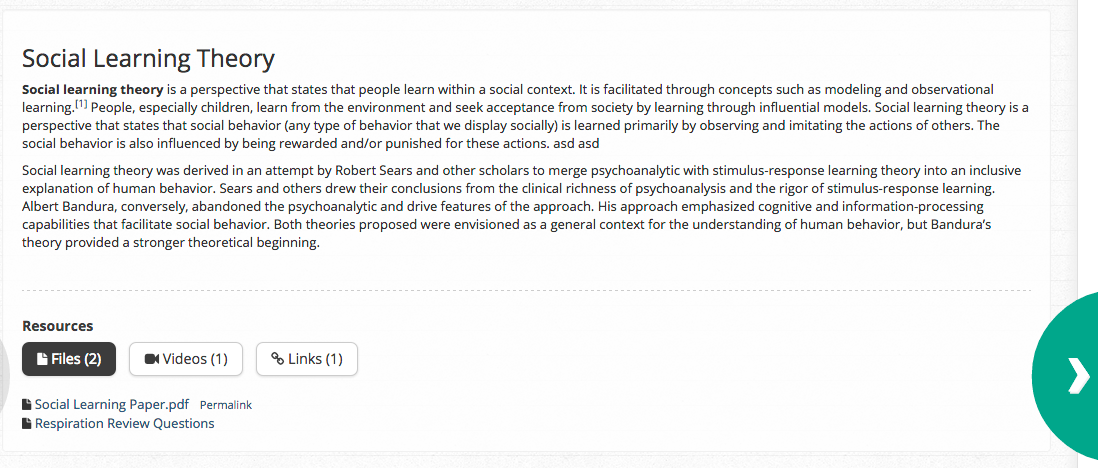 SCORM Assessments
Teamie has been supporting SCORM content for some time. However, in this update, we allow users to use SCORM packages as Assessments, for which they can set weightage and score from SCORM content gets added to the gradebook.
With this update, there will be two ways in which SCORM packages can be added to the platform – (i) SCORM as Lessons, and (ii) SCORM as Assessments.
That's it for 1.9! We've started work on 1.10, which is going to have some exciting new stuff!
Meanwhile, as Teamie users, we'd really like to know what stuff you'd like us to focus on. What painpoints you have and what you think of the new features we're building. So if you'd like to give us your suggestions, help us fill this form!