We have been working hard to incorporate your feedback & suggestions and make Teamie more awesome. Here's a quick look at some of the updates.
Post to multiple classrooms from one place
Some of Teamie's power users had requested the ability to share the same post to multiple classrooms. It seemed to make sense. As an instructor, you may wish to share your wisdom with 4 classrooms at once. And should you be expected to type it out 4 times?!
Definitely not. So now, simply click the Post button, type out your words of wisdom and pick the classrooms you wish to share it with!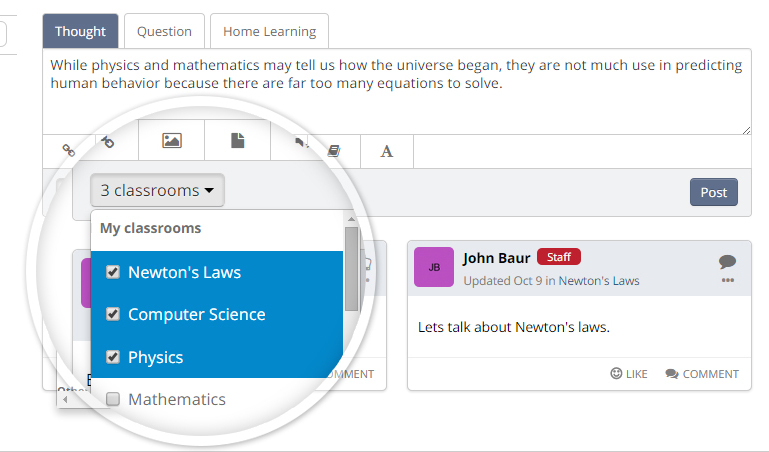 NOTE: When you share a post to multiple classrooms, multiple copies of the same post are created. The activity on a particular post does not affect the activity of its copy in another classroom (no. of comments, likes etc.)
Make users think before they comment
Let's say you make a post in the newsfeed to judge how well learners have understood a topic. And what does Sly Sam do? He waits until everyone else in the classroom makes a comment and patiently reads through all of them. And then, he makes a comment that's seemingly better than the rest. How then would you distinguish Sly Sam from say, a Brilliant Bill, who had meticulously commented earlier or a Honest Helen, who just didn't participate since she had nothing new to say?
Enter Restrict Comments. The small lock symbol that you see in the post share form, allows you to lock the comments on a particular post. Sly Sam cannot see any of the comments made by others, until he posts a comment of his own.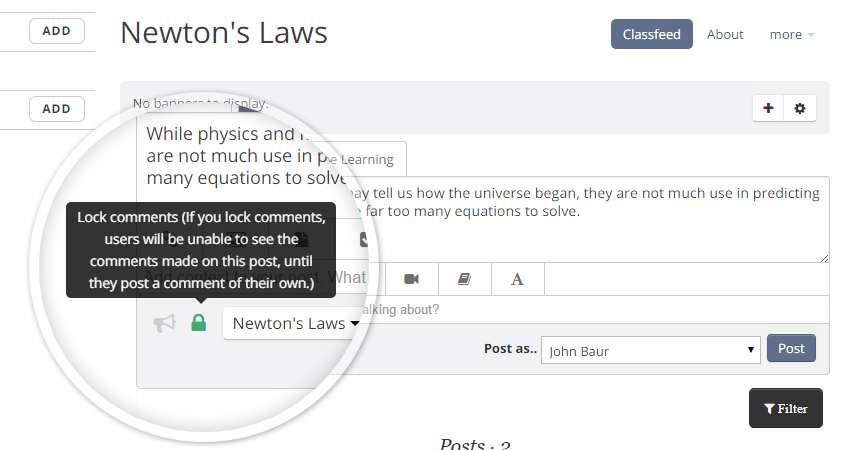 Sorry Sly Sam! No more free toffee for you.
Differentiated Learning
Ever had a slow learner in your classroom or someone who is very interested in the subject and wants to know more? Ever felt the need to share content based on an individual's pace of learning?
Lessons in Teamie can now be shared with specific members of a classroom. In the lesson toolbar, you can view the number of users the lesson is shared with. And to restrict or grant access to more people, simply click the button!

Once you restrict a lesson to certain users, only those users will be able to view it in the Lessons block on the classroom page.
Access can also be controlled at the page level. In the toolbar on a particular page of a lesson, you can view the number of users the page has been shared with and configure it, as per your needs. So you can share the entire Physics 101 lesson with your classroom, but prevent John and Joey from viewing the Third Law of Motion page. Once you feel they've grasped how F equals ma, you can grant them access to the page on equal and opposite reactions.
NOTE: The lesson would still have to be published in order for the learners to access it.
Easily Add Cover Images to Lessons
You can now add a cover image to a lesson instantly by hovering your mouse over the cover image section. The aim is to allow you to experiment with different images and see what suits your lesson perfectly.
Let's add some color!
Teamie's aim is to provide a seamless experience for its users. And being part of an institute, if your rules dictate you to be picky about your corporate colors, Teamie supports you now.
Be it the navigation bar, the color of buttons or notifications, we can change the colors in a jiffy for all users of your site.
Better still if you'd like to spice things up a bit by using a background image, then that is possible too. Pick an image that you feel best represents the spirit of your institute and we can set that for you as the background image for all users.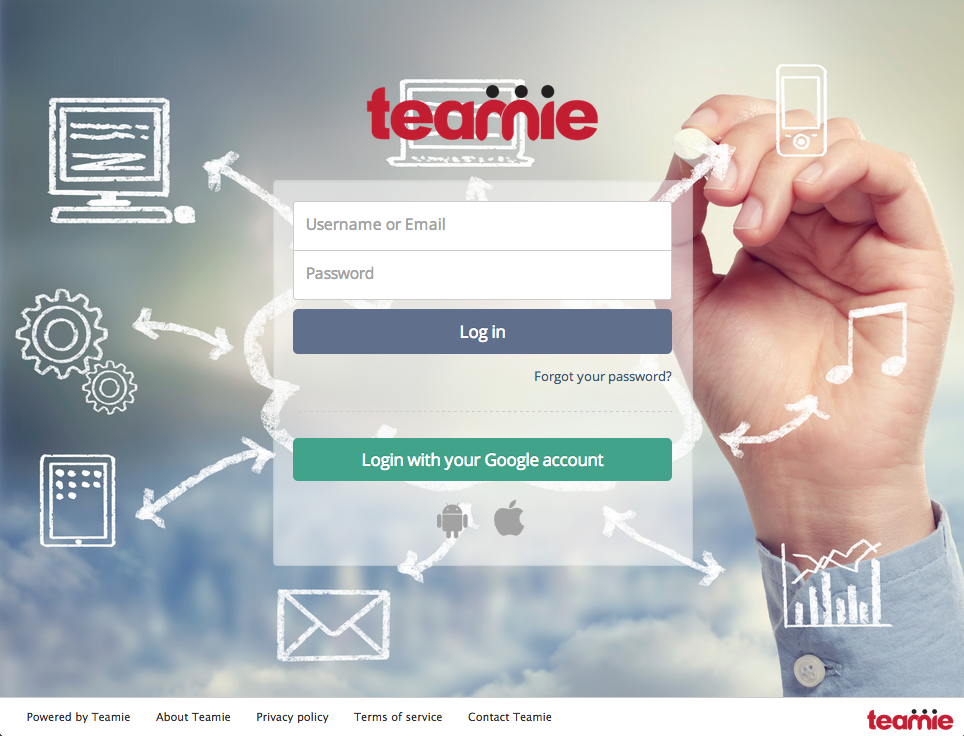 This feature is currently available only on request. Drop us a note if you want to try it.
And some more…
The post share box is now more compact.

The calendar page has gotten a facelift. You can add events to a classroom calendar easily, using the Add Event button. A lesson's Publish Date and To Date now appear as two separate events, instead of one long event that used to hog up all the space!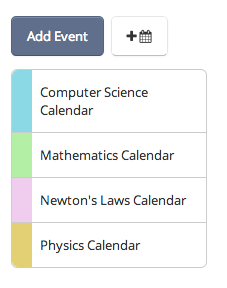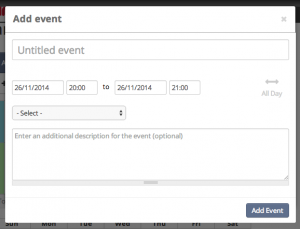 Newsfeed on the landing page has now become two column on wide screens. Make the best use of available space, say the sages of yore.
When you navigate to a classroom page, you will now see an image along with the title on the left sidebar. Edit the classroom to add an image that symbolizes it.
The left sidebar can now be collapsed to make more space available. And what more, Teamie remembers if you left the sidebar collapsed or expanded and has that set by default for all pages.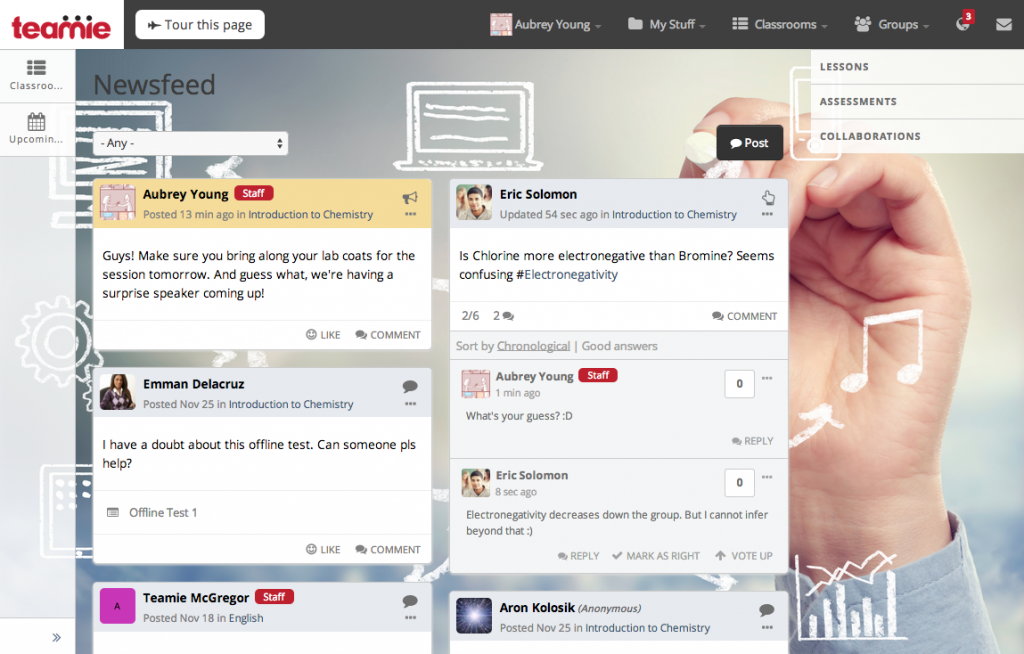 In addition to these, we've made a host of bugfixes. This is the story of Teamie version 1.7.3. In the next version, we have something exciting to show in the quiz creation process. Watch out!