We are back with yet another series of Teamie updates; with these updates we hope we can put a smile on your face!
Here is the tl;dr version for this update:
Administrators now can measure engagement using the all new Admin Dashboard

Instructors can edit stories of learners

Export your Teamie calendar events to your favourite calendar apps

Instructors can now make submissions on learner's behalf

Other exciting features include – the addition of 'SCORM lesson & assessment creation' and 'Locker posts' in Dash
Now, let's get into the details.
Admin Dashboard
Admins often feel left out in our blogs due to lack of admin specific features. We understand your concern and do as much as possible to rectify that. Keeping that in mind, we recently dedicated an entire blog post just for you guys, and will keep doing so in future. Having said that, you won't have any complaints this time. Why? Because you guys are getting a whole new dashboard all for yourself and believe it, when we say, it's awesome!
In the Dash sidebar, you will now be able to see some very important stats at a glance. The sidebar will also have a Dashboard link that will take you to the Admin Dashboard page.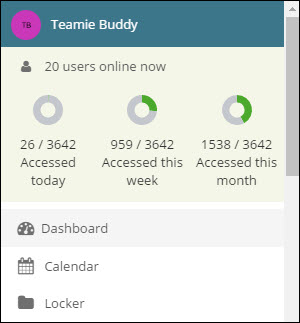 The Admin dashboard page is a place rich with information that will keep you apprised of overall  platform activity.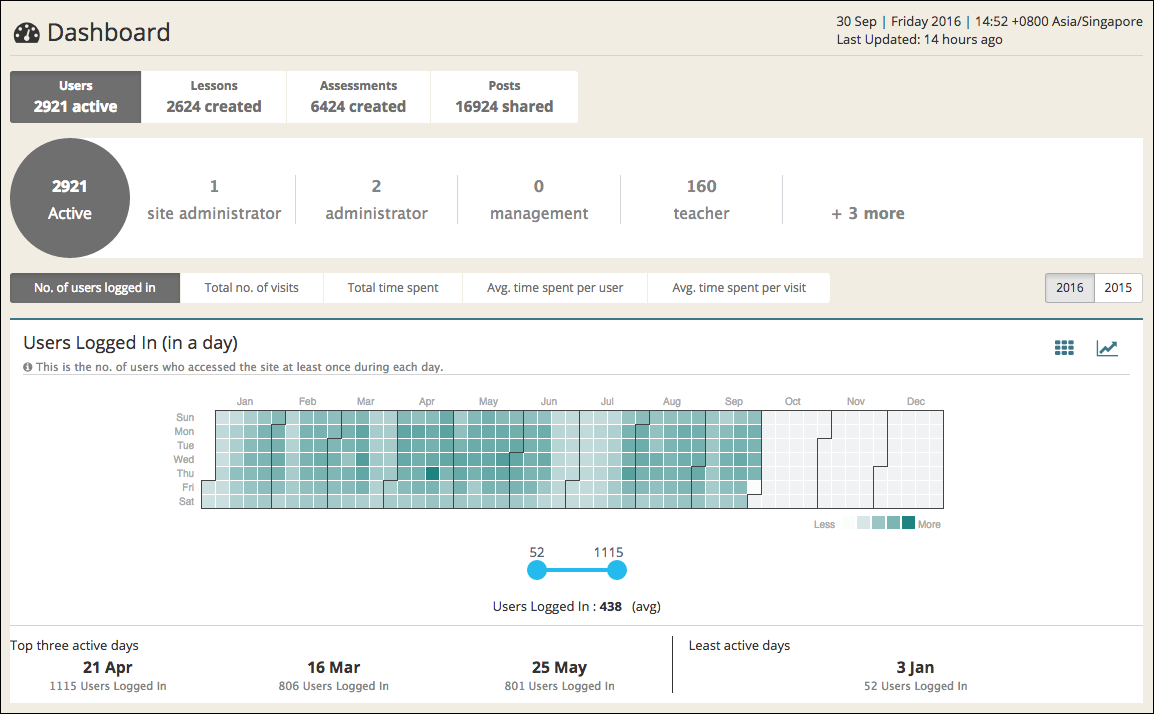 Access any of the four primary tabs (Users, Lessons, Assessments, and Posts) to view stats in that category.  An overall stat count will be visible just below the category name in the primary tab.

Users Tab
The users tab will give you an overview of the user count on the basis of their roles, say, how many instructors or parents are active on the site. You can also view the total number of users who are blocked on the site.

The users tab will also provide information on the most active and least active days in a year. This will be shown in the form of a graph.
The yearly graph report will show:
The total number of unique users who accessed the site each day

The total time spent by all the users on the site each day

The total number of visits made to the site on that given day

The average time spent per user on that day

The average time spent per visit on that day
In case you need to view which days have the aforementioned activities within a certain range, then you can easily do that with the help of a range selector.

Below the year graph, you have 3 more graphs showing the comparison of average numbers of users logged in by month, week and days. Like we said, it's awesome!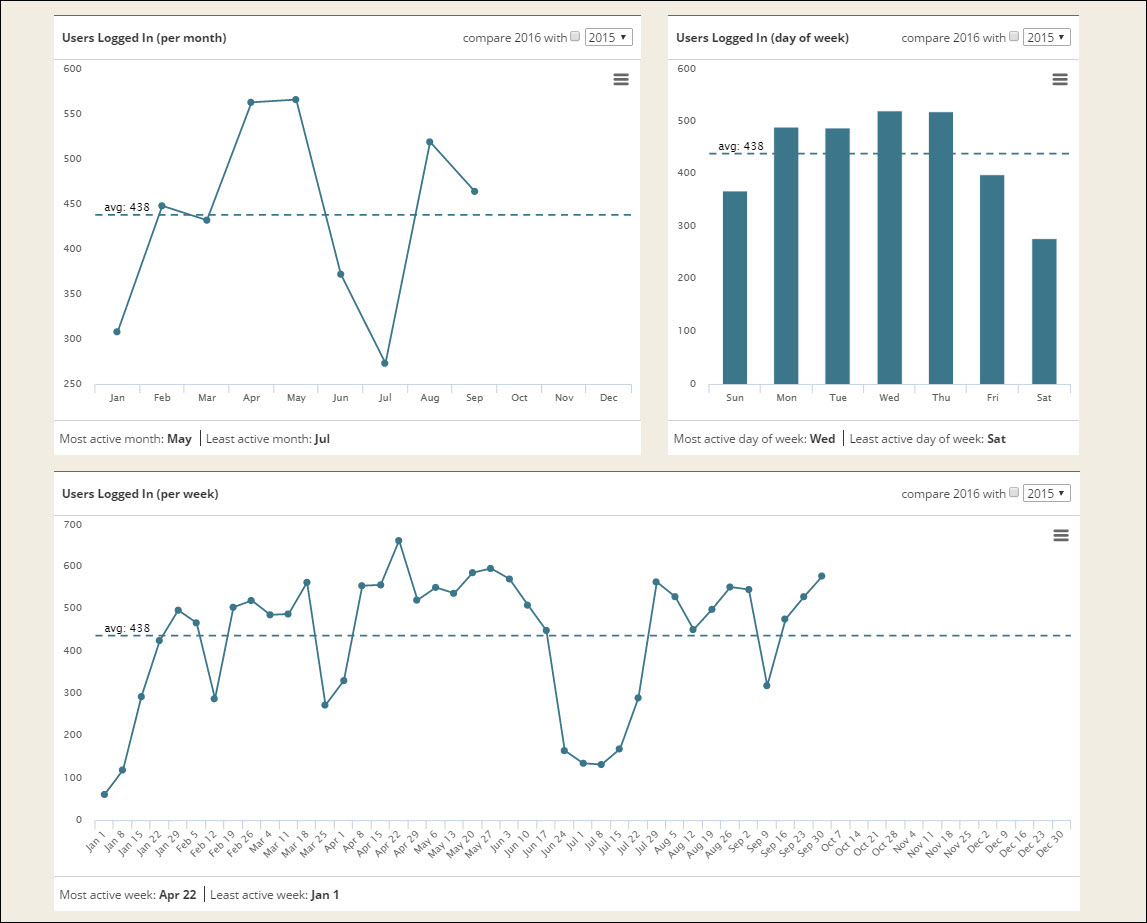 Lessons Tab
The lessons tab will give you an overview of the total lessons created on the platform along with the clear segregation of lessons that are private, shared with lesson bank, in draft state, and shared with one classroom or multiple classrooms. In short, all that you need to know about lessons created on the platform.

You will have the following detailed report options for further insights:
Avg. time spent on lessons per user

Total time spent on lessons

No. of users who accessed lessons

No. of lesson page visits

No. of lessons created

No. of lessons due
Assessments Tab
Similarly, the assessments tab will give you an overview of the total assessments created on the platform along with the clear segregation of assessments that are private, shared with lesson bank, in draft state, and shared with one classroom or multiple classrooms.

You will have the following detailed report options for further insights:
Avg. time spent on assessments per user

Total time spent on assessments

No. of assessments created

No. of submissions made

No. of assessments due
Posts Tab
The posts tab will give you an overview of the total posts created on the platform along with the clear segregation of types of posts created (thoughts, questions, tasks) along with the number of draft and scheduled posts that are created.

You will have the following detailed report options for further insights:
No. of posts created

No. of tasks completed

No. of tasks due

No. of comments & replies created
What good is data if you can't analyse it as you wish?
Therefore, we have given you an Export report option to extract the yearly data for each report as a CSV file which you can import into any analytics application that you prefer. That's how we help you be the best admin 😉
This is just the beginning of the Admin Dashboard. In upcoming releases, it will keep getting better. We'd love to hear you say, "This admin dashboard never ceases to amaze me!".
Stories – Edit Other's Stories
Stories feature has grown by leaps and bounds, be it for the learners creating them or for instructors tracking them.
We still thought that there is scope for some new additions to Stories. So, this time we came up with the concept of allowing users to edit any other user's story (of course, only users with appropriate permissions can do this). This would give administrators and instructors more control on the content of stories.
A scenario to show the usefulness of this feature can be a classroom project. Sometimes learners are required to create projects in the form of Stories for their classrooms. While learners are busy creating their projects, instructors might capture some moments in the form of photographs and videos and then add them into the learner's story. This way instructors can encourage learners and at the same time improve the learner-instructor relationship.  
We have site-level permissions that will enable site-level admins and instructors to edit or delete any story / story item (for instructors, these permissions will apply only for the story / story item they can edit).
Similarly, we have classroom-level permissions that will enable classroom-level admins and instructors to edit or delete any story. So you can write to us, if you wish to enable these permissions for your site.
So, basically the above permissions allow people with certain roles to make changes to stories of other users.
If you have the required permissions, then you can edit the story settings in the sidebar, such as,  title, cover image, sharing permissions, created for etc. You can add files, insert items from the top toolbar, add tags etc.
The items added by you in someone else's story will have your display picture on it to indicate that the item was created by you.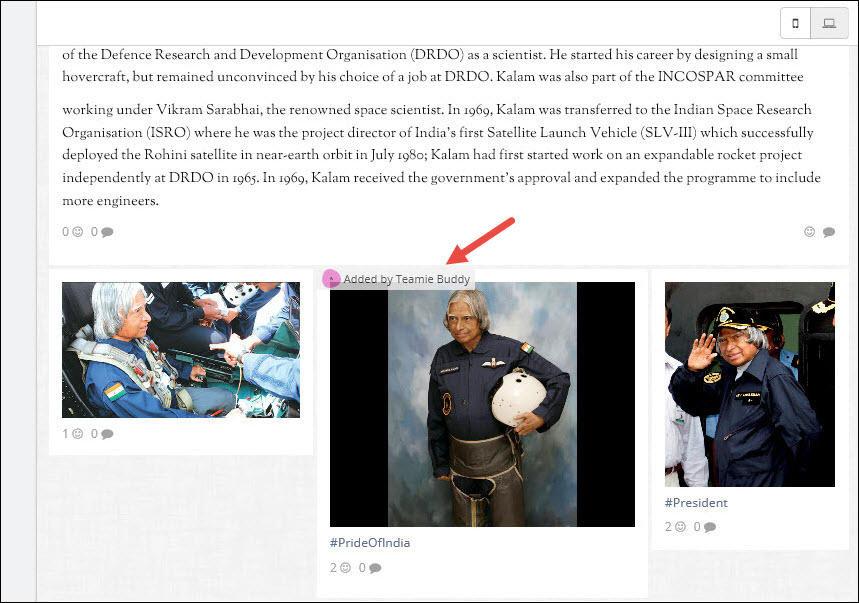 You can see yourself as the author of an item in the item full view.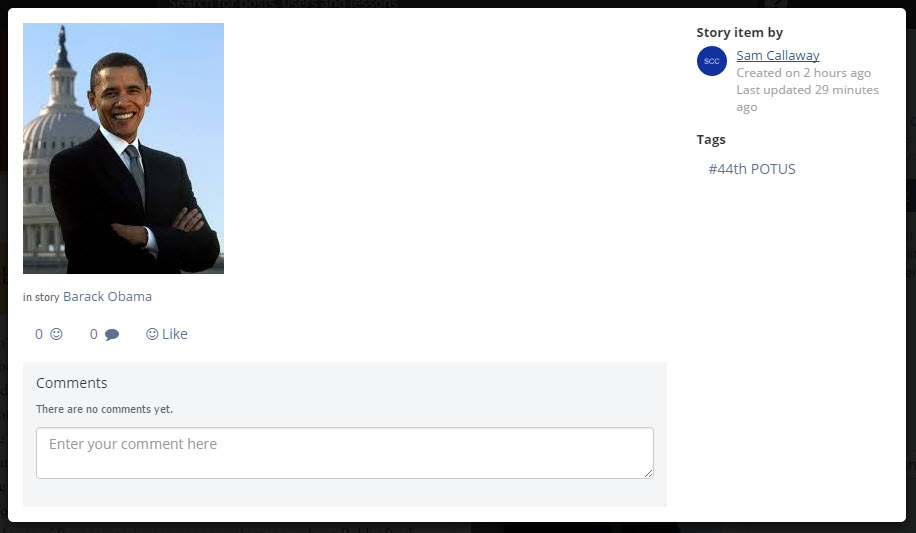 The owner of the story will be prompted via notifications about the changes that are made to his / her story by you.
With appropriate permissions, you can also delete any story items or the entire story in your classroom or the site.
So, in short we are giving you the tools to maintain the sanctity of the stories feature. At the same time, we are allowing instructors to enhance the storytelling experience of learners.
Exporting Teamie Calendar Events
Before getting into details, we would proudly like to share with you the fact that this feature was hacked by one of our developer during our last Hackathon.
Different users have different ways of using Teamie, and we certainly want them to try out new things with it. One small step is Teamie iCal (that's what we called it during the hackathon 😉 ).
This feature will ensure that all your Teamie calendar events are exported to your favorite calendar apps on your desktop and mobile devices. This way you won't miss out on any of the activities and events on Teamie.
All you need to do is go to your Calendar page and click the Export Calendar button and copy the link.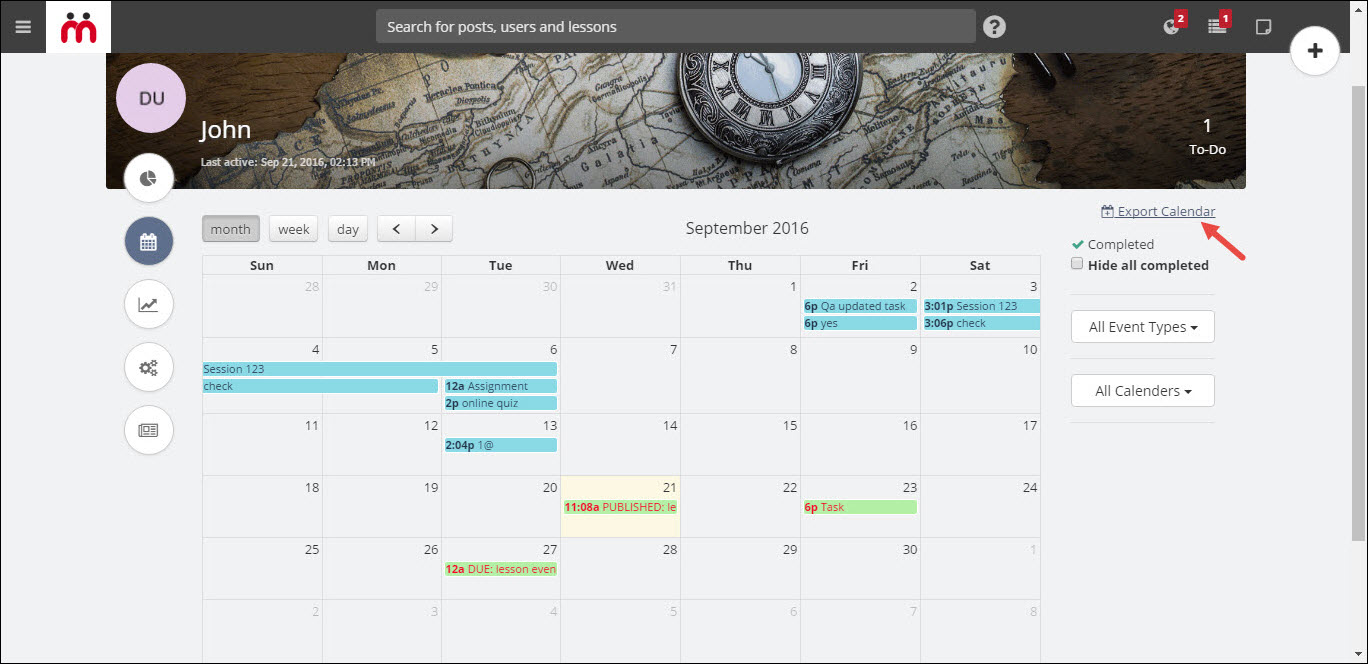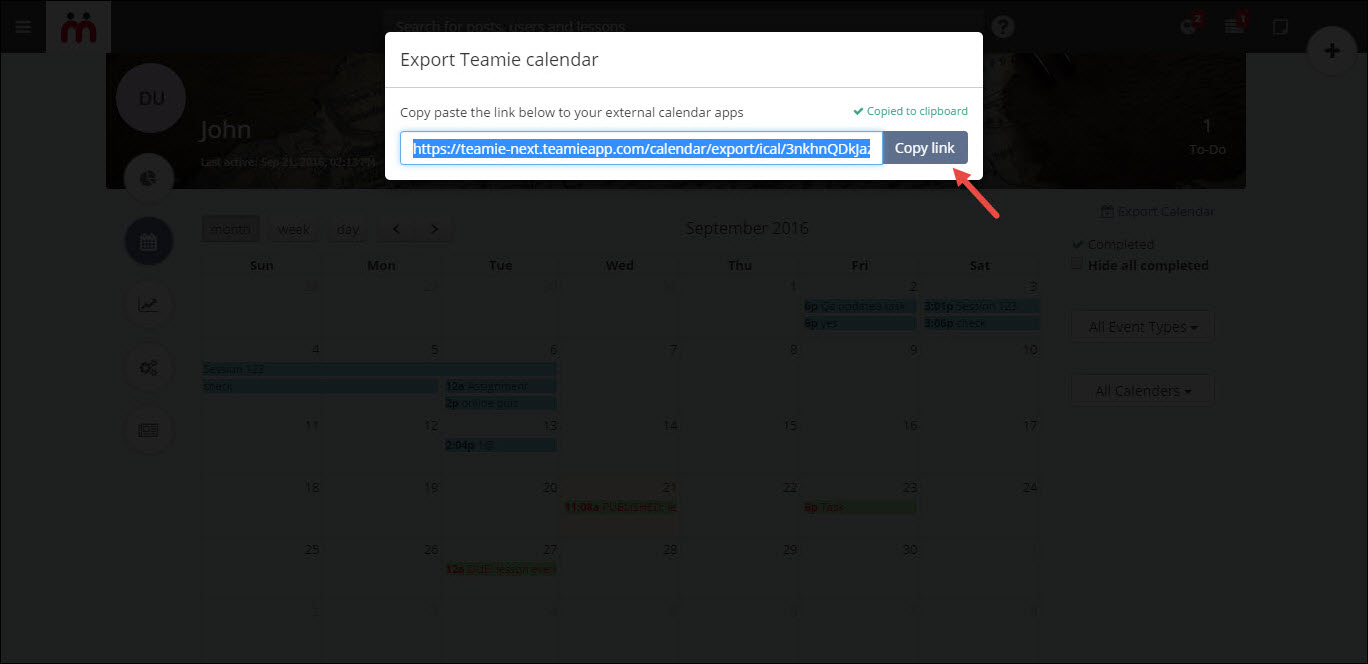 Now, paste the link at the appropriate place in the the calendar app of your choice. (eg: Outlook, Apple Calendar, Google Calendar etc) and the Teamie calendar events will be added to it. Yes! This simple!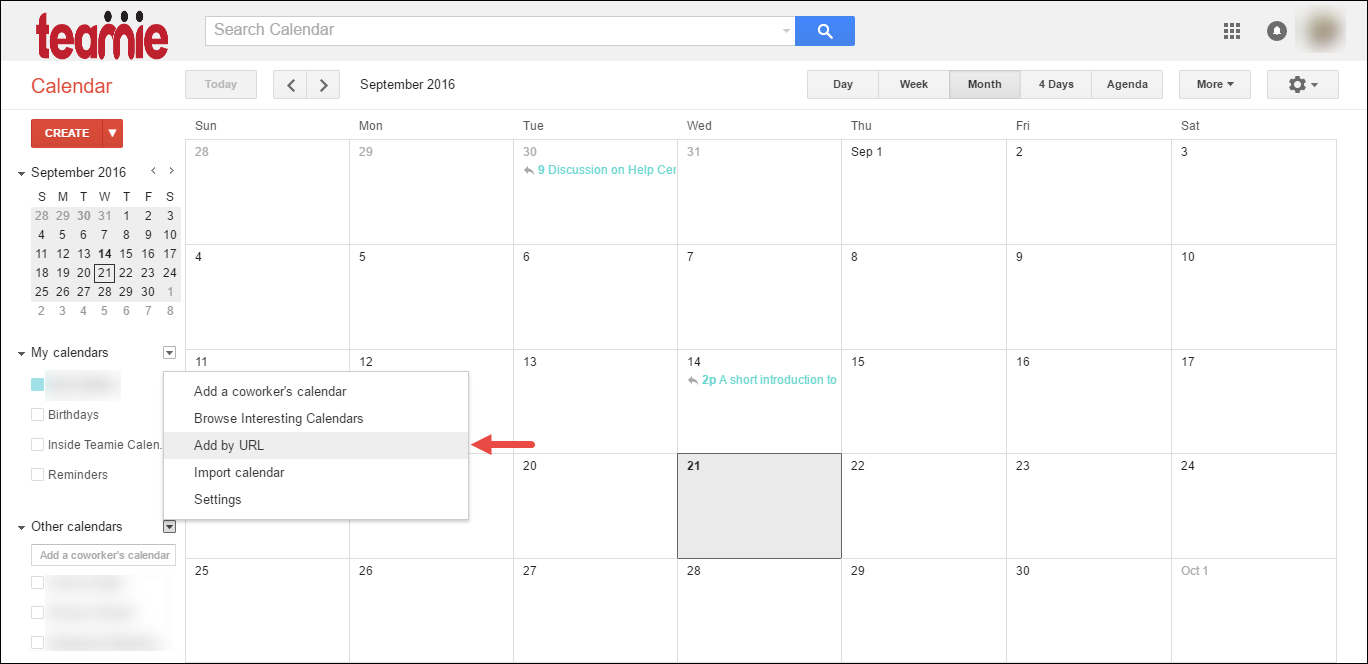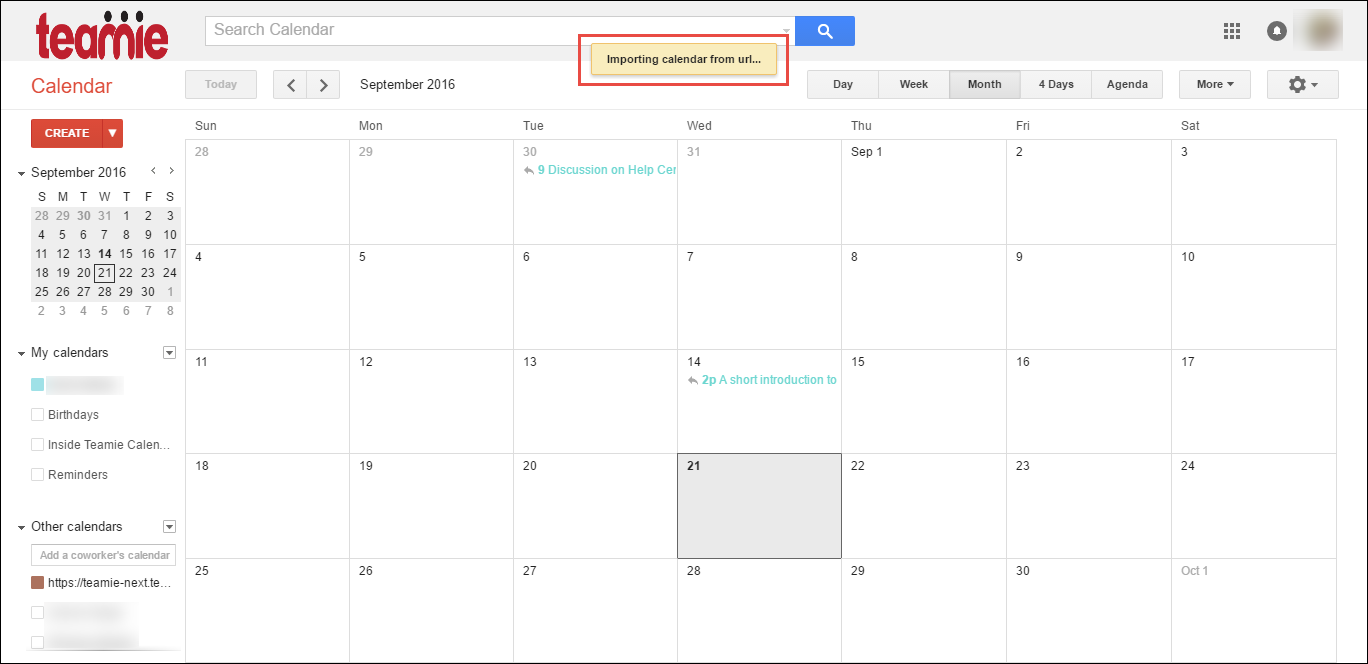 In case you are part of more than one classroom, which we assume you will be (studious you!), then the events will appear in your calendar app with corresponding classroom prefixes. This way you can easily differentiate the events from different classrooms 🙂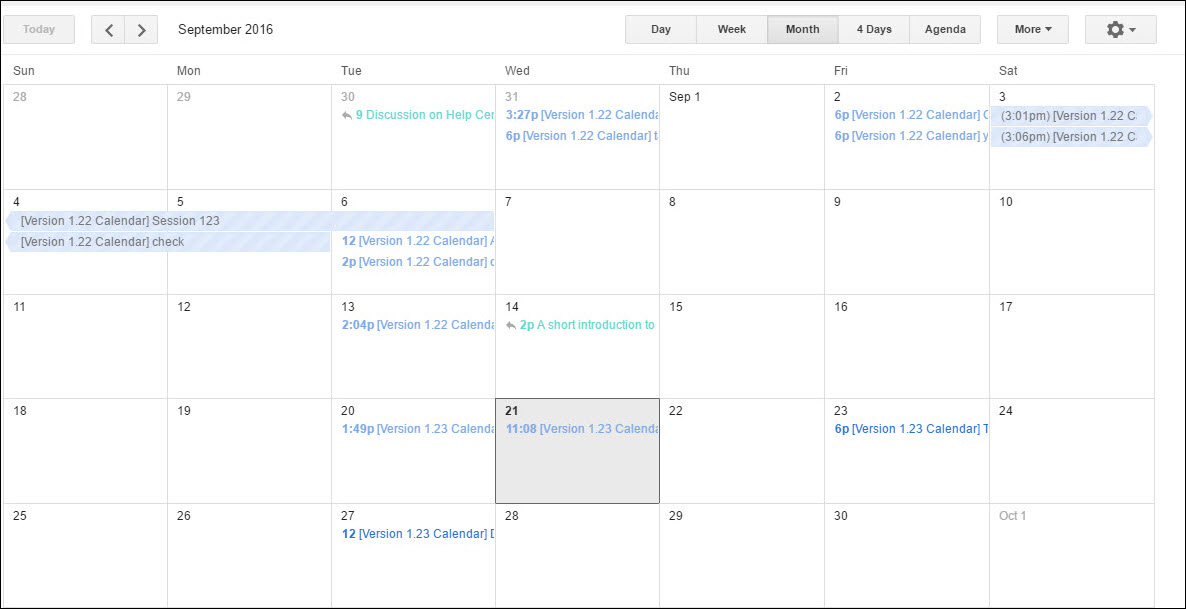 Instructor making Submissions on Learner's Behalf
This feature comes in handy when an instructor receives a late assignment submission for a learner through some other channel (like email) and is willing to accept it.
Another scenario could be that a learner submitted a hard copy of his submission instead of a soft copy. In such a case, can the instructor snap a photo of the submission, submit it on the learner's behalf and then assign a score to it on Teamie? . This release onwards, we're making this possible!
The submission can be made on the submissions listing page which can be accessed from the classroom's Materials page.
Hover over the 'Attempts' cell of the learner on whose behalf you wish to make the submission and click on the arrow that appears.

You can make the submission by clicking the drop down option, Make new submission.

On the "View Attempt" page, both the learner and the instructor will be able to see the user's name who has made the submission.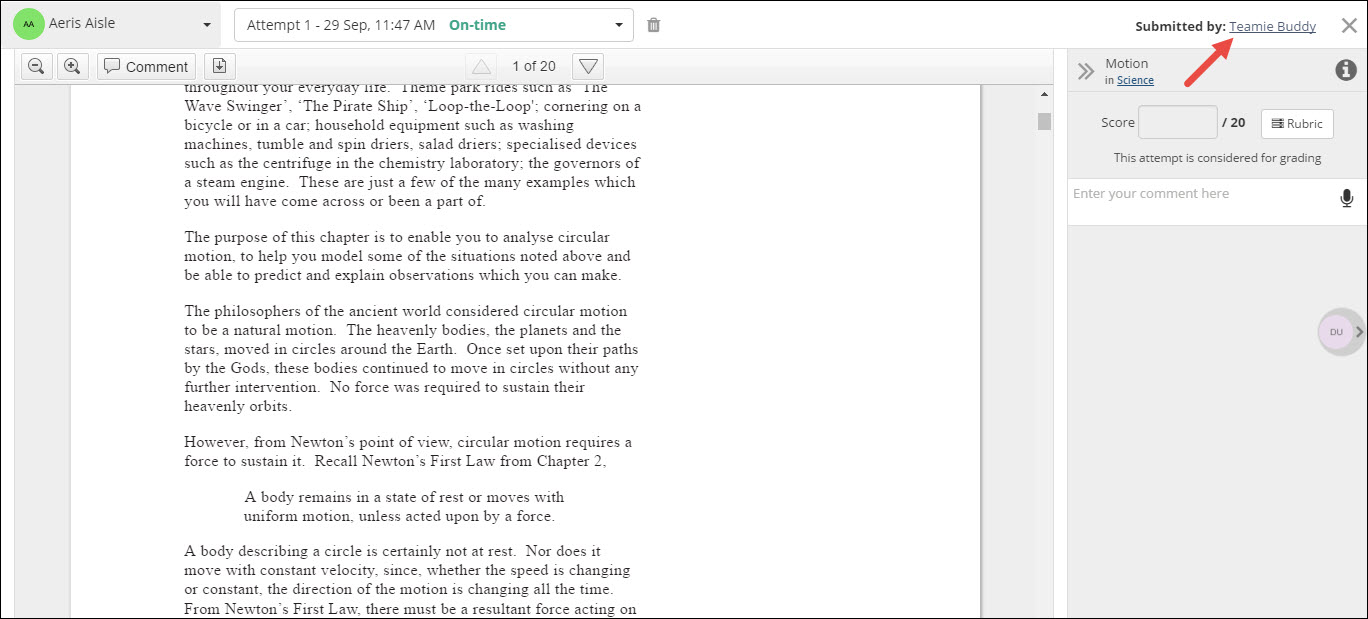 Learners will get a notification when any user makes a submission on their behalf, and wouldn't they be grateful? 😉
Furthermore, submissions made on someone's  behalf will trigger an entry in the activity stream which helps to keep the process transparent.

Minor Enhancements
SCORM Lesson and Assessment Creation in Dash
We have eliminated the need for Dash users to revert to old interface in order to create SCORM assessments and lessons on Teamie. You can now create it right from the Dash interface.
It will be similar to the way you create lessons / assessments. You need to click the "Add" link anywhere in the Materials view and select "Create SCORM lesson" / "Create SCORM assessment".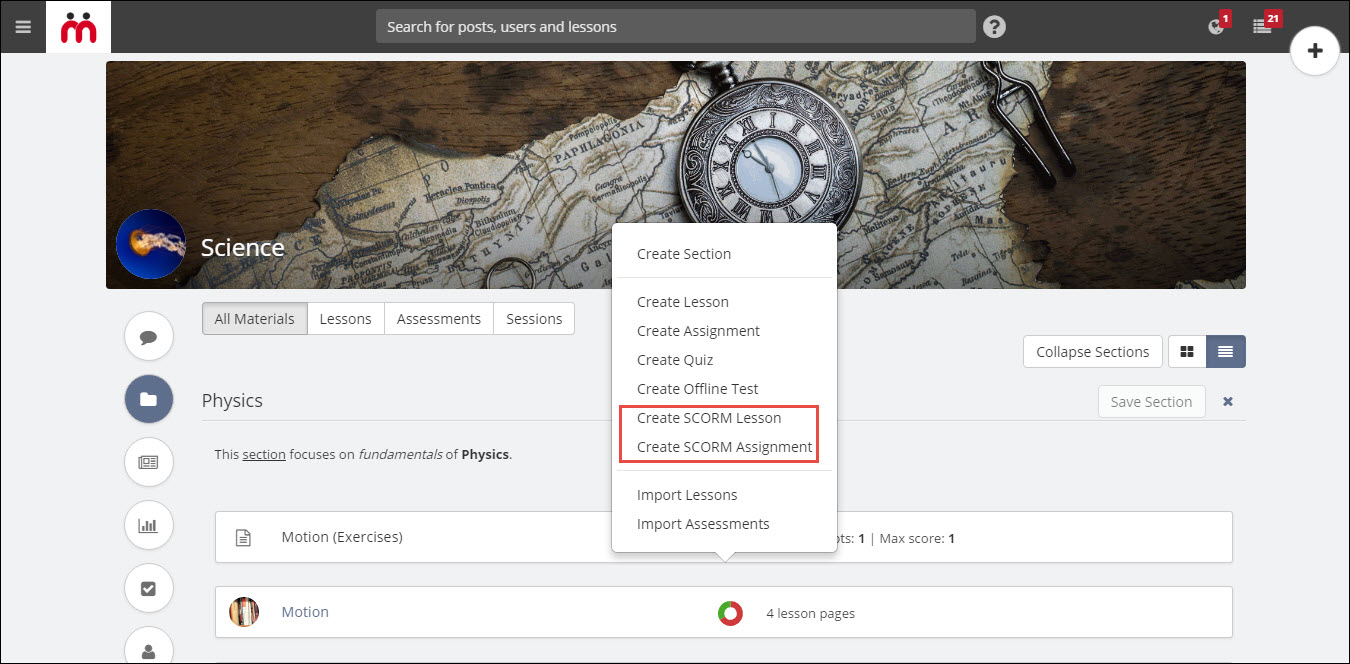 Although the lesson / assessment creation will open in the old UI, but still it would save all the hassle of switching to the old UI for creating the SCORM content. We are making incremental updates to help our users migrate to Dash and this is one such attempt to make your life easy. In the coming releases, we will build on this to enhance your experience even further.
Resharing Posts from your Old Classrooms
We are maintaining our track record of migrating useful features from old UI to Dash. One such feature that we are migrating this time is locker posts. You can now view the list of locker posts in Dash. A major advantage of migrating locker posts to Dash is that users can re-share a post from the locker to a new classroom instantaneously.
You can access the posts from the sidebar in your locker. All the posts that you have subscribed to will be listed here. By subscribed posts, we mean all the posts that you have created, commented on, replied to, liked, or marked 'I have the same question' for.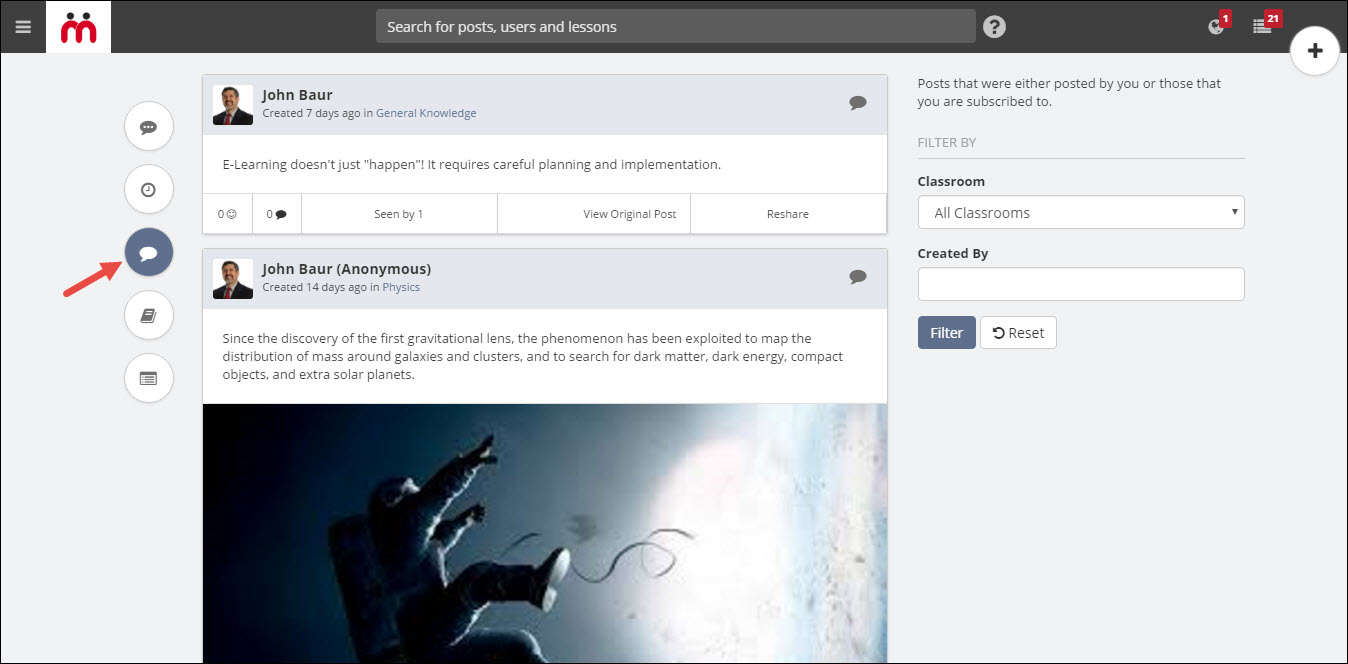 So let's say you have that really nice post you made last year in your Physics classroom. You can find it using the Classroom filter on the right and then reshare it with your new Physics classroom, by clicking "Reshare"!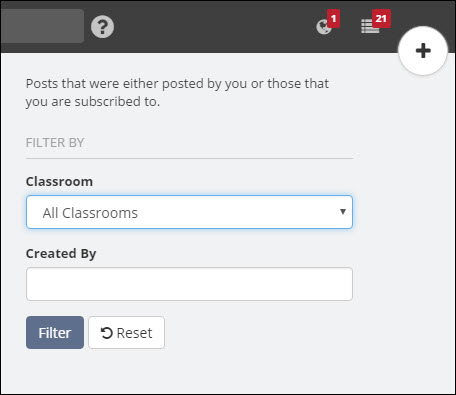 Configuring Site-level Reminders on the basis of User Roles
You would remember the site-level reminders we introduced in Teamie release 1.21 which allowed you to configure reminders for resources linked with Teamie modules, such as lessons, assessments, sessions, etc.
These reminders would be sent out to users before or after certain dates which are associated with the modules. We have made improvements to it and now you can configure site-level reminders specifically for instructors or learners. As a result, the administrator can now configure separate notifications to be sent for learners and separate notifications for instructors. This gives more flexibility to administrators on how they wish to notify users.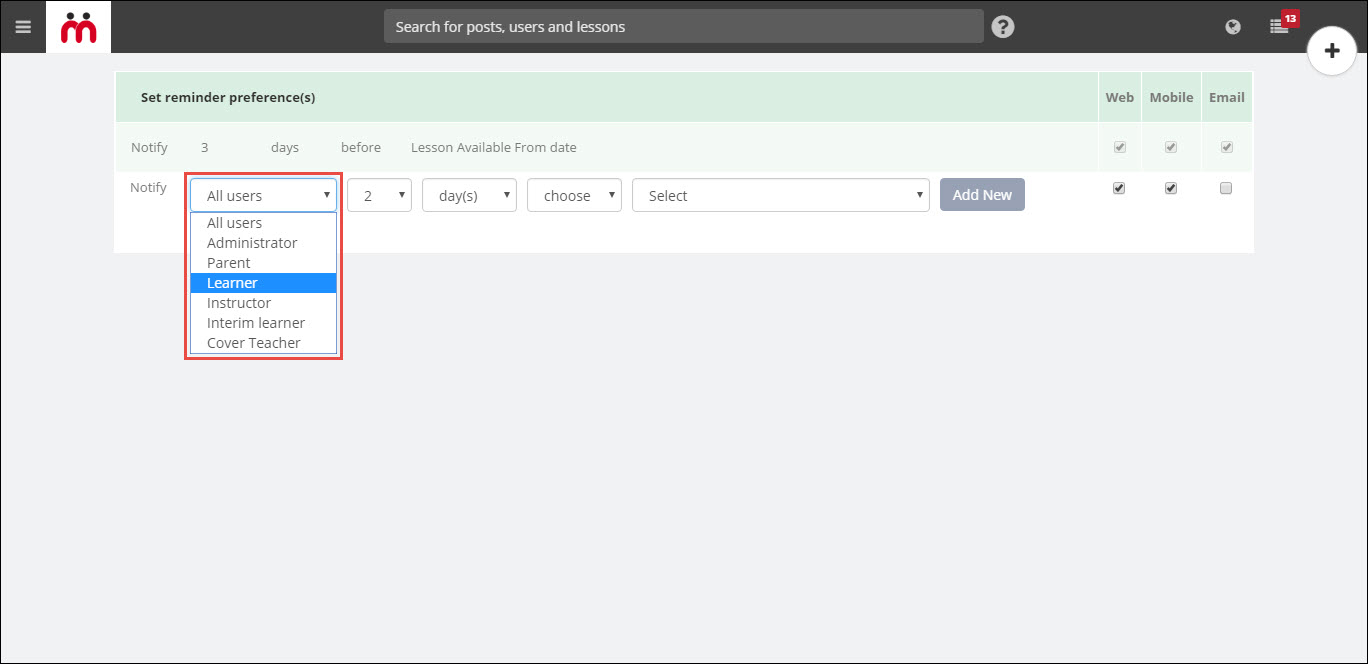 So, that's it for this release. We will be back real soon this time with 1.23.1! Here is a sneak peek of what's coming your way.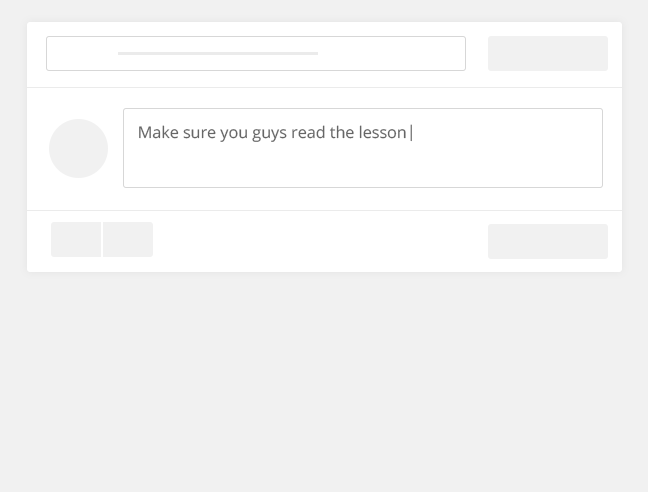 So sit back and enjoy!