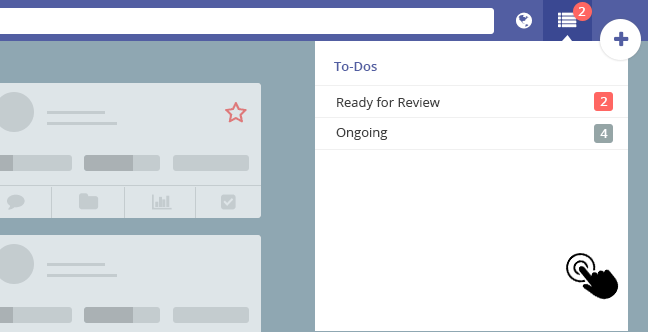 Hey Teamie users,
We have rolled out our latest release 1.21, and it's awesome. This release brings a bagful of features along with some bug fixes; now those bugs won't bug you 😉
Enhancements have been made to existing features, making them even more awesome. From Materials to Search, Calendar to Posts, we have made enhancements to all of them to make them fit better in your learning ecosystem.
Now, let's talk about the release features in detail.
To-Dos for Instructors & Dash Assignment Grading
As an instructor you are going to be the happiest of all with this release. Why? Here's Why! You can now view pending assessment submissions that need to be graded right from your To-Dos section and navigate directly from there to the all-new assignment grading page. Hurray!
We hope that the new interface will make it easy for you to grade an assignment and hence save considerable amount of your time.
You will notice a To-Dos icon in the navigation bar, clicking on which which will open up your to-dos. To-Dos will be divided into two sections: Ready for Review and Ongoing.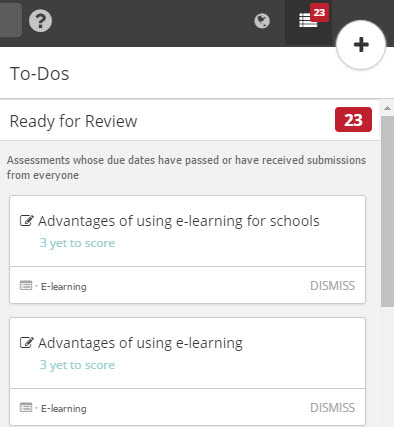 Ready for Review will display 3 kinds of assessments.
Assessments whose deadlines have passed

Assessments  with at least one submission from all learners

Offline assessments for which no scores have been entered
We feel these are assessments you must give priority to. Hence, we've put them into a separate section called Ready for Review. We want you as instructors to focus on this section. That's why the red badge shown in the navigation bar is the number of assessments that are ready for review.
You may hide a To-Do from the list by clicking its hide button. In case another submission is made for the assessment or its deadline expires, the hidden To-Do will reappear. You can also permanently hide a To-Do by clicking its Dismiss button.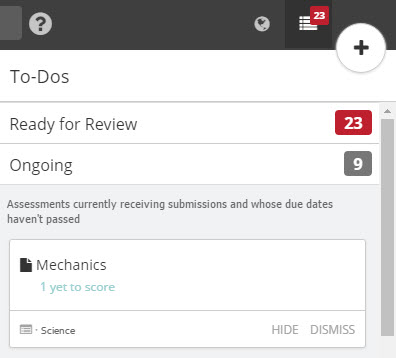 Ongoing section will display all assessments for which learner submissions have been made and need to be graded. Once the deadline has crossed or all learners have made submissions, they become ready for review. The Ongoing section is something you can look at when you have free time, just to see the progress learners are making.
You can also hide a To-Do from the To-Dos list by clicking its hide button. In case another submission is made for the To-Do or its deadline expires, the hidden To-Do will reappear.You can also permanently hide a To-Do by clicking its Dismiss button.
Note: For the Ready for Review section, you can only Dismiss a To-Do.
Now, let's talk about the Dash assignment grading!
From this release onward, you will be able to view the assessment submission progress from the Materials page of a classroom (remember the Materials page, eh?).
Not Started, In Progress and Completed will be the three stages of progress available to you for viewing the learners progress.
Once you click on the no. of submissions to review from the To-Dos section, you will be taken to the submissions page of that assessment with the 'Ready for Review' filter automatically applied. You can also click View submissions of an assignment from the Materials view page to view submissions made by all the learners.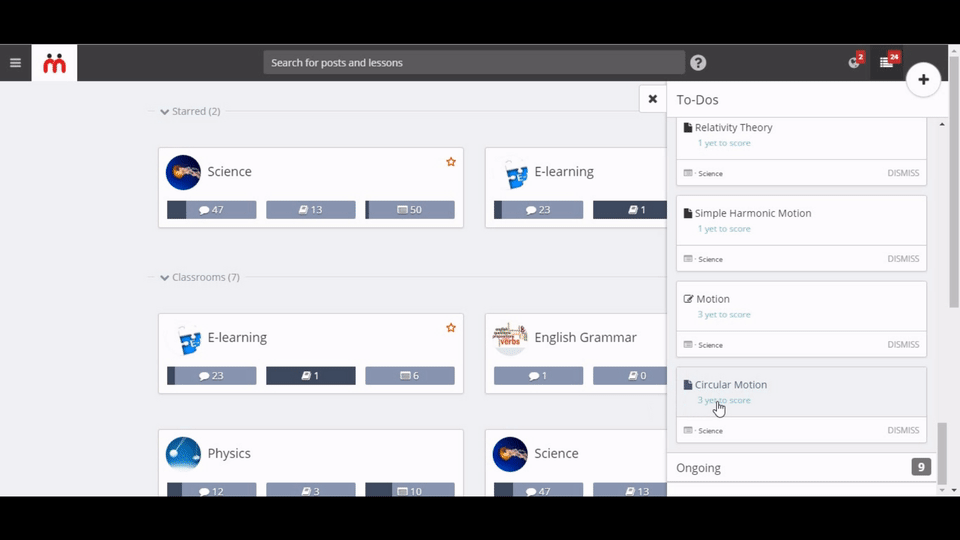 Once you start viewing any learner's submission for an assignment, you will have the option to toggle between submissions made by different learners or multiple submissions made by a single learner. The toggle looks amazing and is very easy to use. You can navigate between different learners just by clicking their photos on the left and right side of the browser window and also comment on the submission from the sidebar.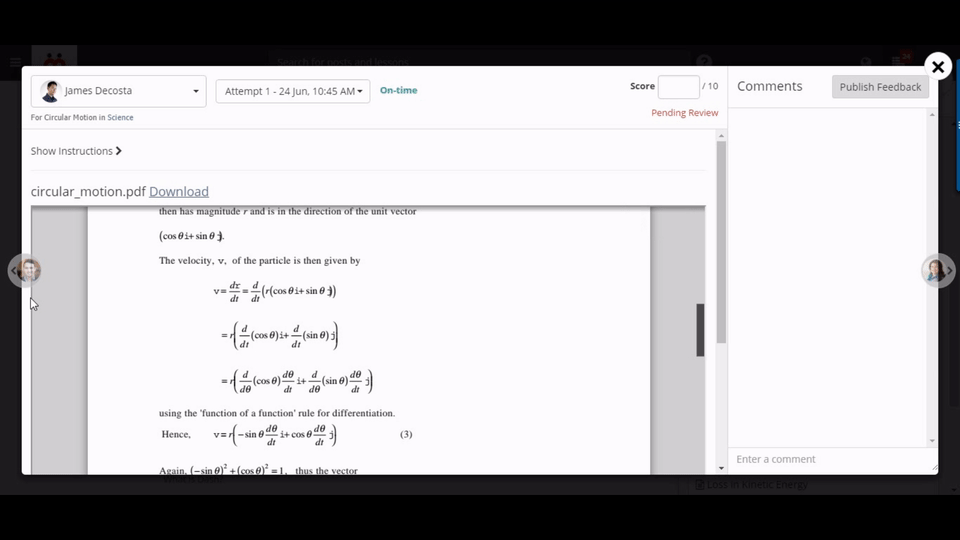 As you can see from the above GIF, you will be able to view the text or files submitted by the user and enter the score which in turn gets auto-saved 🙂 (Yup that's right! Teamie is moving closer to auto-save everywhere!)
If your assignments have a Rubric, then clicking on the score box will bring up a floating rubric popup in the bottom right corner of your screen. You can drag it around anywhere according to your ease and pick the scales for each criteria to grade the submission. A draggable rubric popup, awesome right??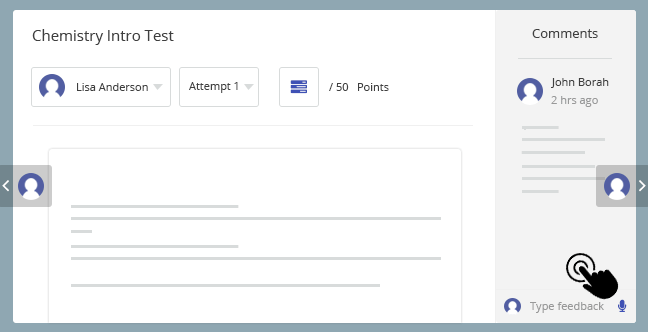 You can enter text comments or record audio to provide feedback to your learners. Multiple comments can be made on the same submission.
Earlier, the scores for an assignment and the feedback had to be published together. Several instructors requested us if it's possible to publish feedback alone. And so now, you can publish/unpublish only the comments made on a submission! If you publish only the feedback, learners will get notified and will be able to view only the comments. Once you publish the scores, then learners can view the scores as well!
Search Enhancements
We introduced Search in our last release (1.20), which helps you search through Teamie in an organized manner. In this release, we have made some cool new enhancements to it that will make searching seamless and more effective.
You can now search through content you created by adding the phrase "by me" to your search. This was a feature which was duly missed and therefore was at the top of our enhancements list. You can also type your full name to search through content just as you do for your other connections.

When you start typing in the search box, you will now see suggestions based on your past searches.
A lot of you would like things very neat and clutter-free, and prefer clean slate over somewhat crowded lists. For all those of you, we have created an option to clear search history. This will clear all your past searches and future suggestions will begin to appear based on the searches you have made after clearing your search history.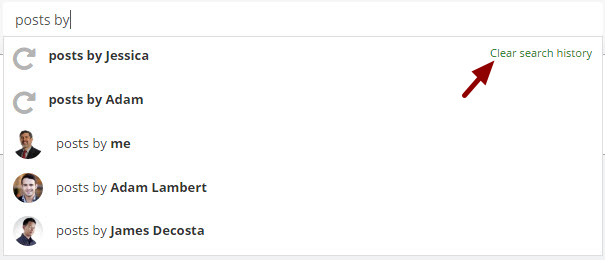 You may be at the end of your academic session and want to look for mid-session posts, or want to look for greeting posts on some special day. You can now easily search for them by refining your search with the date range filters.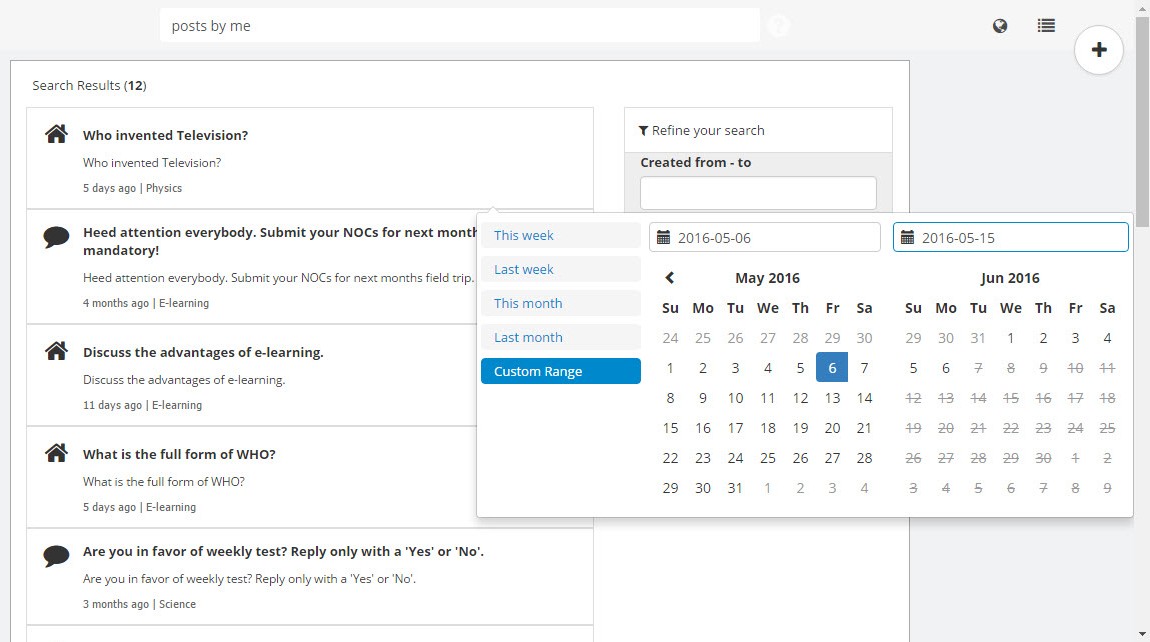 Videos in Posts, Comments & Replies
One of our clients requested us to provide learners with the ability to attach videos to their comments. We also thought that videos would be a great tool for demonstrating learning on Teamie. Therefore, you will now be able to attach videos to your posts, comments and replies.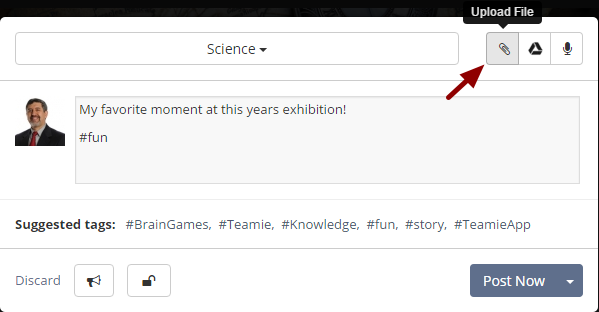 You will also be able to attach videos from your Google Drive just as simply as you would from your computer.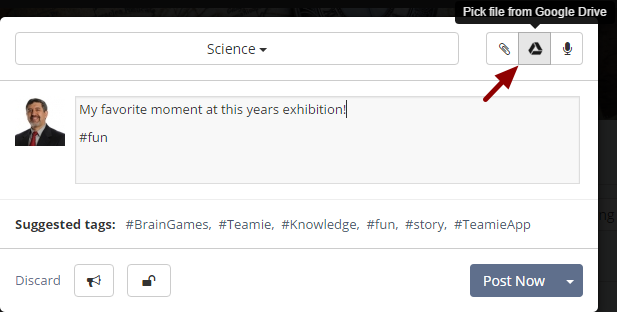 Once your video is processed, a video player will be shown in your post/comment/reply. Any user with the required access will be able to play the video inline.
User Registration Workflow (Optional Feature)
Teamie now allows users to register directly onto any Teamie site with the help of the User Registration feature. Once this feature is enabled on your Teamie site, users will be able to register on the site and will be assigned a site-level role of "Interim Learner".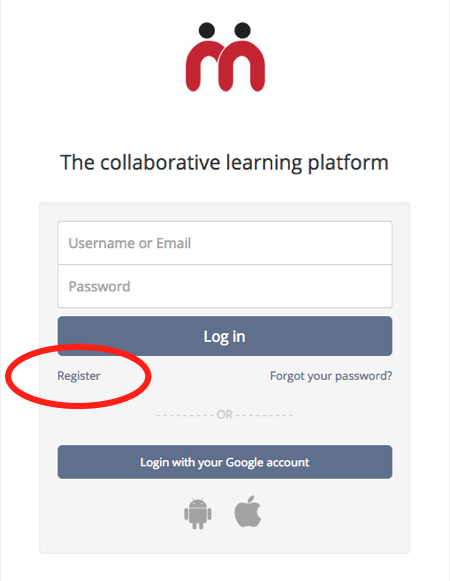 As this feature will have billing implications, and we definitely don't want our clients to be billed unfairly, therefore we have created it as an optional feature and as an administrator you can enable and disable it at any time from the Manage Optional Features page.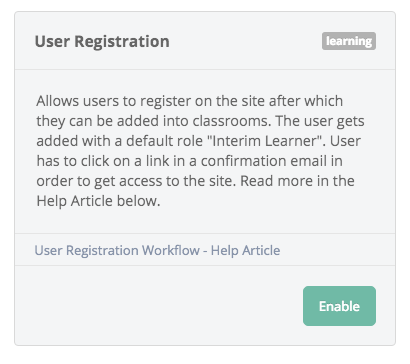 When users click on the Register link, they will be taken to a registration page to fill out a form.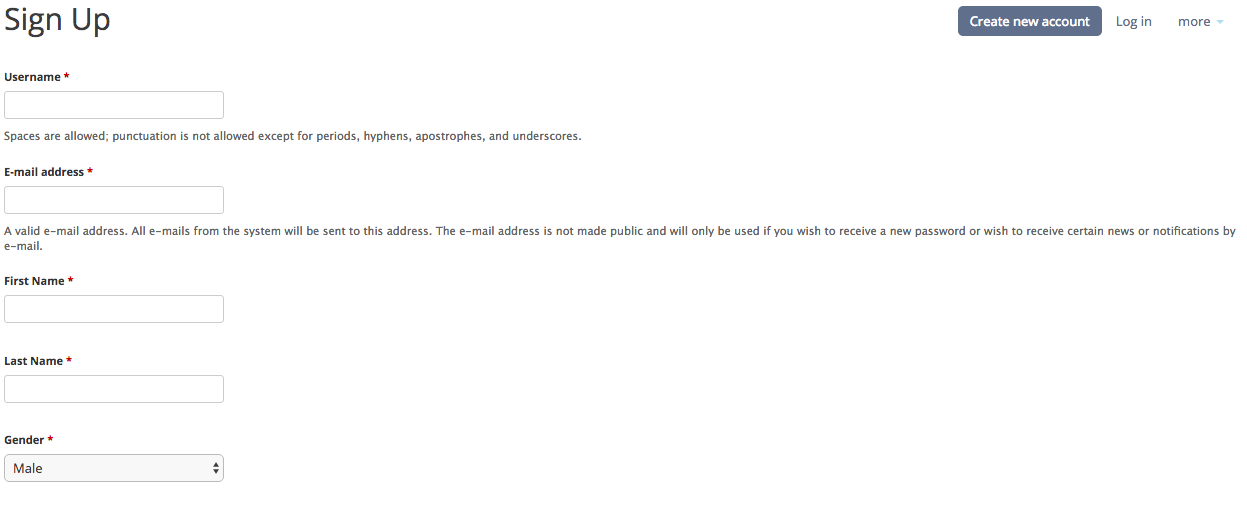 Once the registration is done, a confirmation email will be sent to the user's email account to reset their password. Using this password, they will be able to log-in to Teamie in future.
Note: The newly registered user won't be associated with any classroom unless added by an administrator or instructor and therefore will not be able to make any posts or have access to any classroom resources.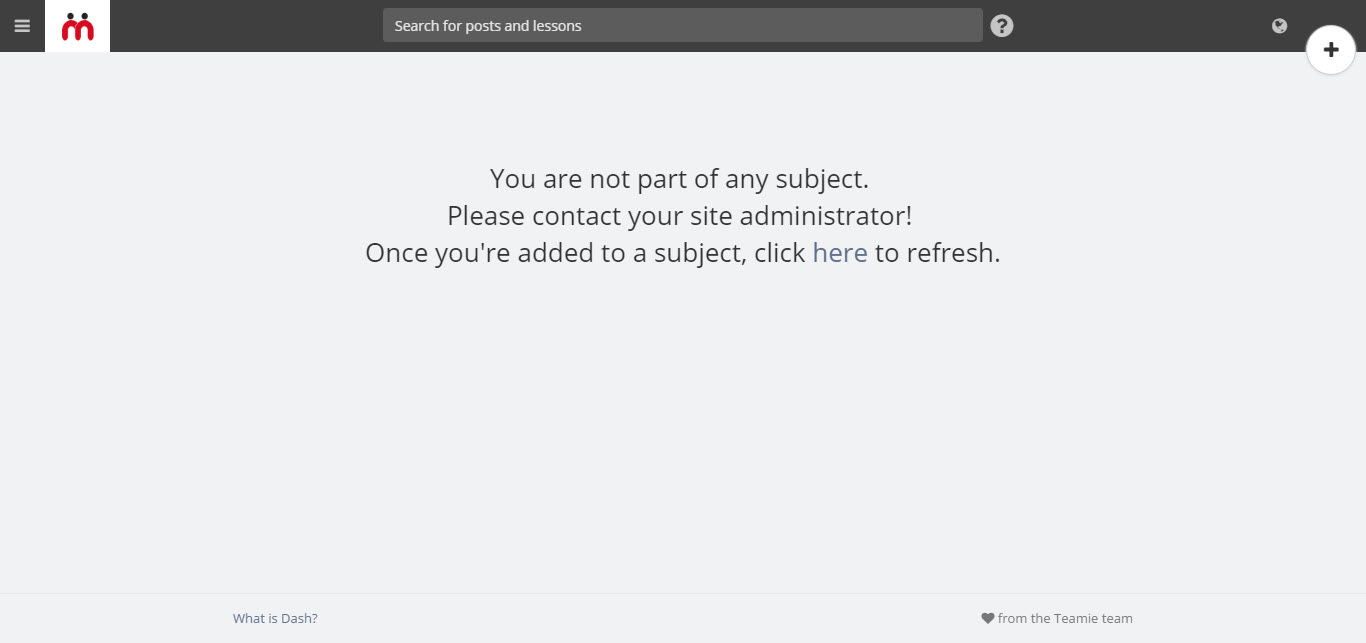 Materials Enhancements
As you know, your Dash homepage and classroom landing page shows you the lesson that you are currently reading or the next lesson that you need to read. By clicking it, you can continue reading from where you left off.
This sequence of what's next to come will now be based on the order of lessons & assessments in Sections of a classroom. So now not just lessons, but also online quizzes and assessments will be shown on your Dash homepage and classroom landing page. This means once learners finish reading a lesson, if the next thing they need to do is submit an assignment, they'd see the link to it directly on the homepage. Teamie wants you to get to the things that matter in the quickest way possible!

Import Units & Assessments
Remember the Add link that appeared between the two items of a section to add content in your sections? Now, we have added Import Lessons and Import Assessments links to it by which you can copy/reshare existing lessons and assessments from other classrooms and add them to the exact position of your choice in any section of your choice. Isn't that convenient? 🙂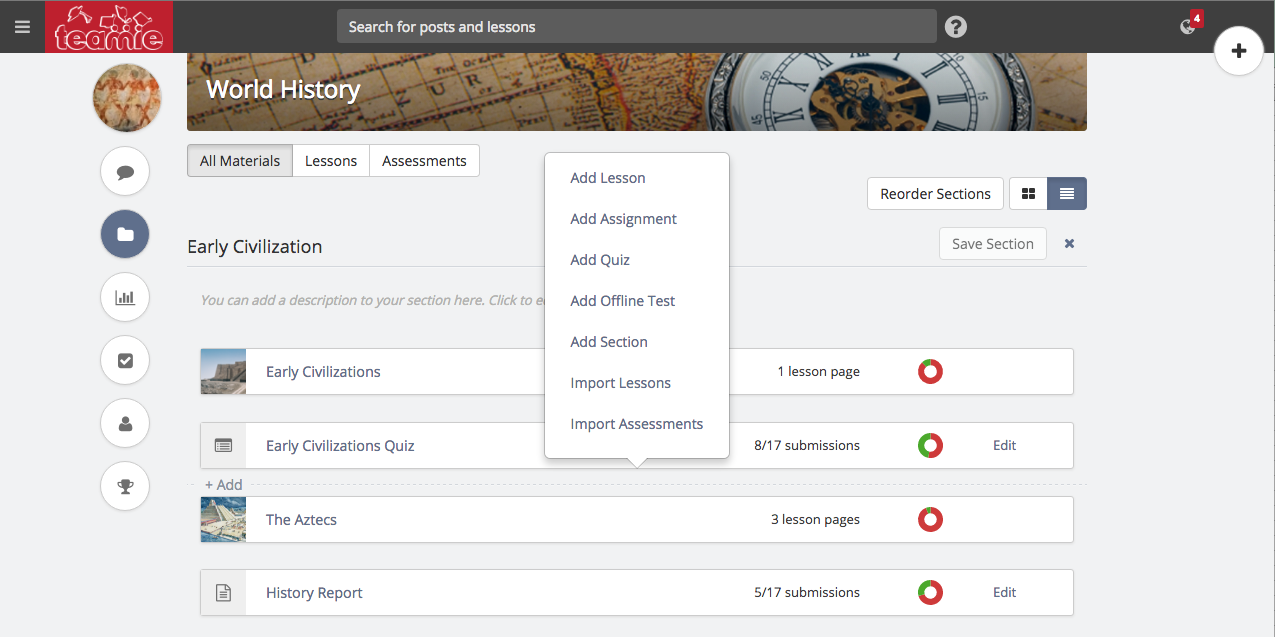 Global Add Button
Global Add button also got an upgrade this time! Now, you can quickly create content in Dash and then get back to whatever you were doing.
All you need to do is click the global add button and fill the appropriate fields (classroom, section, and maximum score in case of an offline assessment) and click Create. As soon as you click the create button, the popup will be dismissed and the lesson / assessment gets created at the end of the selected section and you stay wherever you were. You can always navigate to that lesson / assessment later and make further changes.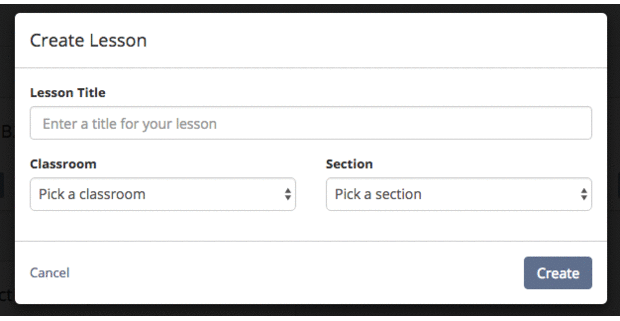 Minor Enhancements
You will notice a few minor but useful enhancements with this release.
First one is empowering instructors with the ability to configure a notification preference for themselves in order to receive email notification when someone reports a post or comment. We included this preference since some instructors were keen on receiving emails whenever something inappropriate gets posted in their classrooms.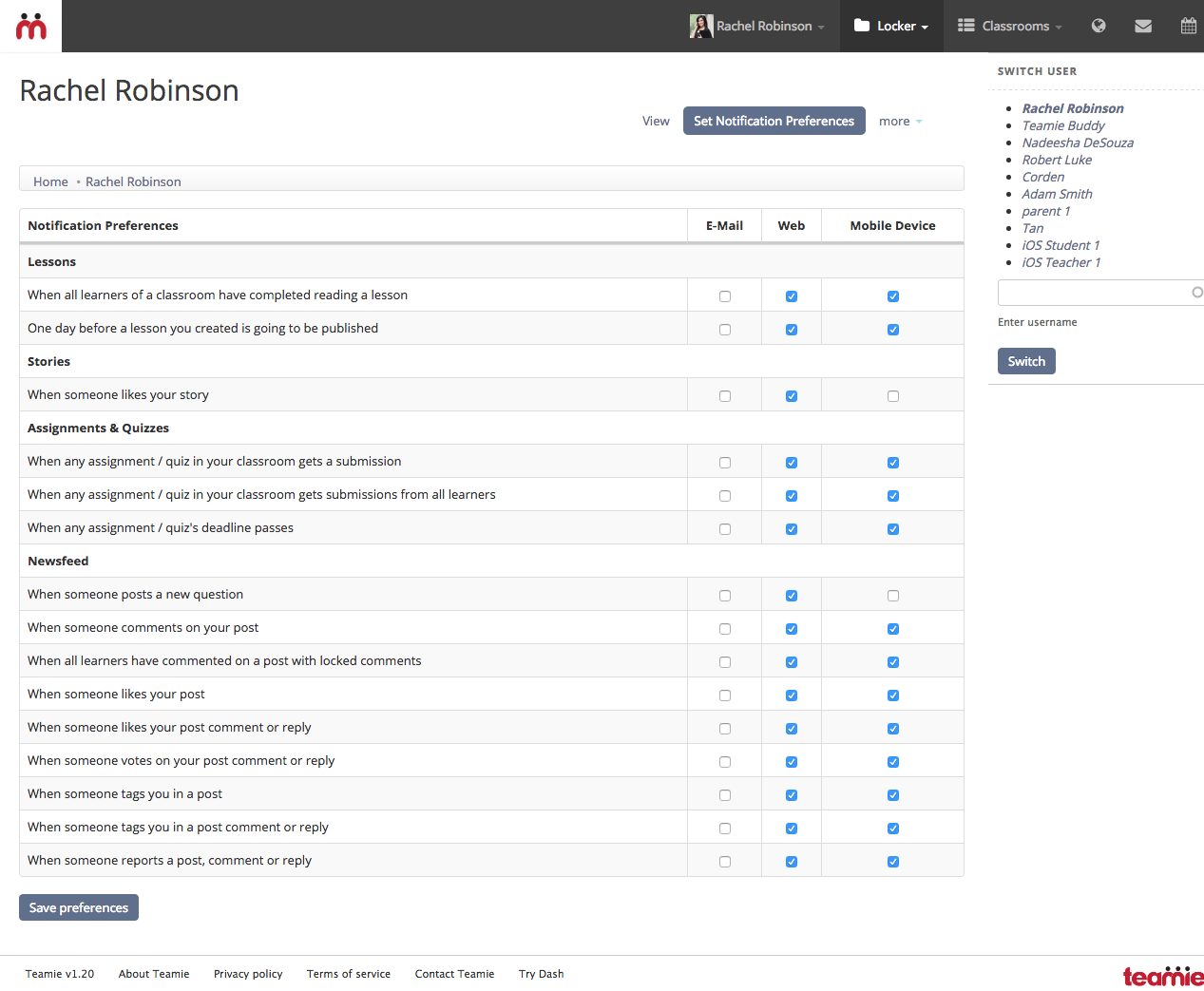 The site administrators can also configure specific email addresses to be notified whenever any post on the site is reported. This might be useful in case you have those one or two admin people at your institution who wish to be alerted of inappropriate behavior.
The second enhancement being the Dash calendar. A search bar will appear in the classroom filter for easy searching in case you are associated with 10 or more classrooms.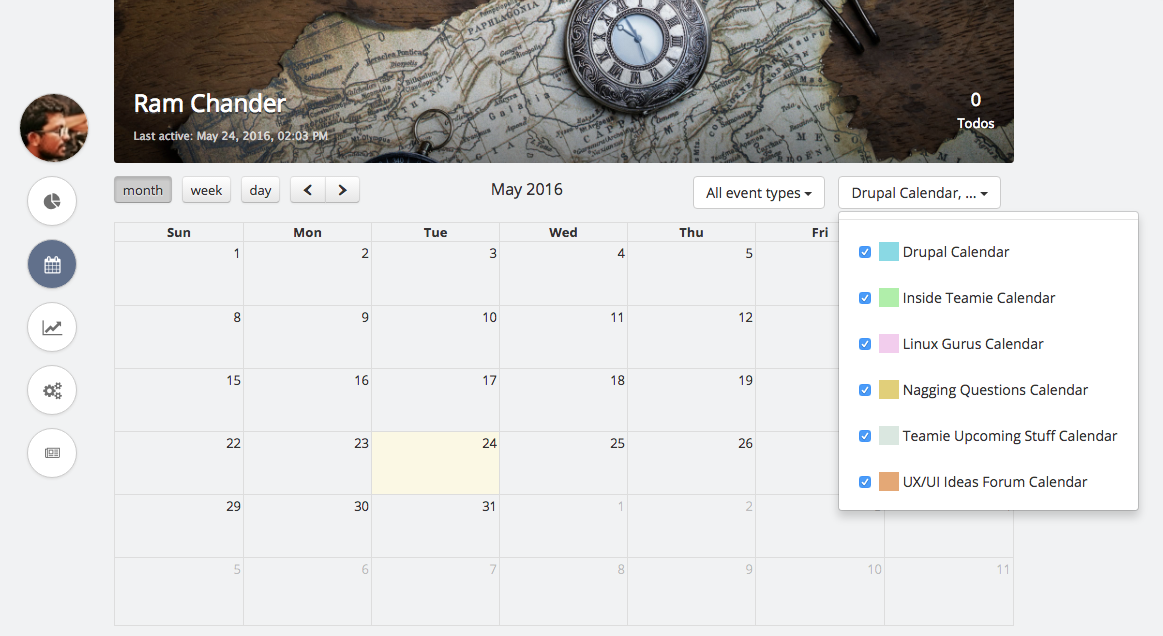 Also, the calendar will now flaunt an "All event types" filter. This filter will list Lessons, Assessments, Tasks, Sessions and other events by which you can filter the required events.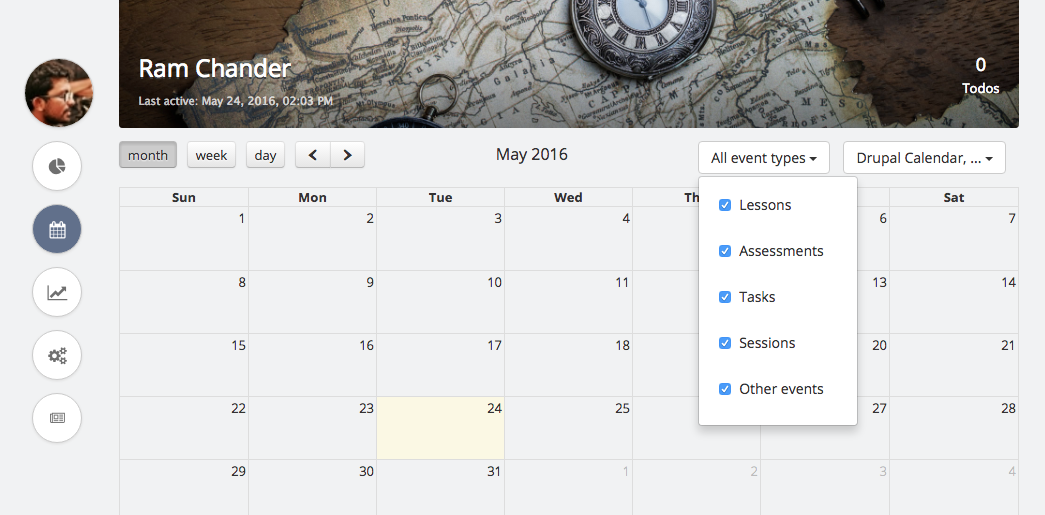 Edit Posts in Dash
Creating posts has been a feature in Dash from its beginning. But the posts created in Dash had to be edited in the old UI, until now. But not any longer, as you can now edit posts directly from Dash!
You can add/remove attachments, modify the text of the post, edit poll options and add new options (in case no user has taken the poll yet). Task posts can also be edited and allotted new deadline; corresponding calendar events will get updated and posts will be shifted to appropriate To-Dos for learners.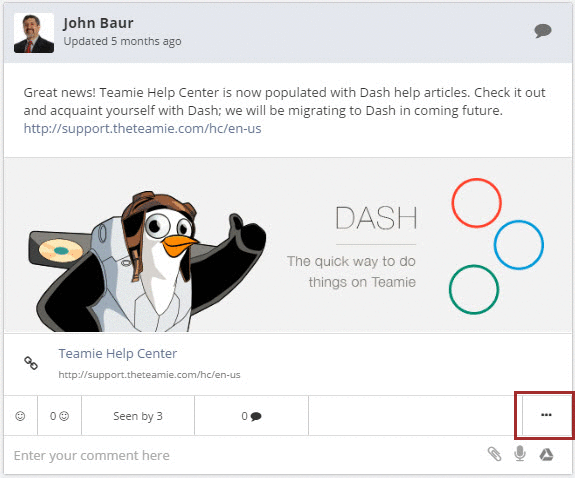 There are lots of other improvements which you will gladly notice when you try out Teamie 1.21. And once you try it out, remember to share your feedback because that's how we improve! Sayonara 🙂