Hello there admins. How are you doing? Hopefully administrating life into your sites 😉
Teamie release 1.21 brought a big smile on the faces of instructors, mainly due to the newly introduced Dash assignment grading and To-Dos feature.
But what this release also brought was two awesome features for you guys: Site-level Reminders and Classroom Dynamic Meta Fields. We dedicate this post to all you guys who work hard behind the scenes to organise and put everything in place.
Site-level Reminders
Now, you can configure site-level reminders for Teamie module, such as, lessons, assessments, sessions etc. These reminders will be sent out to users before or after certain dates associated with selected Teamie modules. Let's get into the details.
First of all, from where can you can create site-level reminders?
By accessing the "Set Reminders" link under the "Manage Teamie" block.

How can you create a site-level reminder?
On the site-level reminder page, set the reminder preferences by first setting the number of day(s) / hour(s) before or after which the reminders should be sent. Then select the event associated with the Teamie module for which you want the reminder to go out (Assessment Deadline date, Lesson Available from date etc). Finally, tick the mode of notification (Web and Mobile will be ticked by default).
Let's take a scenario where you want to configure a site-level reminder such that all classroom members (instructor and learners) are notified (via all three modes) three days before a lesson is available for learners. For this, select: '3', 'day(s)', 'before', and 'Lesson Available From date'. Then, tick the required modes of notification. That's it! You're done! Everyone will thank you sooner or later 😉

The notification classroom users receive will look something like this: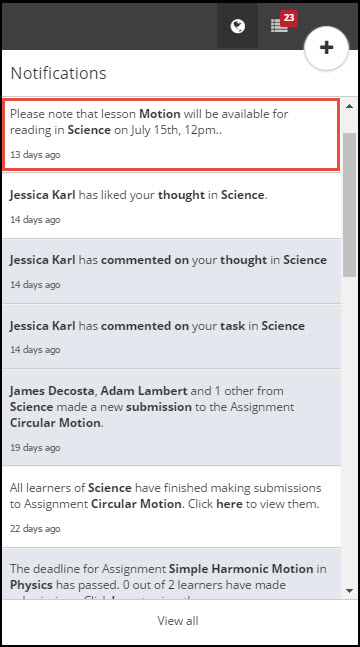 You can easily update or delete any reminder and the changes will take effect immediately.

There are a number of configurations for you to try your hands on. Following are the list of configurations that you can use to set up reminders for:
n days before Lesson Available From date
n days after Lesson Available From date
n days before Lesson Available Till date
n days before Assessment Publish date
n days after Assessment Publish date
n days before Assessment Deadline date
n days before Session Start date (What is a session?)
n days before Session End date
n days after Session End date
We'll be bringing more configurations in coming releases. Also, we are planning to give you the power to configure the reminders by roles. So, stay tuned!
You can configure the reminders that make most sense for your organization. If your organization is serious about assessment deadlines, then you could configure a reminder 1, 2 or 3 days before every assessment deadline. And what's more! You could set up successive reminders. 3 days before an assessment deadline you could send out a web notification, 2 days before you could send out a mobile notification and 1 day before you could send out an email notification. You have complete freedom to configure this however you want!
Couple of important things that needs to be kept in mind regarding the site level reminders are:
These configurations are set at the site-level and therefore will take effect for all active classrooms on your site.
In case any content is made into a draft (lesson or assessment), all its scheduled reminders will be cancelled. No need to panic!
Classroom Dynamic Meta Fields
As an administrator, you sometimes would have felt that your hands are tied up due to limited set of meta fields in classrooms. For example, your classroom might have a "Grade" or a "Level" or a "Department" field which you'd want to capture on Teamie. And you'd want these fields to automatically appear as filters in the Manage Classrooms page, so that you can use them to quickly filter and view a subset of classrooms on your site.  And that's exactly what we've done! You can now add any meta field you deem fit and it shows up automatically as a filter on the Manage Classrooms page.
Note: Anyone who can edit classroom details on your site can also edit the values of these new meta fields that you add.
Following type of meta fields can be added:
Boolean
Integer
List (Text)
Long text and summary
Text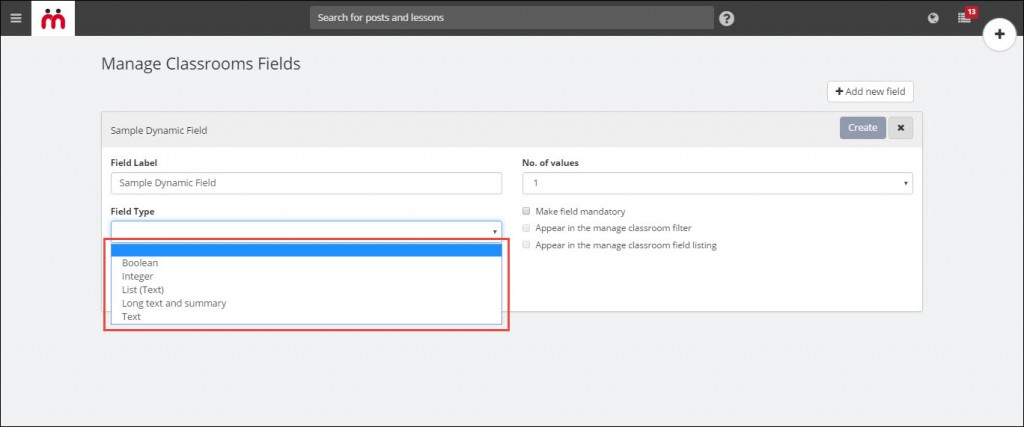 You can set the number of values that a classroom meta field can have. It can be from 1 to10 or unlimited for applicable meta fields. By default, the number will be set to 1.
You can manage classroom meta fields from the Manage Classroom fields page which can be accessed from the Manage Classroom Meta Field List link in the Manage Teamie block.

Adding new meta fields is very easy. Just click +Add new field button at the top right corner of the page.

Add the field label that will serve as its title. Choose the required field type and the number of values you wish to assign to the meta field and add any description you wish to add for the meta field (this will be visible below the field label).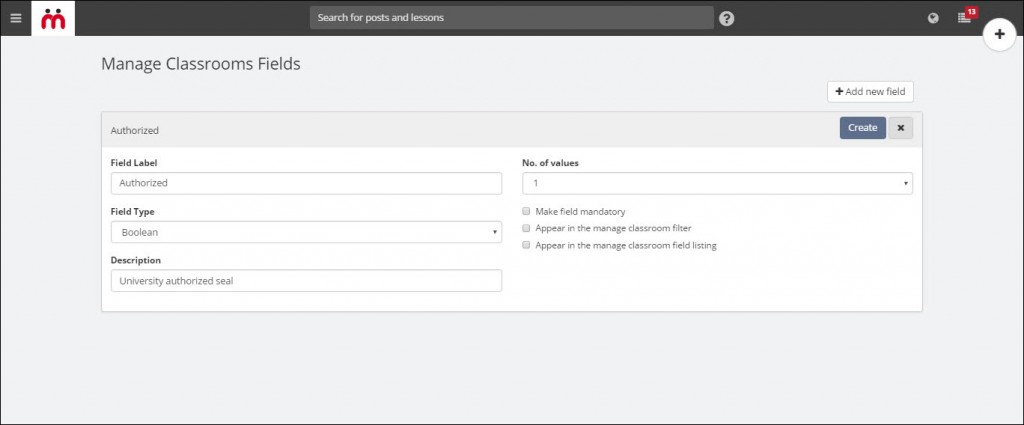 You can tick Make field mandatory checkbox as per your requirement to make any field mandatory for users to fill or select. This helps when you need to add a compulsory field to classrooms.
You can also decide if you want to make the field appear as a column in the Manage Classrooms listing and whether you'd want it to appear as a filter. . When you apply any of these filters and export the data out as a CSV file, then only the filtered data is exported out.
All the field types except "Integer" and "Long text and summary" field type can be selected to appear in the manage classroom filter and manage classroom field listing page. "Integer" field type can appear only in the manage classroom field listing, whereas, "Long text and summary" field doesn't appear on manage classroom page.

Finally, click Create and your newly added meta field will start showing up on the Manage Classroom and Create Classroom page, and also will be added as a field in the Import Classroom excel template for bulk import.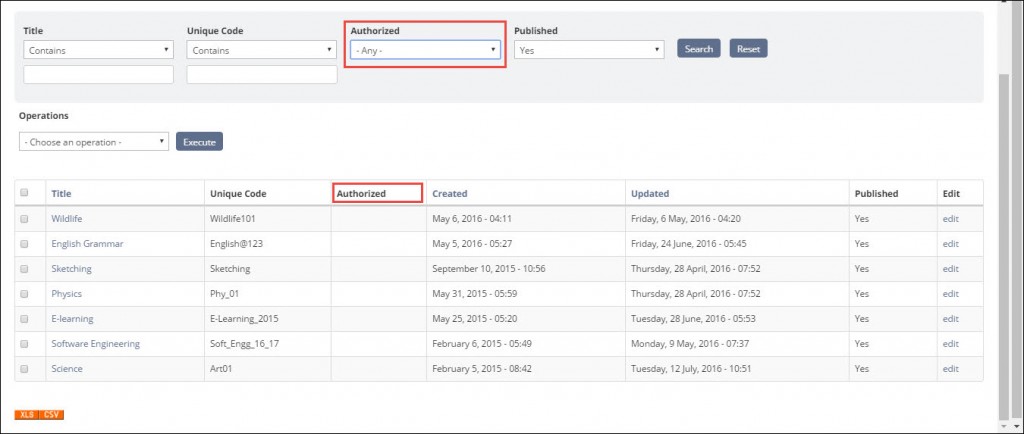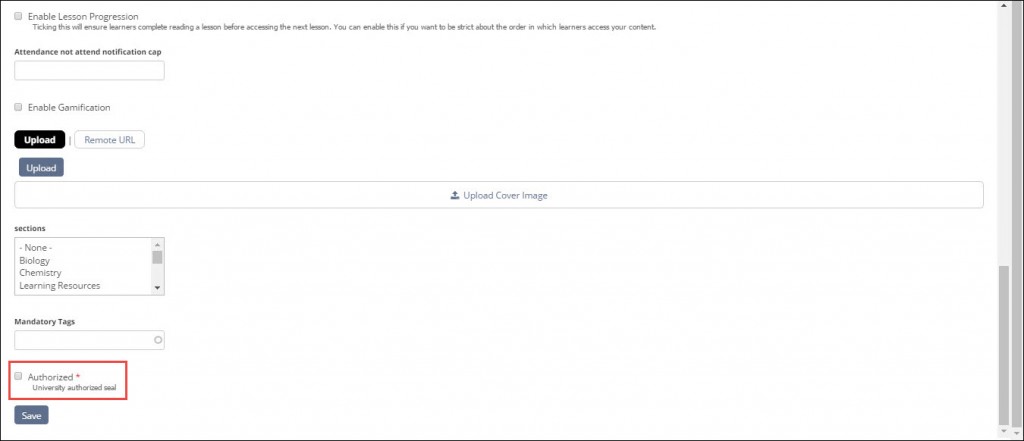 On the Manage Classrooms Fields page, you have the option to bulk update values of all the classrooms with newly added custom meta fields. For this, download the template, update the values and upload the updated template through bulk import of classrooms.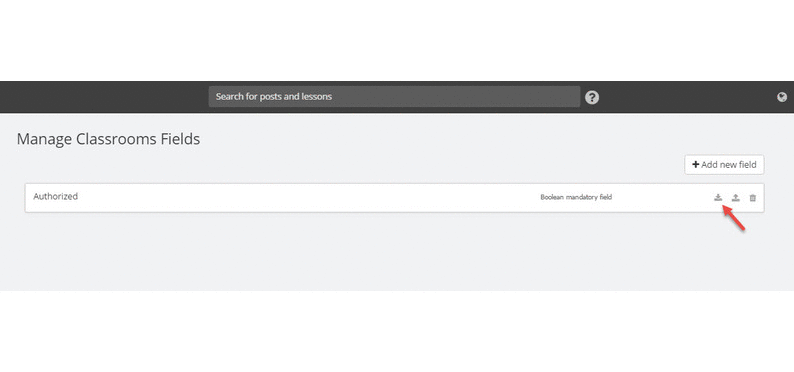 A maximum of 20 meta fields can be added (don't be greedy, this is more than you need!). Also, once you create a meta field, you cannot change its field type or make the field from single value to multiple. If required, you can delete a meta field. But keep in mind, once a field is deleted, there is no way to recover it. As they say, "Life's simple. You make choices and you don't look back."
We hope this feature will help to serve the custom needs of each Teamie client. No two schools are the same! And no two schools would have the same meta fields for classrooms. Hence, we believe this feature will empower site administrators to customize their Teamie site as they wish. We also think this feature has a lot more scope and will work towards enhancing it. We plan to allow users to filter analytics and reports by these custom meta fields. For instance, if "Grade" was a custom meta field that you added to all classrooms, then in the report on classroom activity we could provide you with a comparison of classroom activity across all grades. This will then help you to see classrooms of which grade are more active and so on. The possibilities are endless!
Read more about classroom dynamic meta fields here.
So this is it for this blog post. We hope we have catered to your needs with these two features. And don't worry. We have more updates in store for you. Meanwhile, do try out these features and if you have any suggestions, write to us at support@theteamie.com. Bye for now 🙂