Santa has brought some gifts for the users of Teamie in 1.16, aka the Christmas Update. They include exciting updates to Dash and something special for administrators.. Merry Christmas!! 🙂
Updates to Dash
We have made three key updates to Dash in this release. (If you've been living under a rock and do not know what Dash is, go here.)
Draft & Scheduled Posts
Several of our customers had requested for the ability to schedule posts for a future date and time. For instance, let's say today is Friday and as an instructor, I want to ensure a post for discussion gets created on Monday morning at 9am in my classroom. I have some free time today and do not want to wait till Monday to type out the post. So how do I do that?
Enter Scheduled posts. Simply click the arrow next to the "Post" button and choose "Schedule".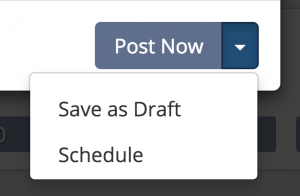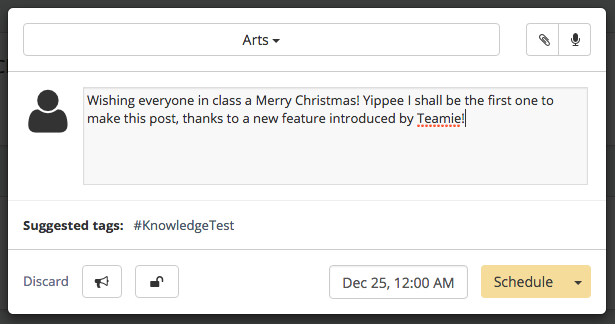 The other problem is what if I begin typing out a post but have not yet gotten my thoughts organized. So that's ok. Start typing what's on your mind and choose "Save as Draft" by clicking the arrow next to the Post button (or simply click outside the post share box). Your post gets saved as a draft. You can later access your draft posts from the "Locker" tab in the sidebar.
What else can I do with scheduled and draft posts? Well, that's up to you. We're working on something exciting with  to automatically populate draft posts for you, based on content from other apps. For instance, whenever there's a new blog post on my favourite blog, create a draft post on Teamie. More on that later!
The most important point to note is that Draft & Scheduled Posts feature is available only in Dash. We would like to do this as a way to reward people who try out Dash!
Drag 'n' drop file attachments for Posts
Who clicks on a button and then navigates through folders to pick out files to be added as attachments? Maybe someone who lives in the past? Simply drag and drop files (or folders!) onto the post share box and they will get added as attachments to your posts in a jiffy!
You could also copy paste images from your clipboard onto the post share form, to attach them to the post. This saves you the hassle of saving screenshots on your computer before uploading them to Teamie.
Once again, this is a reward that only Dash users may claim! 🙂
Instructor view of learners who completed homework
In the first version of Dash, we introduced the , in which learners can mark a homework post as Done. We have now added a way for instructors to see which learners have marked a given homework post as done.

So the next time you create a homework post, you can simply go back to the newsfeed and check who has completed it!
Admin Enhancements
Site administrators were feeling a bit left out during some of our recent updates. Hence, in this update, we decided to add a couple of nifty features to make them happy.
Configure Default Notification Preferences
is a baby step we made in the direction of Personalization and control that we provide to Teamie users. And now, as an enhancement to it, we allow site administrators to configure the notification preference defaults for all users on the site.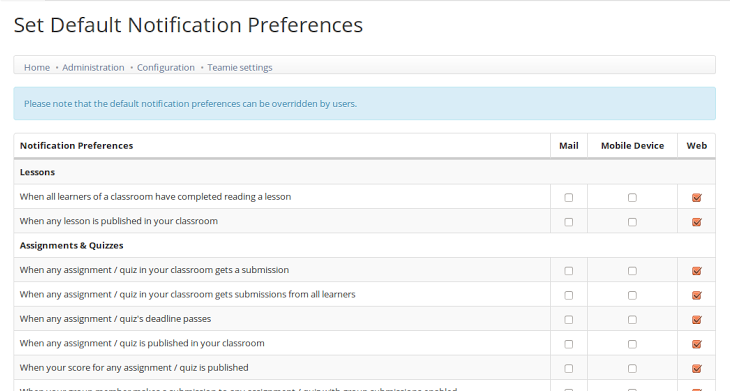 What's the use of this? Let's say you want to encourage active discussion in your institution. You feel it's important for all users on your Teamie site to get emails when a new comment is made on their post. Simply open up the "Manage Teamie" block and find the "Set Default Notification Preferences" link. Here you need to tick the Mail checkbox for "When someone comments on your post". Once you do that, that notification preference gets updated for all users on the site.
Do note that the default notification preferences take effect only until a user overrides it. The moment a user overrides the defaults and saves his/her own notification preferences, the defaults will not affect that user. We made it this way because we felt that the ultimate power of controlling the mode of notification must rest with each user, irrespective of whether he/she is a learner or instructor.
Last Accessed Date Filter
Some of our customers requested us to highlight users who haven't accessed their site, since a given date or time. Based on this request, we have now added a "Last Accessed Date" filter to the "Manage People" page.
This filter lets the site administrators filter the list of users to show only users who have last accessed the site before or after a particular date or in between two dates etc.
This filter will hopefully make it easy for site administrators to catch those people, who do not have time in their lives to access Teamie 🙂 "Do such people exist?!" you might ask. Maybe… and maybe these are the people who're busy being Santa Claus! Merry Christmas!
P.S: Oh and did you know? Santa is back on Teamie with his own classroom and bunch of riddles for you! See if you can answer them!