Hey everyone! This post is about our latest update – Teamie Turquoise (1.43). This update sees the integration of learners' records from all the classrooms in Teamie to a single place. Intrigued, eh? Well, let's give you a TL;DR version of this update before getting into details:
Teamsets can now be used for group submissions in assessments

A new learning summary view to show learners' records within Teamie at a glance

Non-scoring rubric can be published without having to publish the assignment / offline test scores first

Nifty MCQ option and PrizmDoc enhancements
Teamsets for Group Submissions
Group submissions allow learners to collaborate and make submissions on behalf of the whole group. Instructors can make groups and add learners to them. Once a learner, from a group, makes a submission to an assessment (assignment / online quiz), the submission will be considered for all the members of the corresponding group. This is an existing feature on Teamie, but we have decided to improve it by using the Teams feature.
You would already be familiar with the 'Teams' feature that we rolled out in our earlier update. While also being our first concrete step towards introducing personalised learning on Teamie, it provided a way to create independent groups of users within a classroom, now called teams. With this update, we are essentially using the teams created in the 'Teamsets' of a classroom to serve as groups for group submissions in an assessment.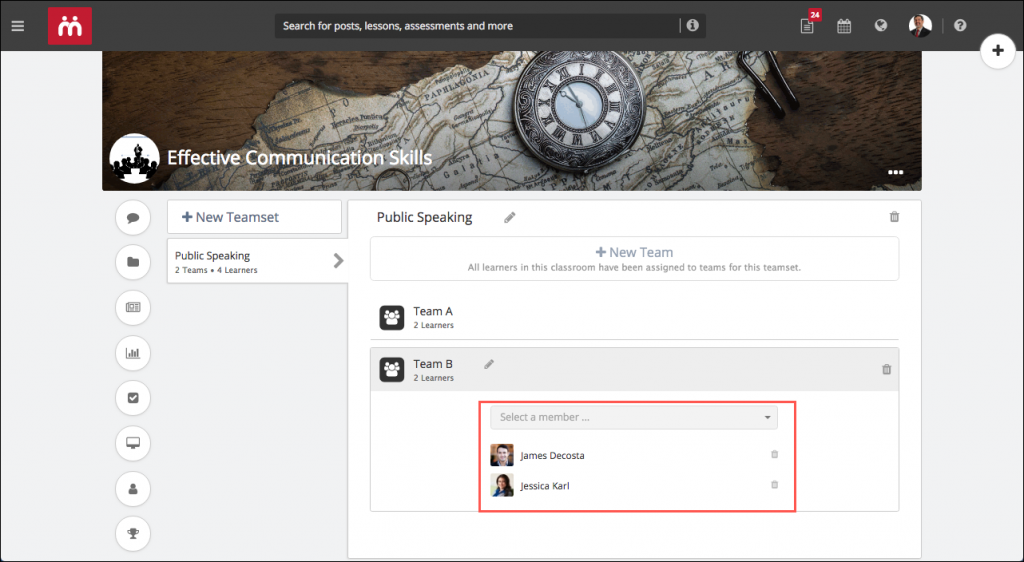 Assignments
You can allow group submissions for an assignment and then select the teamset with the teams that you wish to share the assignment with. All the teams in the selected teamset will be considered as the groups for that assignment. All the learners that are not part of any team in that teamset will be considered for individual submission.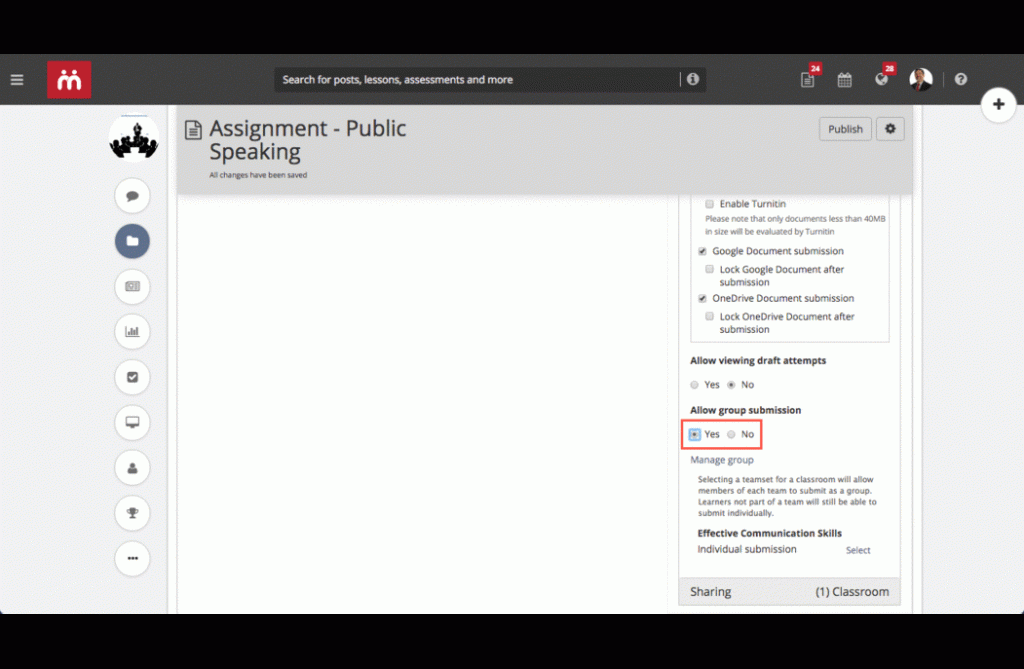 (GIF)
You can also manage the teamsets by clicking the 'Manage teams' link while creating / editing an assessment. This link will take you to the Teamsets tab of that classroom.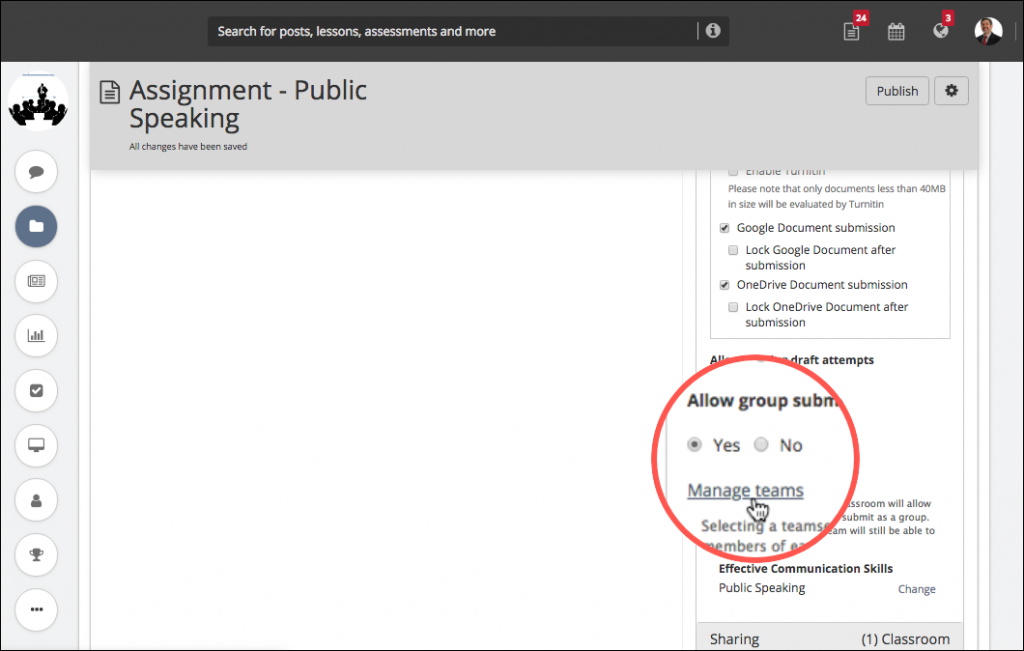 Once a group learner makes submission for this assignment, the submission will be considered for all the members of the group.
Note: Any member of the group will be able to make additional submissions if multiple attempts are allowed by the instructor.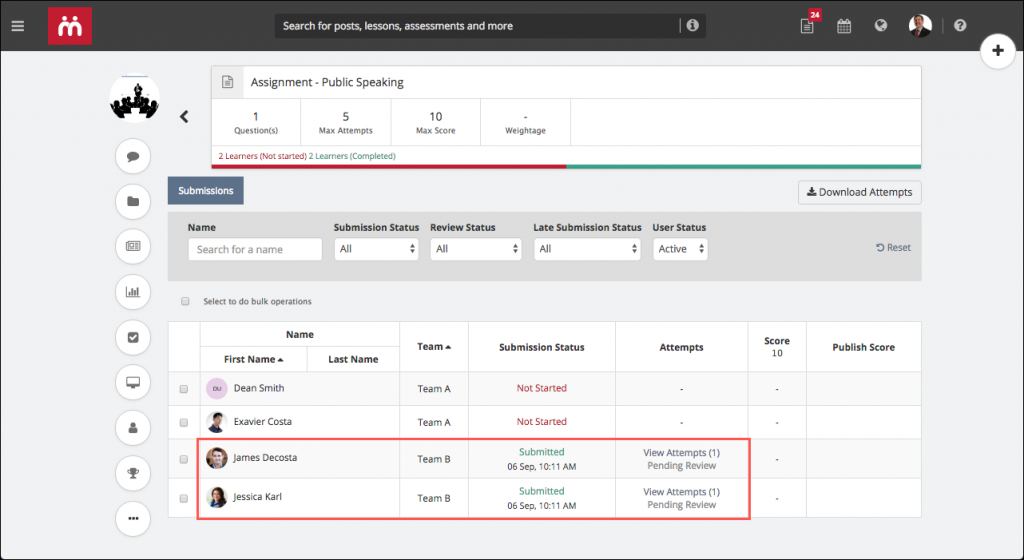 Also, if you notice in the above screenshot, a new column named 'Team' is also added on the Submissions page to indicate which team a learner belongs to. The column will show a dash (-) for learners who are not part of any group.
As an instructor, you cannot change the teamsets settings for an assessment once an attempt (including draft attempt) has been made for that assessment.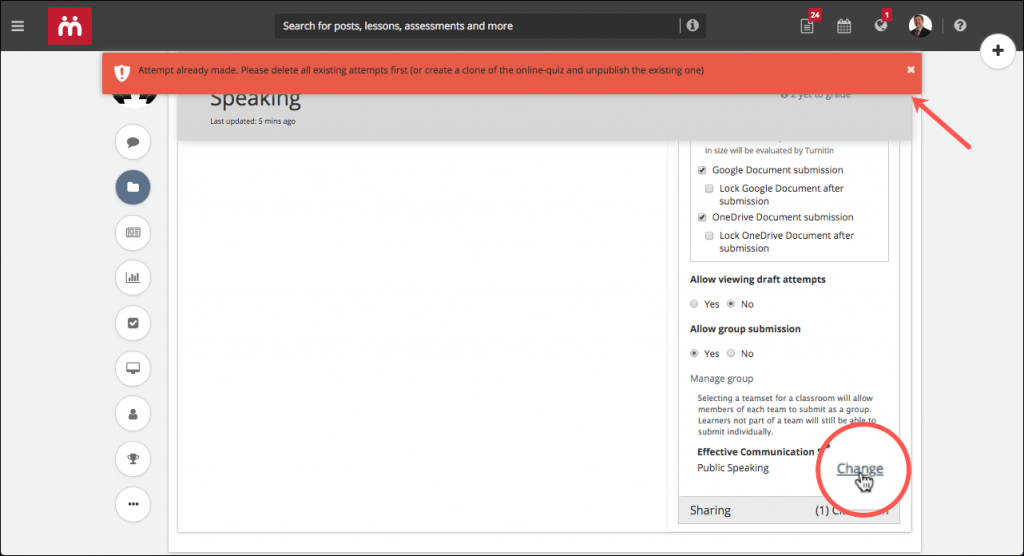 Similarly, the teamset and its teams cannot be edited once an attempt is made to any of the assessment(s) it is linked to.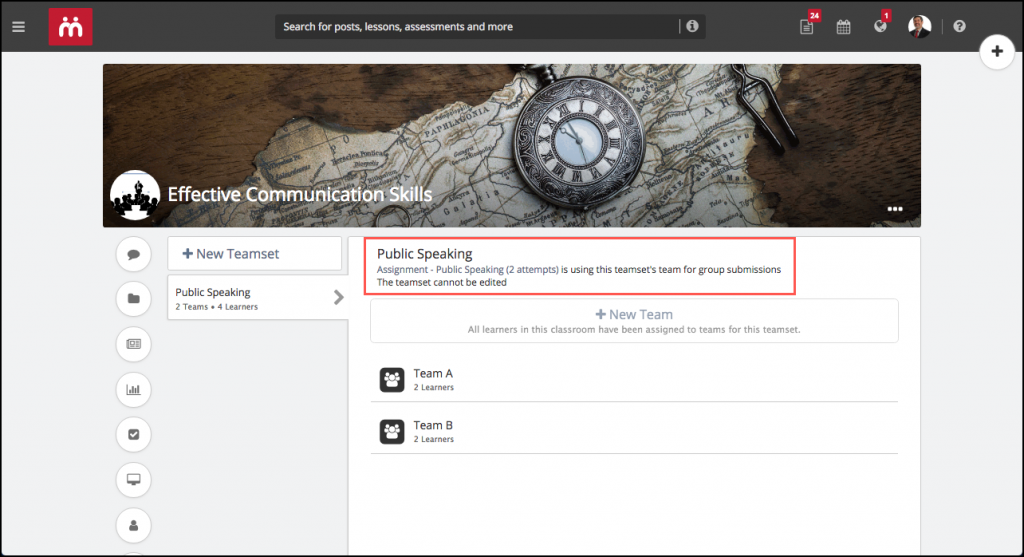 Online Quizzes
The same workflow as what we are introducing above for assignments will happen for online quizzes too.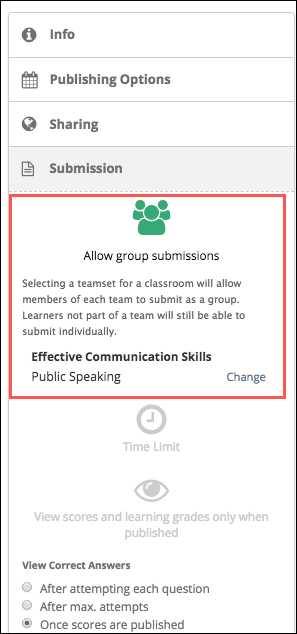 Learning Summary
From Teamie Turquoise (1.43) onwards, learning / training summary of learners will be now be shown on their profile page. With this feature, we are trying to move towards our goal of creating a learning summary report through which administrators would be able to view the learning / training summary of all users in a single report.
A new tab will be present on the user profile page which will house the learning summary of the learner.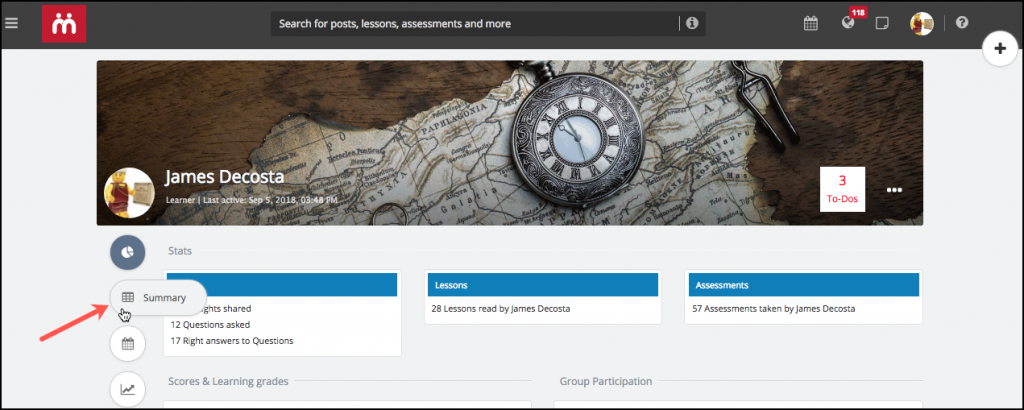 The learning summary will include learners' classroom names (both active and archived), associated meta fields, scores and learning grades (if published for learners).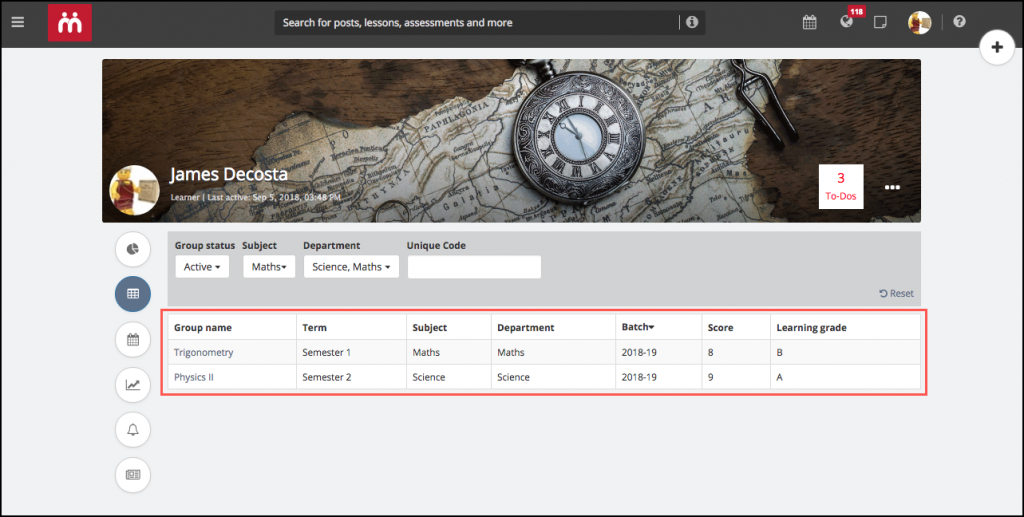 Also, a set of nifty filters are available on the Summary page to help you quickly narrow down to the required result, including the 'Active' and 'Archived' filter.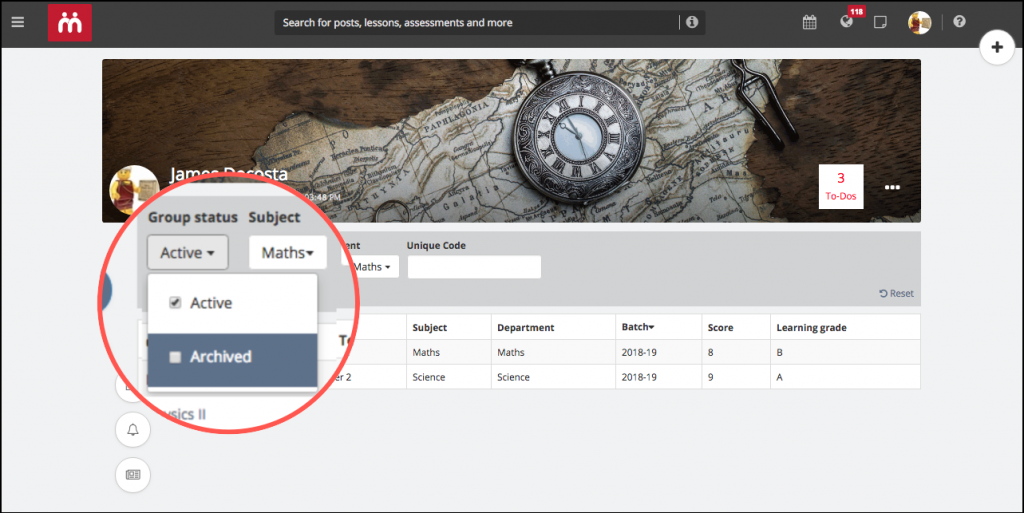 As mentioned before, in upcoming updates, we would be building on this feature to allow administrators to view the learning summary for all learners in a single report. We will also allow import of trainings/courses that learners have performed outside Teamie to be displayed on their profile. So, stay tuned and stay excited!
Scales for Non-Scoring Rubrics to be visible along with the Published Feedback
Non-scoring rubric allows teachers to grade learners based on just the rubric criteria and not the scores. Scores need to be entered separately during the grading process. Some of the instructors gave a compelling argument on giving a detailed feedback on learners' attempts while still allowing them to reattempt, as a major part of feedback is given from the assigned scales on the rubric criteria.
In order to make the rubric scales visible to learners, instructors need to publish their score. But, once the scores are published, the learners cannot reattempt. So this became a catch 22 situation. Thus, we decided to solve this predicament by allowing rubric scales to be visible for non-scoring rubrics once the feedback is published.
So now, once an instructor has attached a non-scoring rubric to the assignment, that rubric feedback will be visible to the learner together with any textual / audio comment feedback. This way learners can get the rubric feedback to improve on their submission and make another attempt.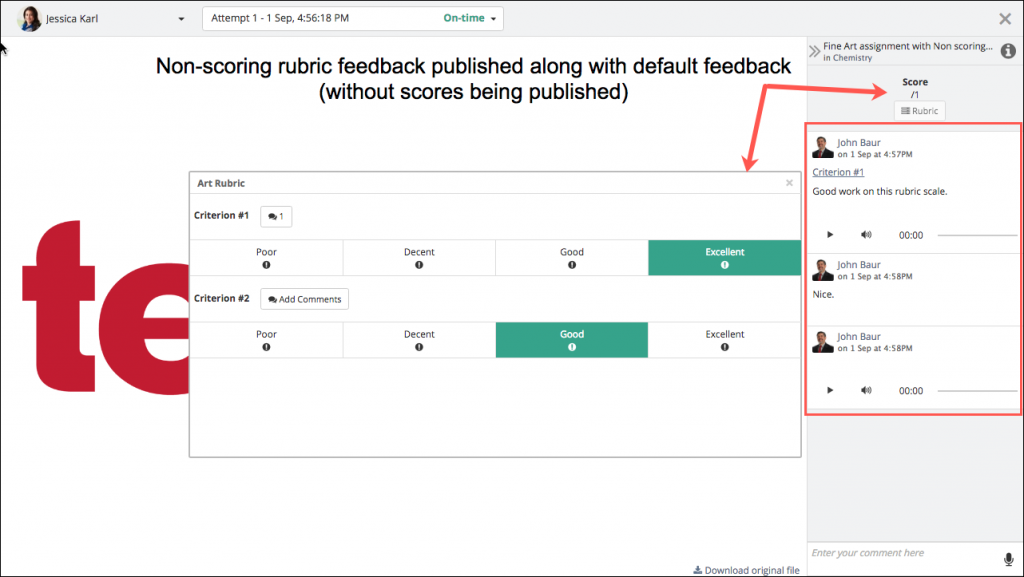 Minor Enhancements
There are a couple of enhancements that you might already have noticed as they were pushed out in our minor updates between the last release and this one. Let's summarise them.
Document Viewer Configurations
In previous updates, we added the 'Viewer Configuration' settings for our document viewer for downloading and printing documents on Teamie. The 'Download' setting depends on the 'Content Security' mode (if enabled,  the 'Download' setting will be unselected, and if disabled, it will be selected). On the other hand, the 'Print' setting is the sub-setting of the 'Download' setting. If the 'Download' setting is un-selected, the 'Print' setting will be unselected by default.
Now, we have added a new 'Annotations' setting, which will allow moderation of annotations on a document on Teamie. This setting provides the following three options:
Public

: Users will be able to see all the annotations made on a document.

Private

: Users will be able to see annotations made only by themselves on a document.

None

: Users will not be able to see or create annotations on a document.
Note: The assessment grading views will continue to have full annotation capabilities, regardless of the above setting.
MCQ Options Enhancements
MCQ options can now be in rich text along with the additional feature of adding media to each option. We have made this enhancement based on your feedback and suggestions, which are highly valued at Teamie. So, we encourage you to keep sharing your feedback on how we can improve further.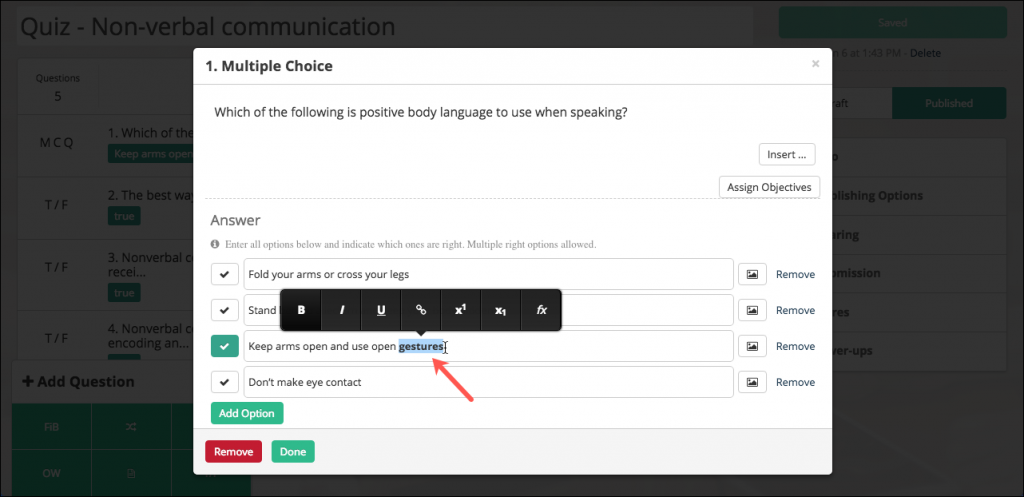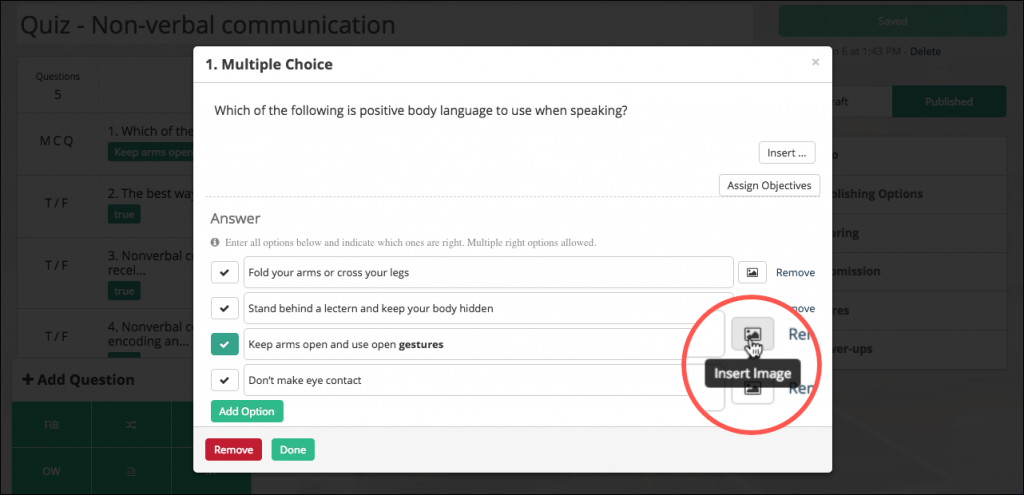 So, that's it for Teamie Turquoise (1.43). See you soon with some exciting new updates. Till then be healthy, be collaborative!