Hello everyone! Welcome to our latest update, Teamie Dziban (2.3)! Firstly, we hope all of you are healthy and safe. This update predominantly focuses on the integrations done to make your learning experience more collaborative and easily accessible.
We understand that your learning and training needs would evolve during this difficult time, as you work from home. We have taken several measures to improve your experience – from upgrading our quality of infrastructure where possible to integrating with different services to meet your requirements.
With the current dismal COVID-19 situation, remote learning has become vital for institutes and enterprises to disperse information and continue with the education and training. Keeping this in mind, we have integrated with Google Hangouts Meet and Zoom to provide as many resources to our users as possible. We have also integrated with GO1, a high-quality global content library, to let you access a variety of courses directly from Teamie. Let's quickly give you a TL;DR version of this update and then proceed to a much more detailed version of it:
Teamie – Google Hangouts Meet Integration
Teamie – Zoom Integration
Teamie – GO1 Integration
SCORM lesson creation in Dash
Configurable meta fields on the user profile page
Enhanced activity tracking for user account changes
Teamie – Google Hangouts Meet Integration
With Teamie – Google Hangouts Meet integration, instructors can link online video conferences to events created directly in their Teamie classrooms/modules. This Hangouts Meet conference can then be joined by the members of the classroom through Teamie. 
To create a conference, add a calendar event in Teamie and then enable Google conference in it.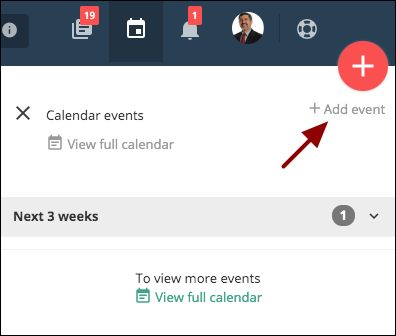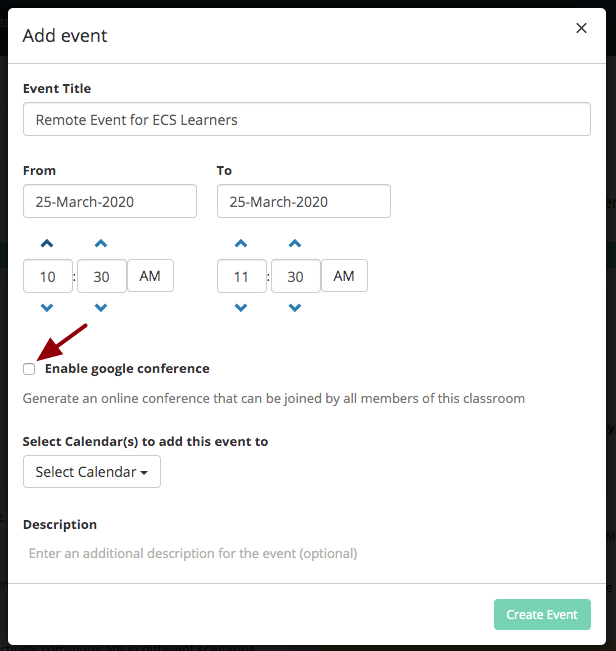 Then, select the classroom in which you wish to create this calendar event. A calendar event will be created for all the classroom members with the link to the conference for joining it. A corresponding event in your Google calendar will also be created.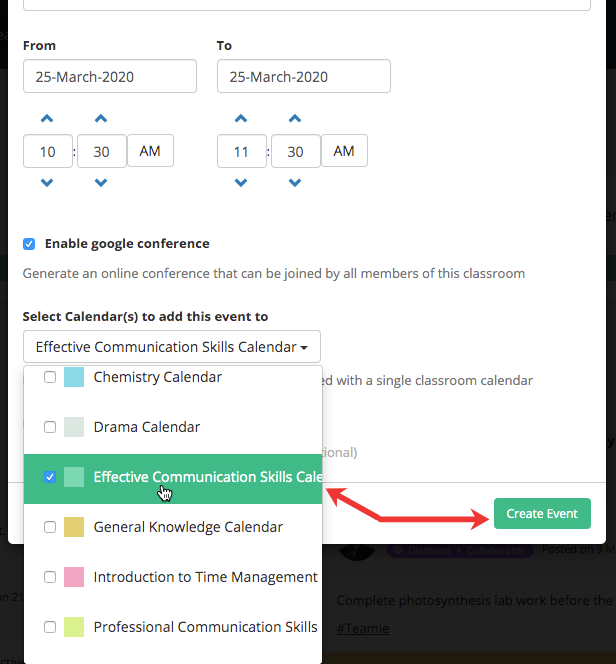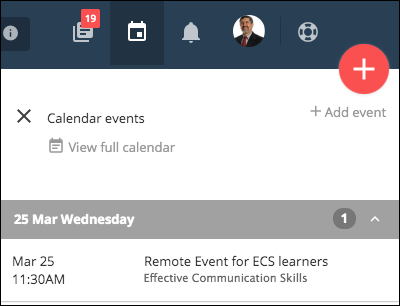 ? You cannot create a calendar event in which Google Meet conference setting is enabled in more than one classroom.

Learners will also be sent bulletin-board notifications as well as email notifications for the created calendar event through which they can join the Google Meet conference from Teamie.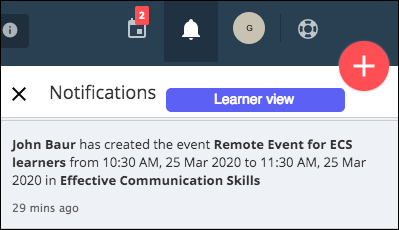 Once the calendar event or the notification is clicked, the event pop-up will open up with the Google Meet conference details. Learners can click the corresponding link to either join the conference online or by phone.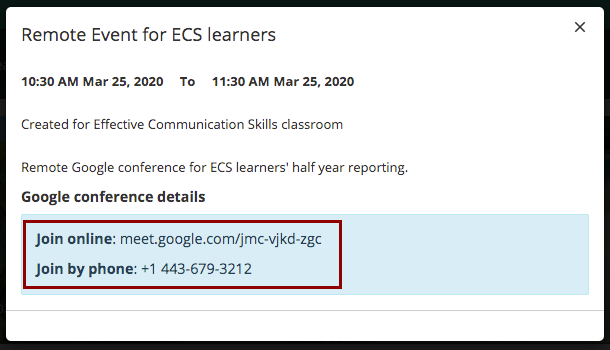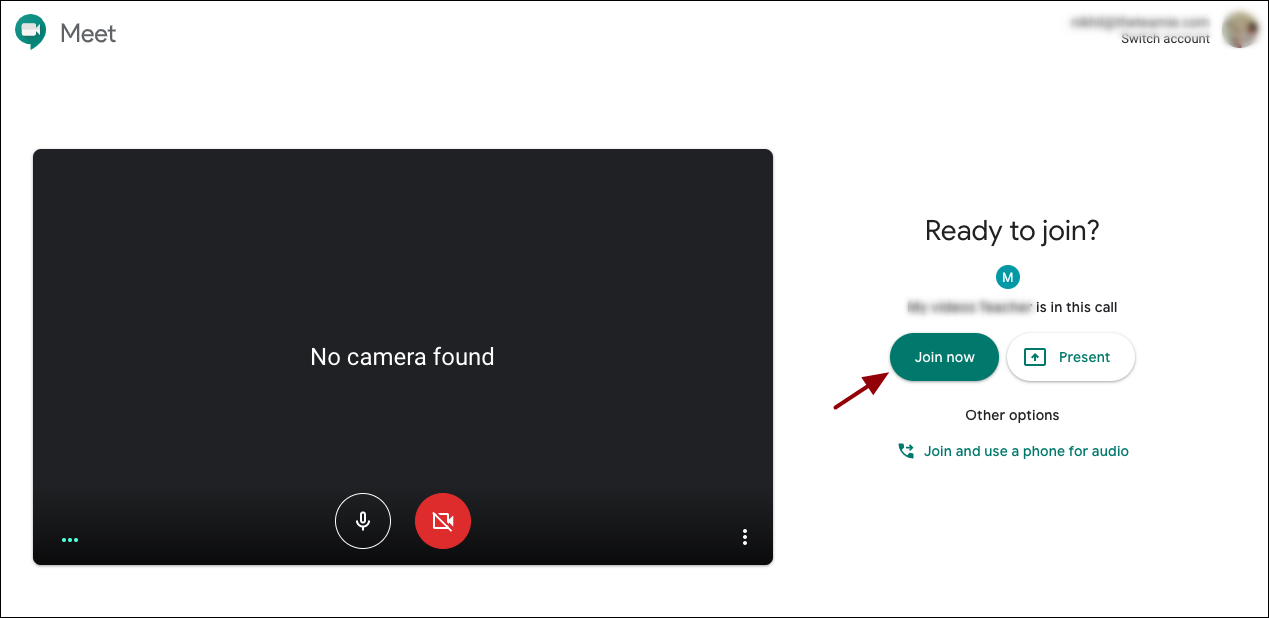 One more handy feature of this integration is that any recording done through the Google conference will be fetched from your Google Drive and attached to the Google Meet Conference calendar event on Teamie for easy reference. Do note that you need to start the recording during the scheduled meeting duration.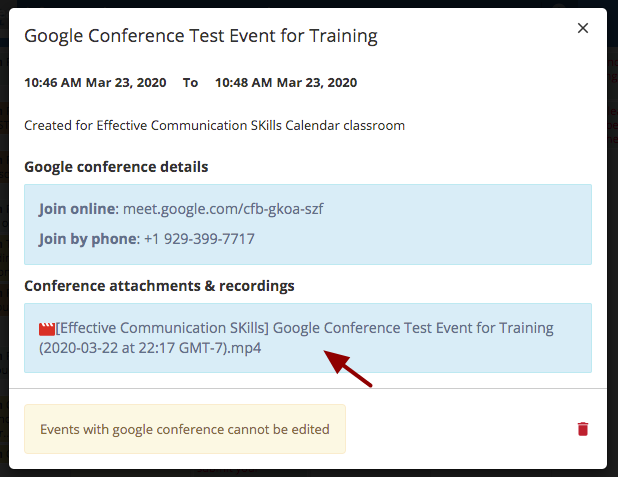 Learners can also join the conference from the mobile phones via the calendar event notification sent to them on the Teamie apps.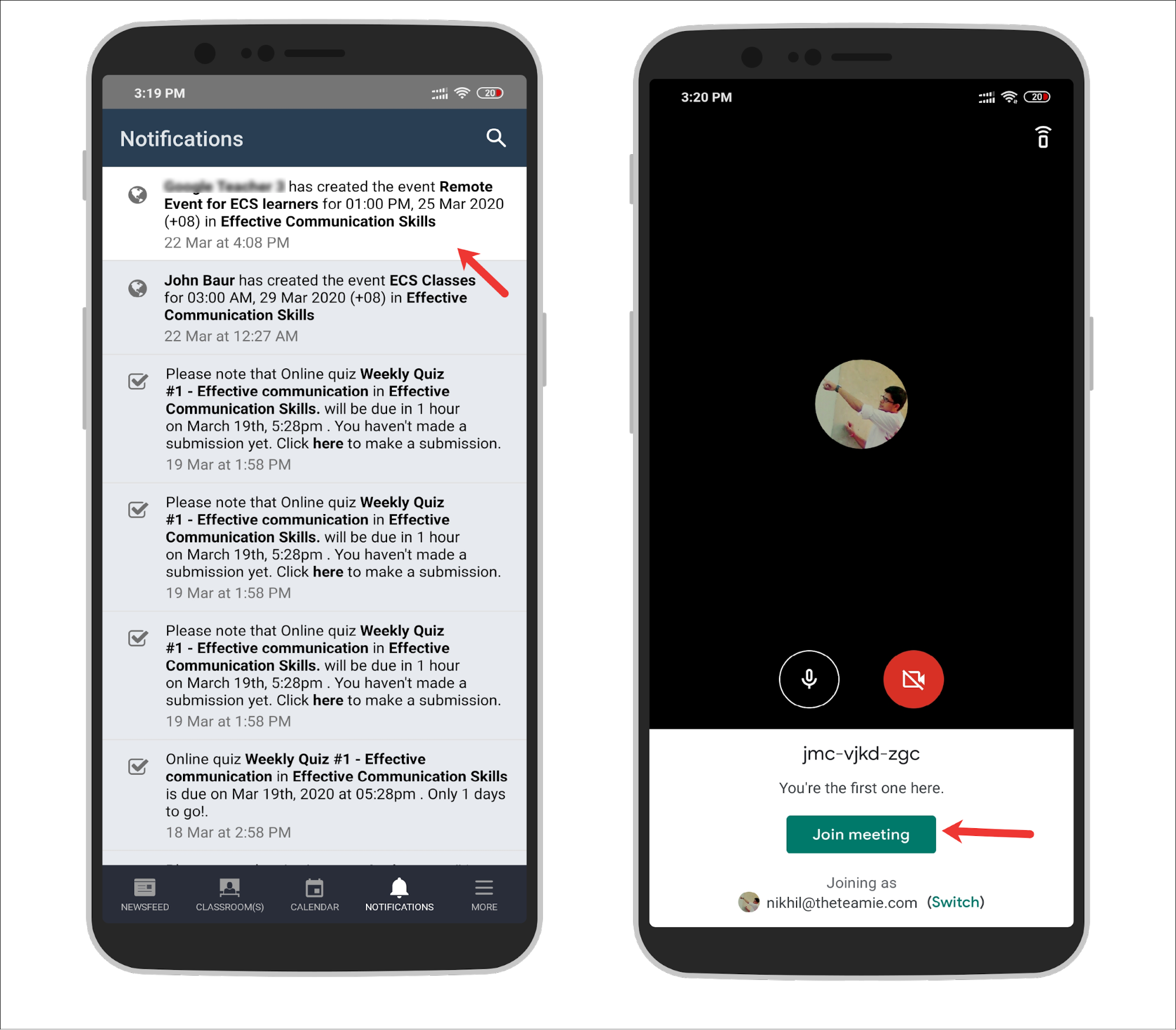 As an instructor, if required, you can delete a calendar event with Google Meet conference enabled. But, you cannot edit it.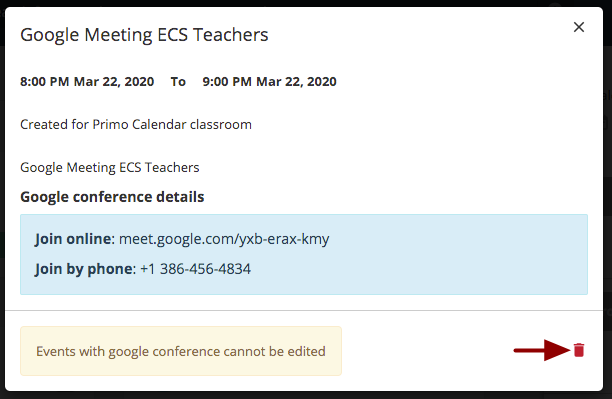 Note: In case you delete a calendar event with Google conference enabled, learners will be sent a notification (bulletin board and/or email). 
We hope this would allow you to swiftly get in touch with the members of your classroom while you work, learn and train from home. This feature is an optional feature on top of the Google integration. 
So, in case you are a Google institute / enterprise, and want to enable this feature, kindly write to us. Also, if you want to know more about how to make your conferencing experience seamless via Teamie, click here.
Teamie – Zoom Integration
If members of your institute / enterprise are using Zoom for conferencing, then you can now leverage Teamie – Zoom integration. We have integrated with Zoom through LTI and you will be able to view a Zoom tab in your classrooms/modules, once enabled.
Once a Teamie administrator has enabled this LTI integration on your site, instructors can enable Zoom Meetings  in their classrooms.
Once the setting is enabled, instructors will be able to view the Zoom tab.
? The Zoom Meetings will not appear in the Teamie Calendar, but only appear in the
Zoom
tab in the classrooms, where Zoom integration has been enabled.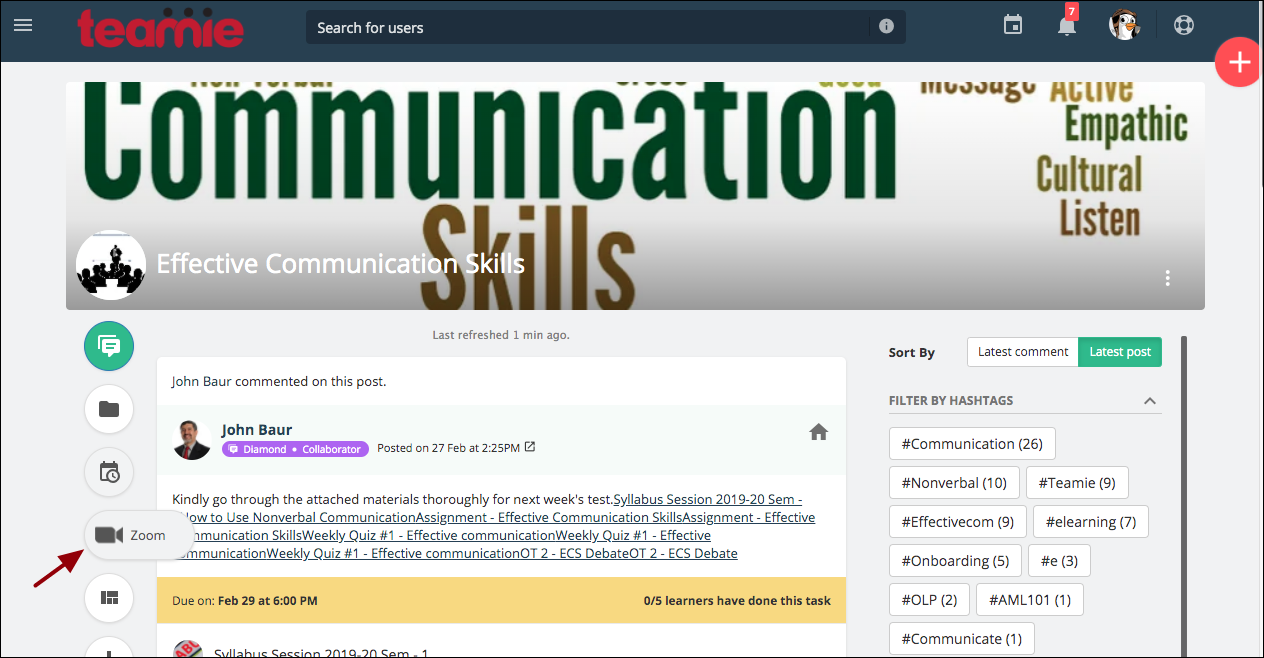 The Zoom tab will fetch the following information based on your integrated Zoom account:
Upcoming Meetings

Previous Meetings

Personal Meeting Room

Cloud Recordings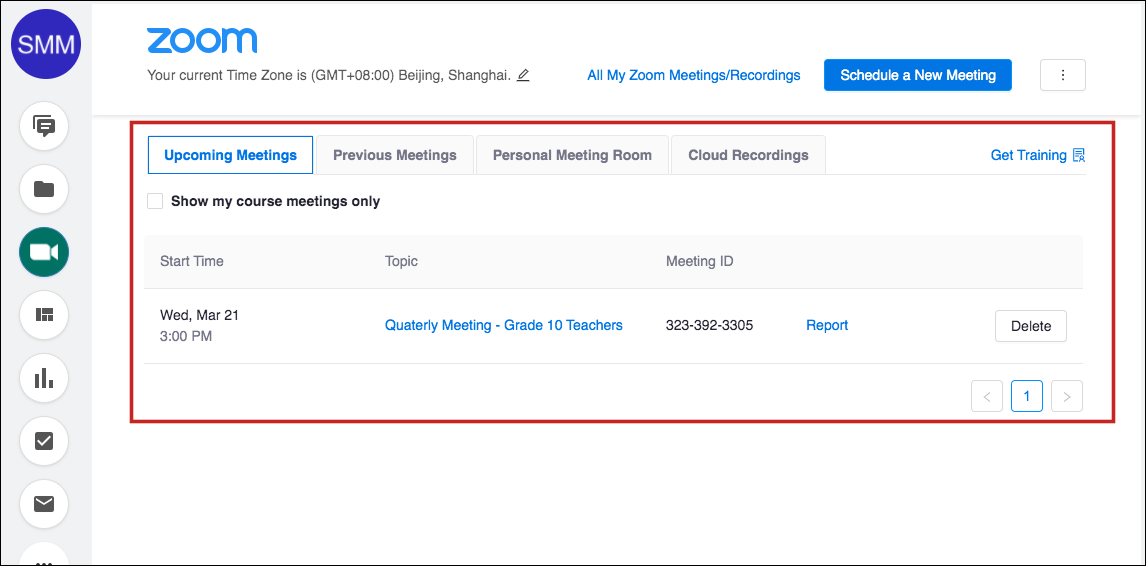 Note: The content in the Zoom tab will only be accessible to users with valid Zoom licenses. Instructors' accounts will need to be added to the Zoom account for them to use the integration in their classrooms. If the account is invalid, then the content will not be visible, even if the Zoom tab is displayed to the user. You can visit our help center to read more about the Zoom setup and functionality.
Teamie – GO1 Integration
GO1 is one of the biggest content providers with a wide selection of content on topics ranging from Compliance, Communication Skills, Finance to Health & Safety.
We have integrated with GO1 in such a manner that instructors can easily search and pick courses from GO1's library and instantly create a SCORM lesson on Teamie using it. Kindly note that you would need to subscribe to GO1's services in order to use the integration.
The instructor will be able to search for content from various providers, and add them to the classroom directly from the platform. The created lesson will have its details pre-populated.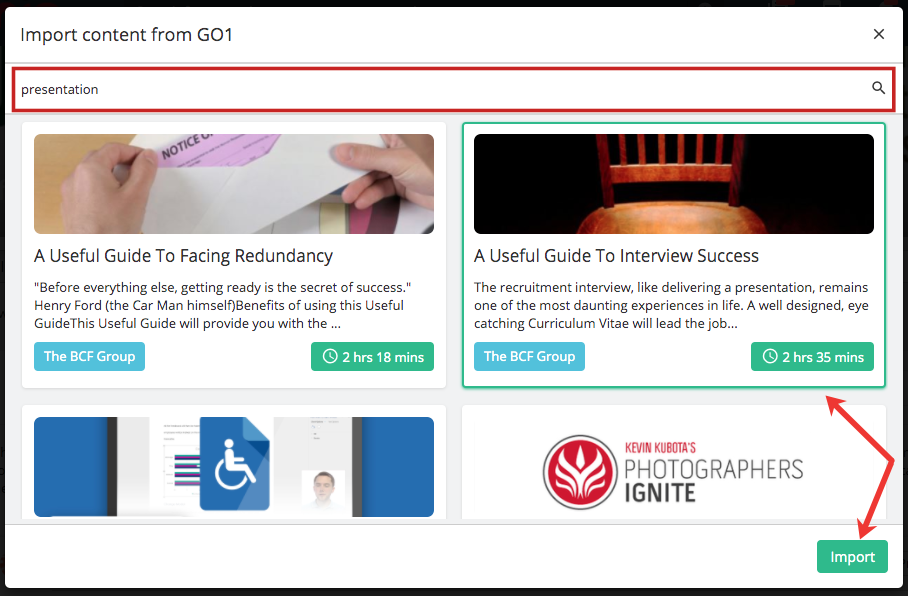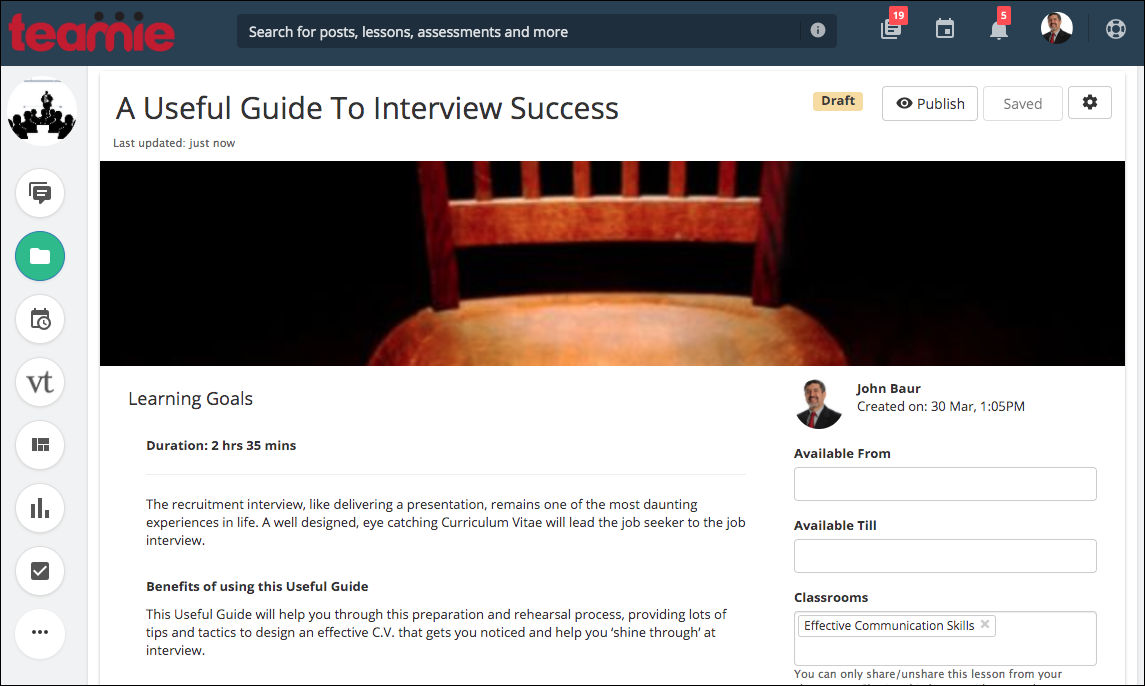 In case you have any feedback on any of the aforementioned integrations or want to appreciate our team's effort to build them on such a short notice, kindly write to us or give us a shout-out.
Minor Enhancements
Now, let's have a look at some minor enhancements that have been rolled out since the last major update.
SCORM Lesson Creation in Dash
In addition to the aforementioned Teamie – GO1 integration, we have enhanced how instructors can create a SCORM lesson on Teamie. For this, we have migrated the SCORM lesson creation to Dash.
Similar to how you create other materials, you can now create a SCORM lesson inside a classroom using the user-friendly interface. All you need to do is add the lesson title and upload the SCORM package from your system.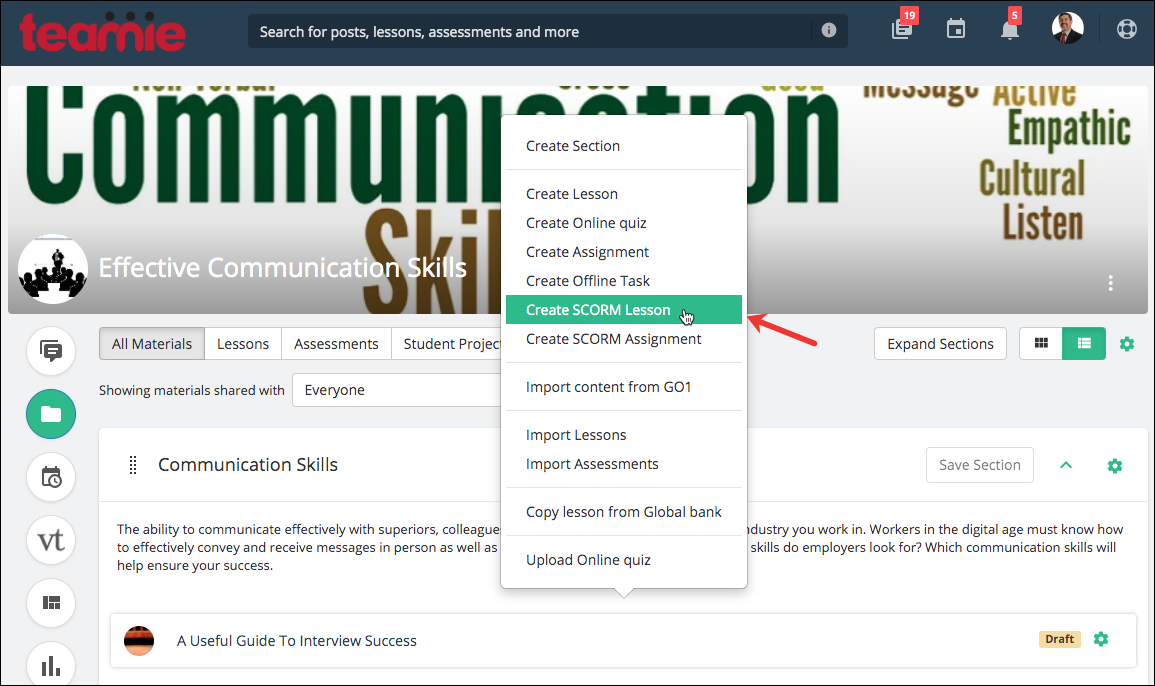 Once you have added the lesson title and uploaded the SCORM package, just click Create Lesson to add the SCORM lesson in the classroom.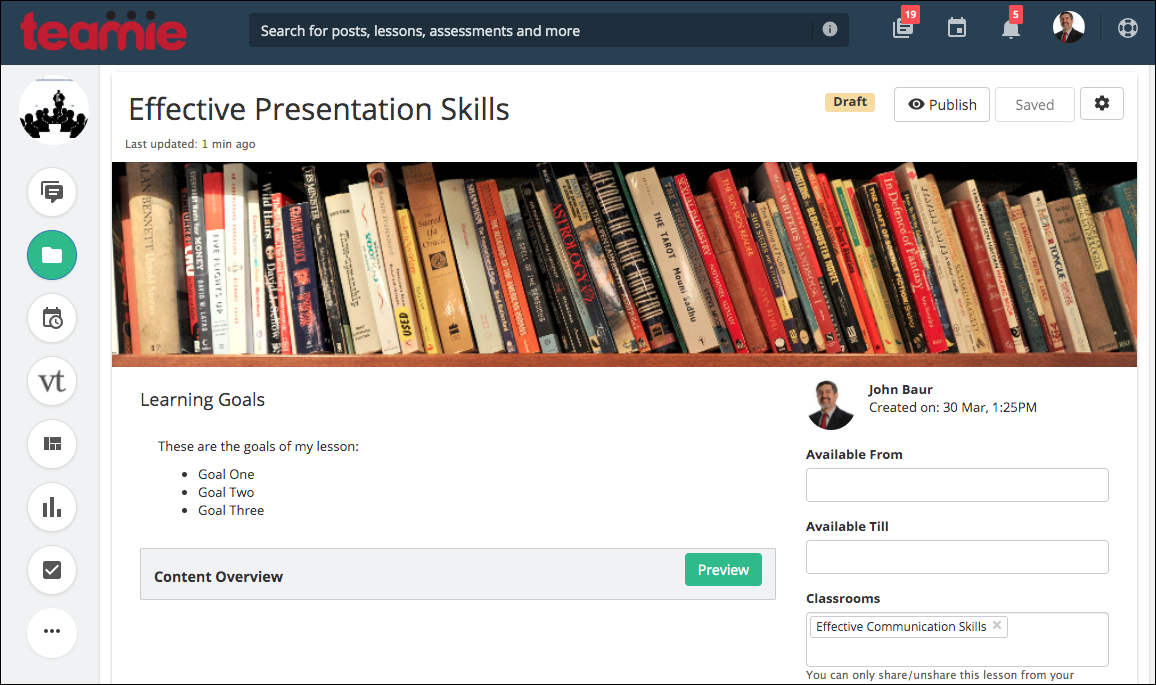 Kindly note that this change applies only to the SCORM lesson creation and not the SCORM assignment creation.
Configurable Meta Fields on the User Profile Page
We have added a site-level option to show predefined meta fields on users' profile pages. These meta fields can be configured from our end on request. If configured, users will be able to view these meta fields for other users whose profile pages they have access to.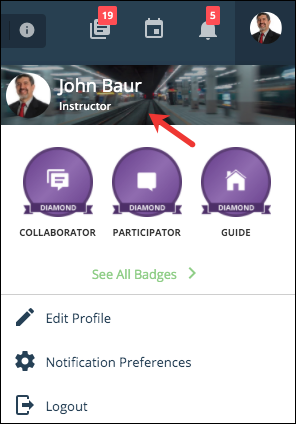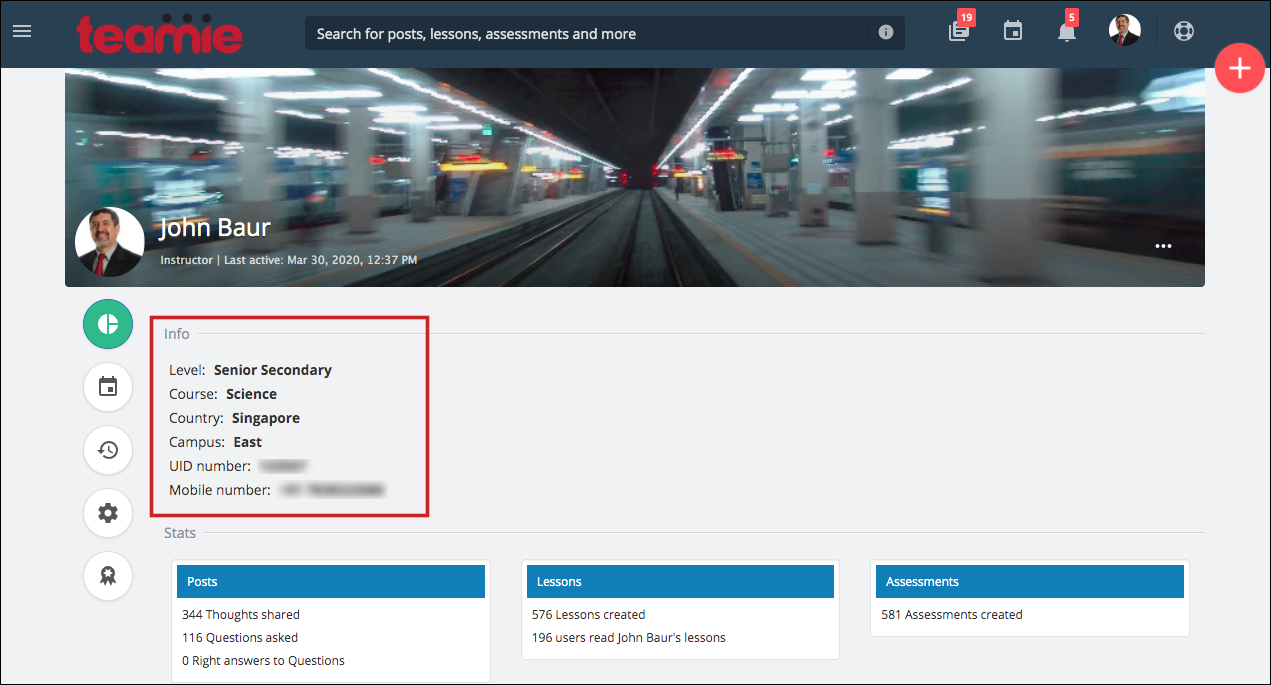 Enhanced Activity Tracking for User Account Changes
In an attempt to effectively track changes made to users' accounts, we have included the following changes (made by administrators) that can be tracked through the Recent Activities tab on a user's profile page:
Role change history

Username change history

First and Last name change history

Email change history

Change in any additional meta fields (if applicable for any Teamie site)
The Recent Activities tab will show the change log with the new and the old values, for adding and updating users, in a tabular format for quickly viewing the change.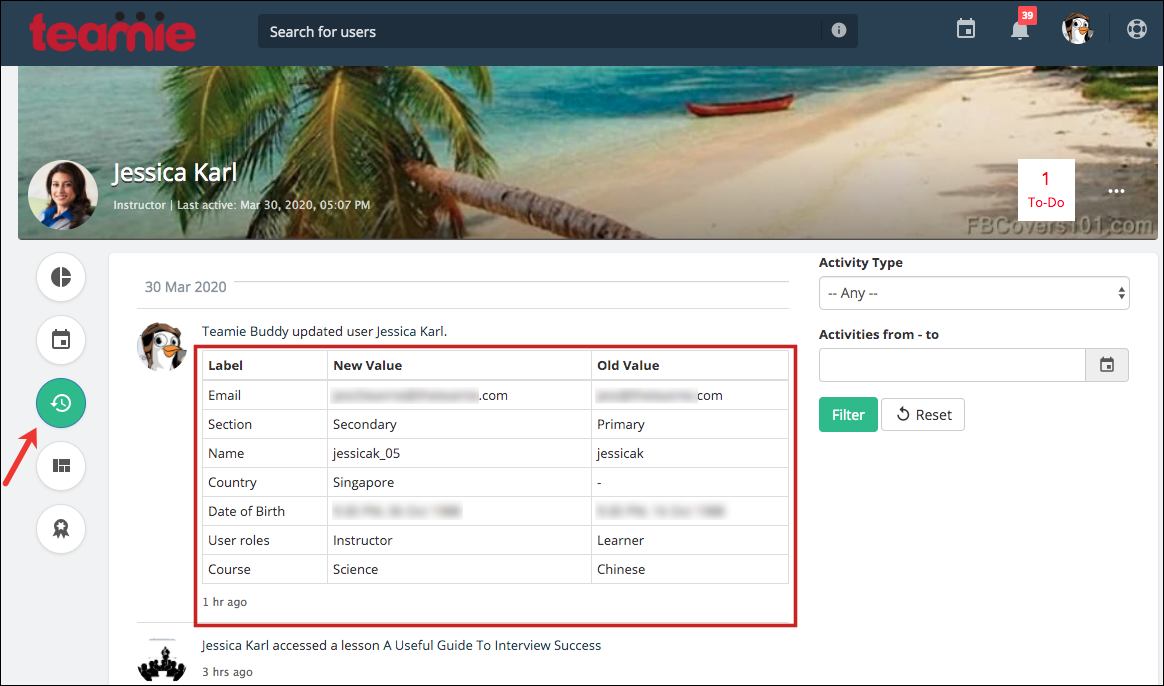 Earlier, such user related changes were shown only to the administrators who were making these changes. But, now these changes will also be shown to the user whose profile has been updated.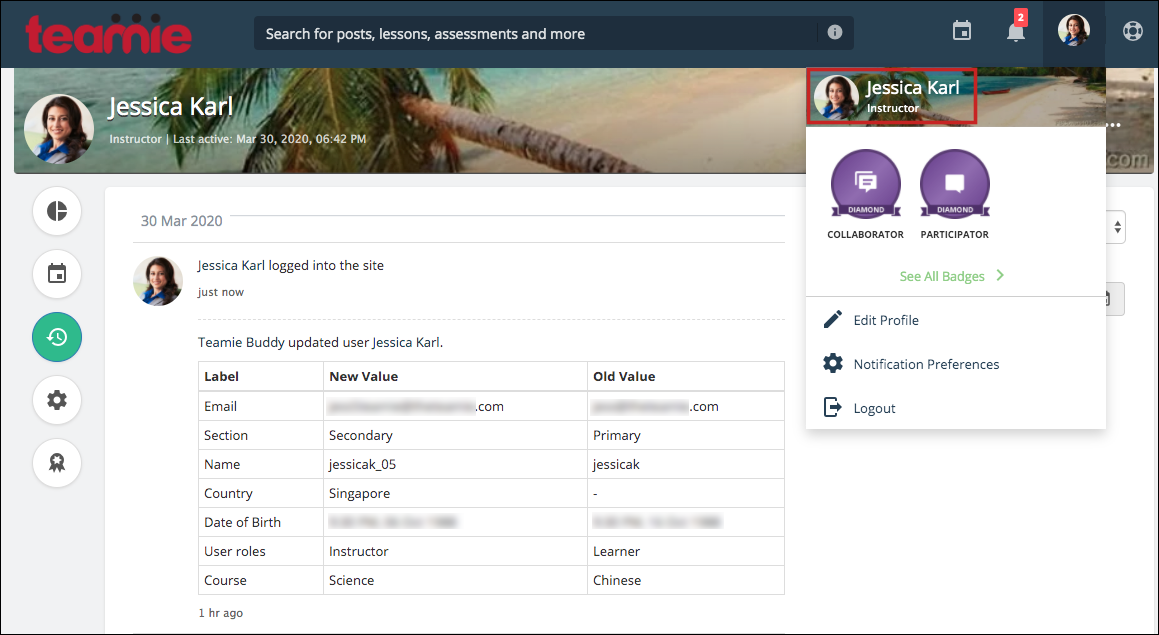 We believe this will help administrators, as well users, stay apprised of any relevant changes made to their profiles.
Lastly, as an online learning solution, we are trying to do our part to combat the COVID-19 pandemic. We encourage you to do what's best possible from your side to help fight this pandemic. In the meantime, stay vigilant and stay safe. See you with the next update!