Hello everyone! Hope your thumbs are well rested because we are here with the latest Teamie app update 3.2 🙂 Believe us, when we say, you wouldn't be able to get your thumbs off your mobile screens after this update. Why? Because we have added a sparkling new feature in our Teamie app arsenal! Teamie Search!!!
Now you will be able to search a variety of Teamie components using the cool new search function. Search will be available at all the relevant screens on the Teamie app. The Teamie components that you will be able to search through are:
Posts

Comments & Replies

Lessons
That's not it Teamie app buddies (that's what we like to call our Teamie app users :)), you would also be able to search & navigate to any classroom / social group that you are part of, and any user that is in your connection 🙂 Now, let us walk you through the search features quickly.
You can perform search by tapping the search icon on the top-right corner and then typing your search term.
Once you tap the search icon, you will be shown your recent searches in case you wish to repeat them. An added feature as compared to its web counterpart is that you can quickly search using the most frequently used hashtags in the classrooms that you are a part of. You can also clear your search history any time you want, in case you are wondering 😉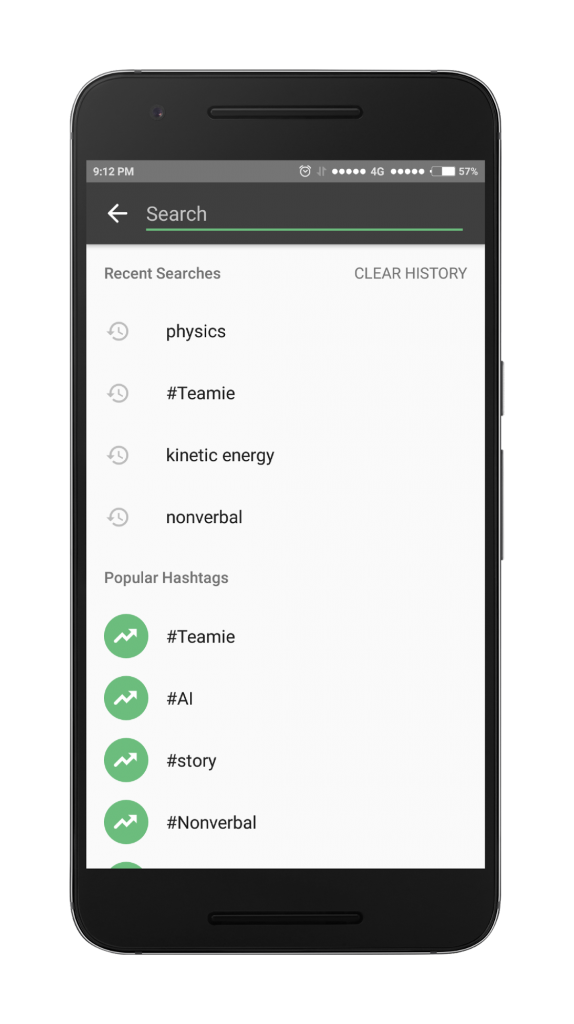 One more helpful feature is the ability to search your connections quickly. This way you can navigate to their profile in a jiffy!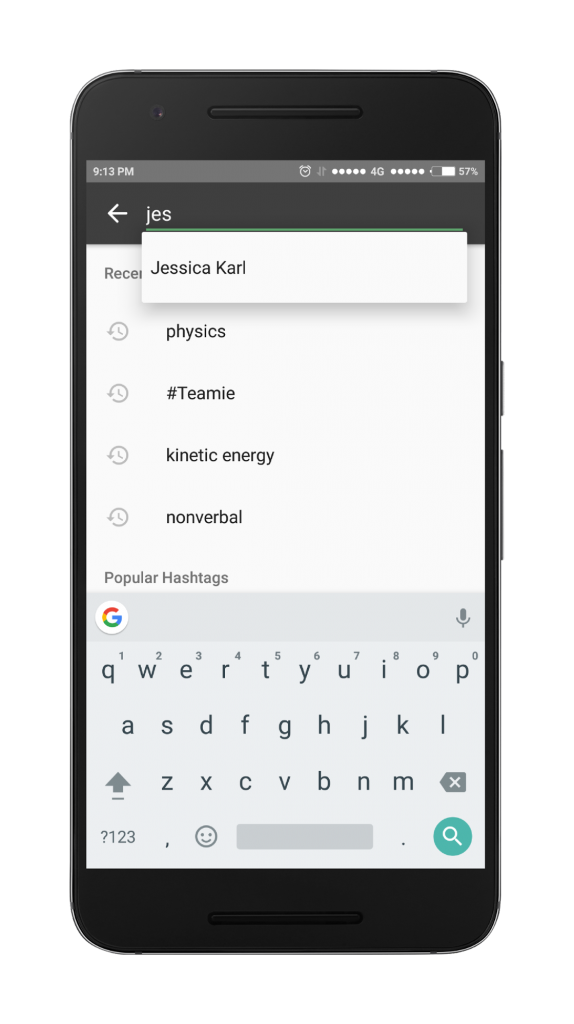 The search results will be categorized in four tabs: Posts, Lessons, Comment & Replies, and Modules & Social Groups. Let's elaborate on this with the help of an example.
Following scenario shows what happen when you perform a search for the term 'Physics' in the Teamie app.
All the posts with matching post results are populated under the POSTS tab.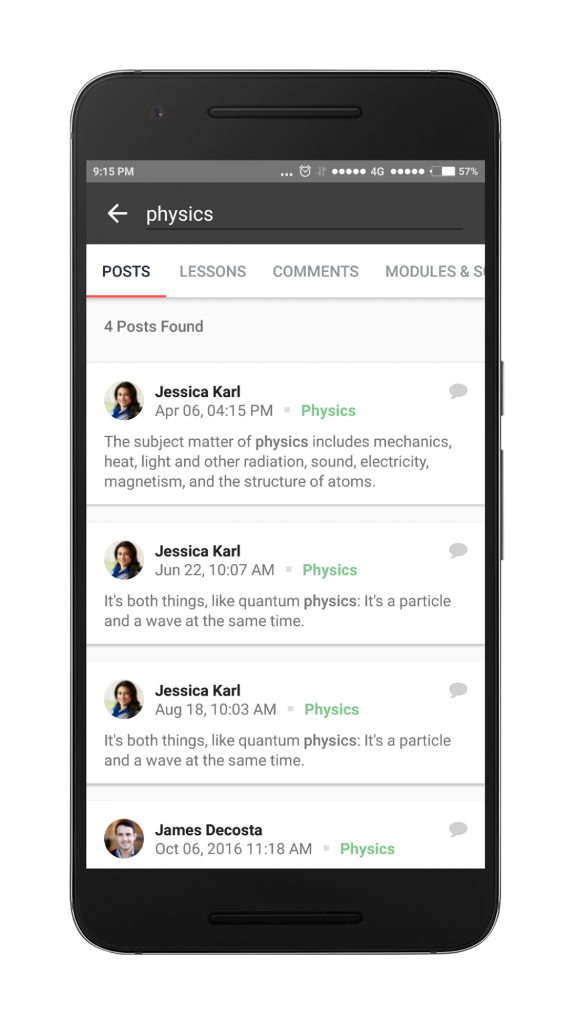 Similarly, all the results from the lesson and lesson pages are populated under the Lessons tab. All you need is a tap on the LESSONS tab or a simple swipe right (android only).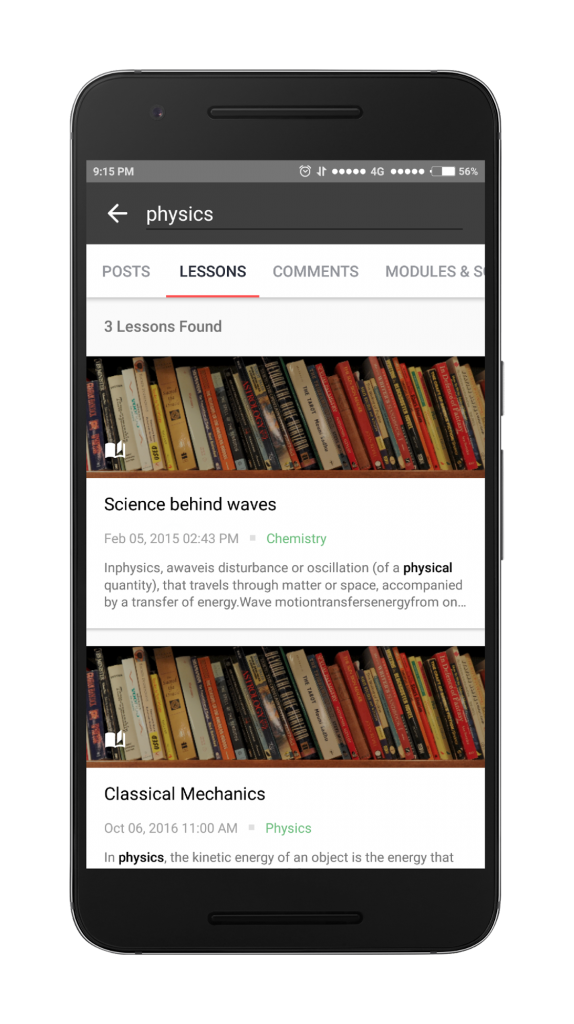 Swiping right again or tapping on the COMMENTS tab will show any matching results from the comments or comment replies made on any posts and comments respectively.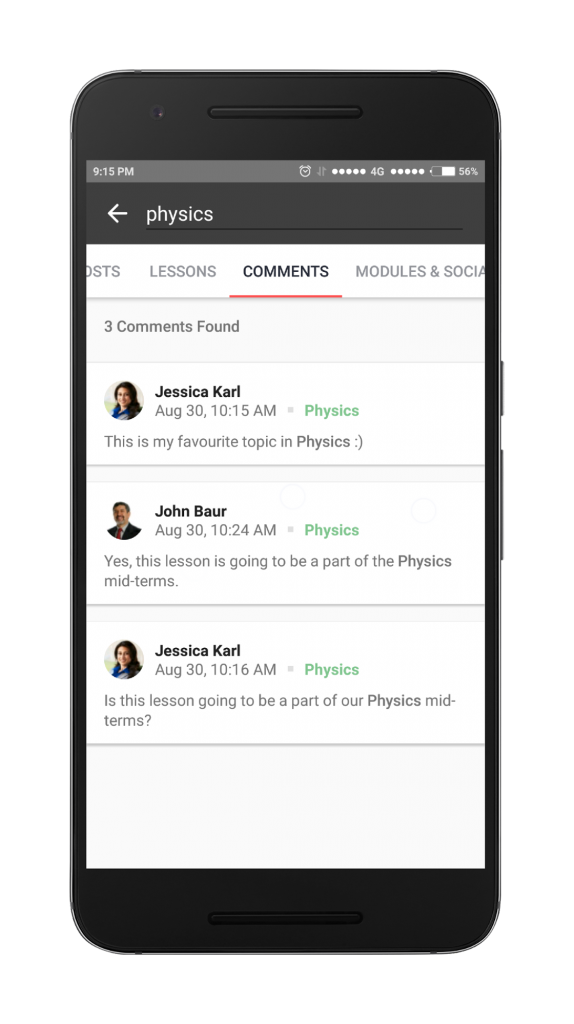 Also, if your search matches any of the classrooms that you are associated with, then you will be able to see them under the MODULES & SOCIAL GROUPS tab.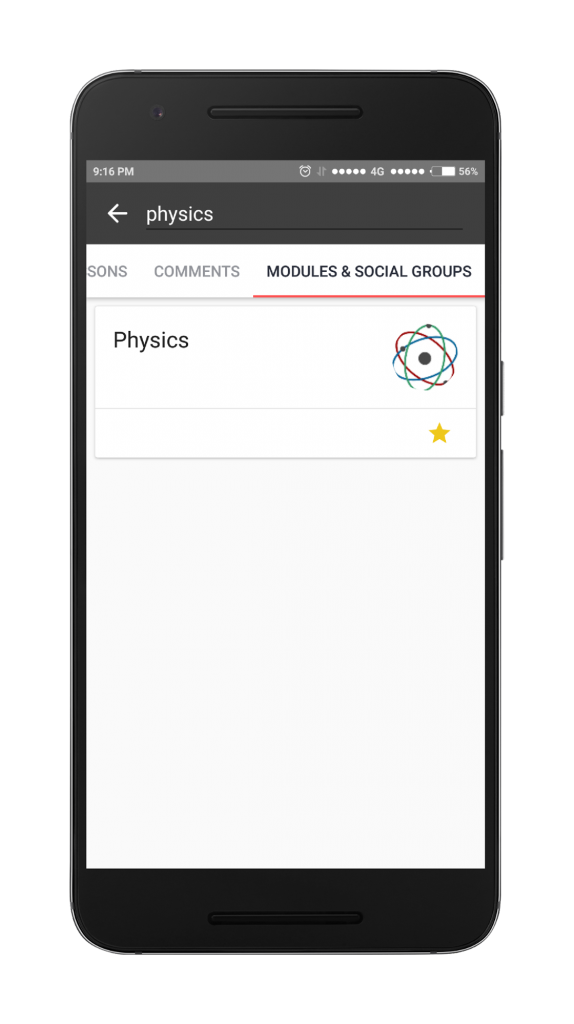 As we mentioned earlier, you can perform a search from basically all the relevant screens on the app, such as, the main newsfeed, the classroom's newsfeed, the menu option screens at the bottom navigation bar and more (you can find the rest yourself while checking out the app :)).
So, that basically sums up the new search feature in the Teamie app. We will leave you guys with a quick video of the feature (especially for the lazy heads who are not big on reading stuff). You can thank us later 😉
Do share your valuable feedback at support@theteamie.com. We value your feedback and it helps us in our endeavours of making learning fun and collaborative 🙂 And one more thing before we leave, this update is live for the Teamie android app and will also be available for the Teamie iOS app by this week itself. Adios!