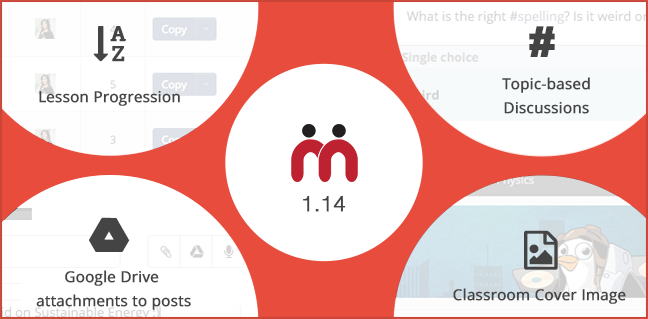 We are excited to present the new set of enhancements to the Teamie platform. In this release, we are introducing a couple of new features that will enable more structured learning and better tracking of learner engagement and content consumption. Dash, Teamie's new user interface, has levelled up as well and now supports Google Drive integration, Classroom Cover Images and Hashtags. Read further to learn how this update enhances Teamie!
New Features
Lesson Progression
What if you wanted to mandate that learners read lessons in a particular order? Maybe you don't want them to read Second Law of Thermodynamics without completing the First Law of Thermodynamics. How can you enforce this on Teamie?
Simple. You can enable "Lesson Progression" for your classroom. And that will take care of the rest.

This is a checkbox that will appear for every classroom. Once you tick it, a learner will have to complete reading a lesson, before proceeding to the next. If he/she tries to access a later lesson without completing the earlier ones, he/she will not be able to view the lesson's content. And this change will apply only to your classroom. Do note that the learners will still be able to view the list of all lessons, so that they get the overall picture of the classroom content.
Of course, you can control the order of the lessons from the lessons listing page of your classroom, by clicking and dragging each lesson.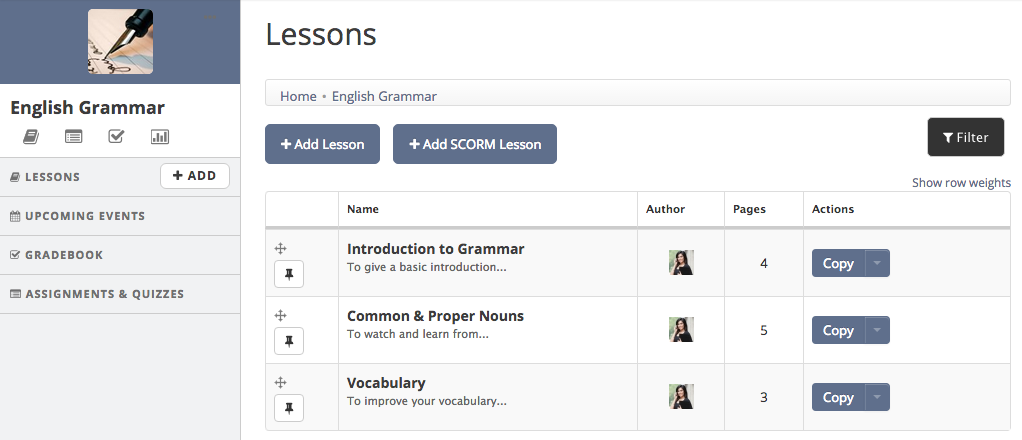 And you can disable lesson progression for your classroom anytime you want. Since this is a classroom-level setting, it will not affect lessons in other classrooms.
Note: For you to see the "Enable Lesson Progression" checkbox, your site administrator will have to enable lesson progression for your site. Unless that is done, you will not have access to this feature. So if you're interested in this feature as a site administrator, you can head down to the "Manage Optional Features" page and enable this for your site. And if you're an instructor wanting to try out this feature, you can request your site administrator to enable this for your site. Thereafter, you can enable lesson progression for your classroom.
Classroom & Lesson Access Report
A common question we are asked by customers is, "Can I know how much time my people are spending on Teamie?" We can understand the motivation behind this question. For top-level management, it helps to have a quantitative measure of how much the platform is being used. Also, at a classroom-level, it helps to know who is more active on the platform. It was a simple question that led to a technically complex problem.
Good news is we have solved it. In your Classroom Dashboard, when you click "Export All Data", you will now get two additional sheets in the downloaded excel file. One of these sheets contains Time Spent information, as shown below.
This time spent stat is split over three categories: Lessons, Assessments & Newsfeed. Time spent on lessons includes time spent viewing any lesson belonging to that classroom. Time spent on Assessments includes time spent viewing and submitting assessments. Time Spent on Newsfeed includes time spent on that classroom newsfeed.
The other sheet gives you data on how actively learners access lessons in your classroom. Stats like number of times accessed and last accessed should give you a good measure of the active learners in your classroom.

Once you have exported this data for a classroom, you can play around with it in whatever way you want, using free visualization tools like RAW or the recent Google Sheets Explore feature.
In upcoming updates, we will let you view this information on the Classroom Dashboard, without having to download the data. Stay tuned for that.
Note: The Time Spent info does not include time spent through mobile apps. We are still working on solving that part of the problem 🙂
---
Dash Updates
(If you're wondering what is Dash, read this.)
We hope you liked what you saw in the first version of Dash. We plan to incrementally add stuff to Dash with every release. And here's what we're adding in this release.
Topic-based Discussions
Teamie has always had hashtags. And we've also had a block called "Popular Tags" appearing on the classroom landing page. However, we realized hashtags are not being used to their full potential.
Hashtags are a good way to streamline discussions within a classroom. Hashtags are a good way to represent different topics being discussed in the classroom. And so we thought, what if you can see the most discussed topics in a classroom, as soon as you access that classroom. That way you can focus your attention on the topics that are most discussed (or if you're the square-peg-in-the-round-hole type, then you could focus your attention on the least discussed topics). But, for that you'd need to know what topics are being discussed. And that's exactly what we've done.
Right below the "Posts" tab, you will now see a list of popular tags in your classroom. Greater the number of posts with a hashtag, greater its popularity. Clicking on the hashtag filters the posts to only show the ones with that hashtag.

And what's more, when you're creating a new post in Dash, once you select a classroom, Teamie will auto-suggest tags for you to use, depending on what's popular in that classroom.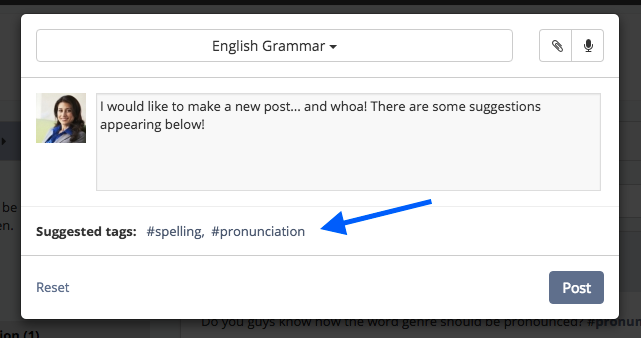 With these two changes, we believe you can have more detailed topic-based discussions and easily view conversations that interest you.
Google Drive attachments to posts
Yup, the title makes it obvious. You can now attach files from Google Drive in Dash.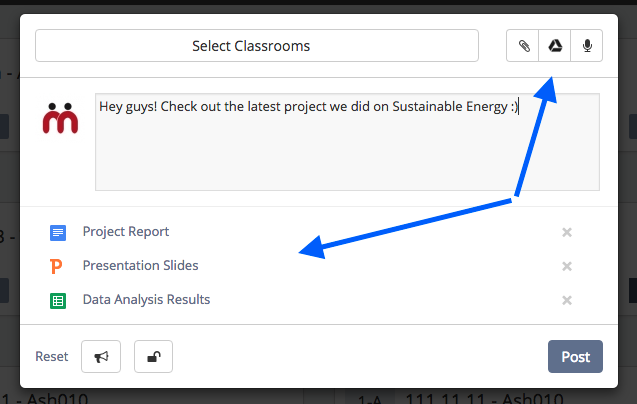 And what's more, you can pick multiple documents from Google Drive in one go. This was something many users had requested us and we've done it!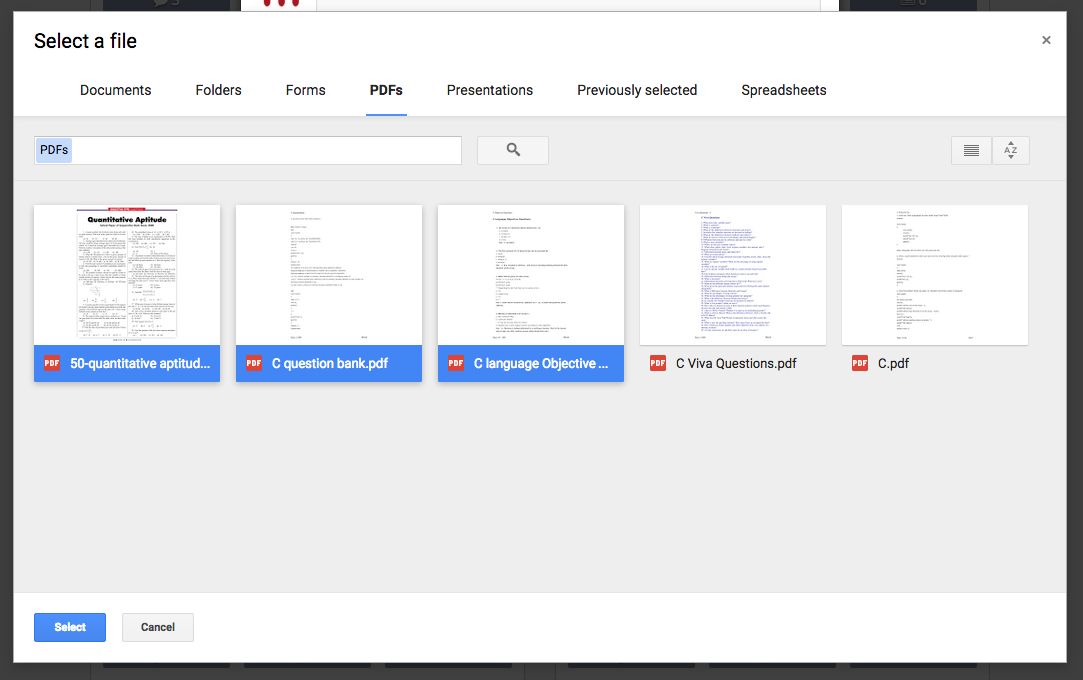 NOTE: This feature is available only for Teamie customers using Google Apps.
Classroom Cover Image
Teamie lets you add cover images for lessons. What if you could do the same for your classroom? We have had the "Subject Banner" for a while now, using which you can put in rich text or images or anything of your choice to stay on top of your classroom page. We noticed predominantly the banner is being used only to display an image that represents the nature of the classroom.
Hence, we thought why not get rid of the banner and let users upload a cover image for a classroom. Of course, we are not killing the Subject Banner feature in this release. You can still use Subject Banners in the old UI. Just that you will not see your subject banner in Dash. You will only see the option to add a Cover Image for your classroom.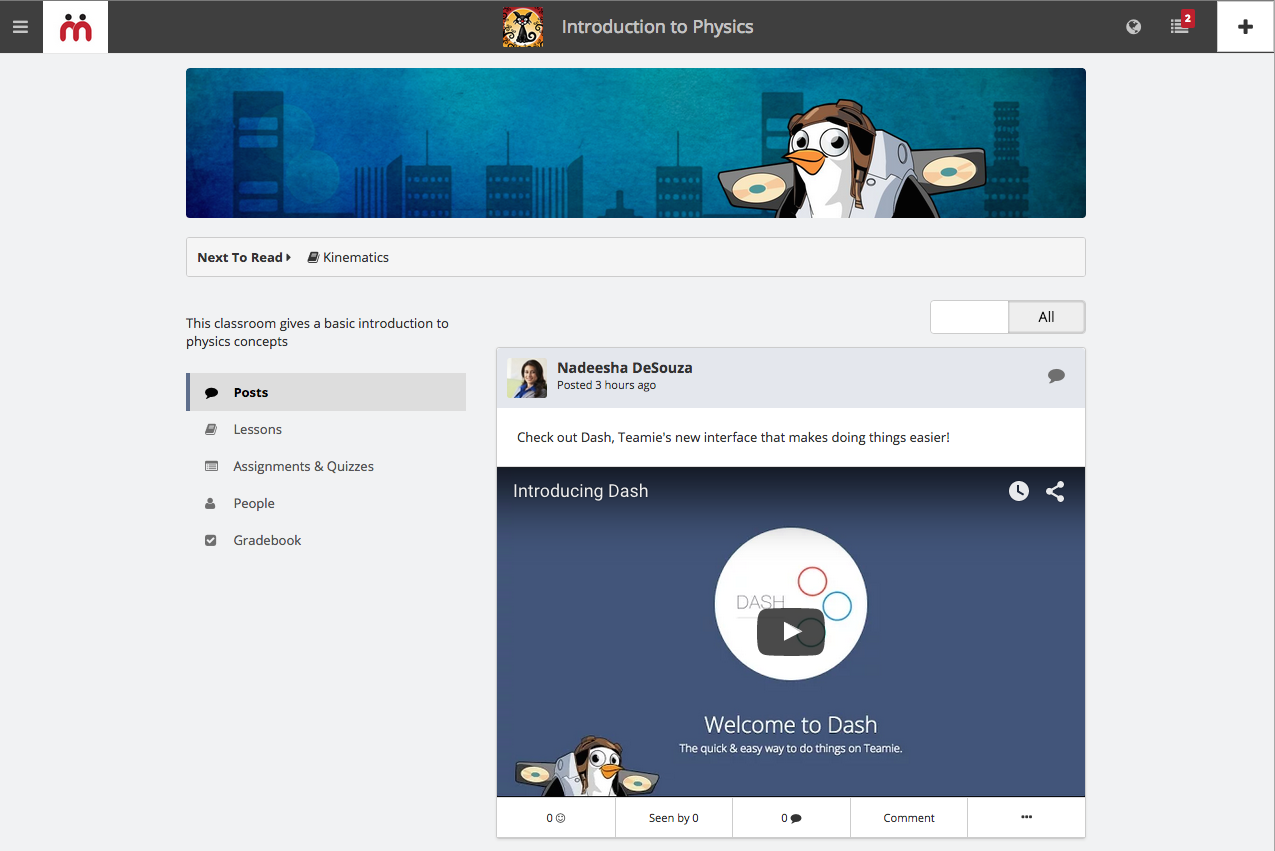 And if you already had an image in the subject banner of your classroom, then worry not. Teamie will automatically set that image as the Cover Image for your classroom.
We also let you easily change the classroom thumbnail image. Simply hover over the thumbnail, click the "Change" link and upload a new classroom thumbnail.
Minor Newsfeed Enhancements
There's a bunch of minor enhancements we've done to Dash that may not be immediately apparent. For posts containing Youtube links, the videos will play inline when you click them. This is done to ensure a seamless experience, so you can continue scrolling through the newsfeed, after watching the video.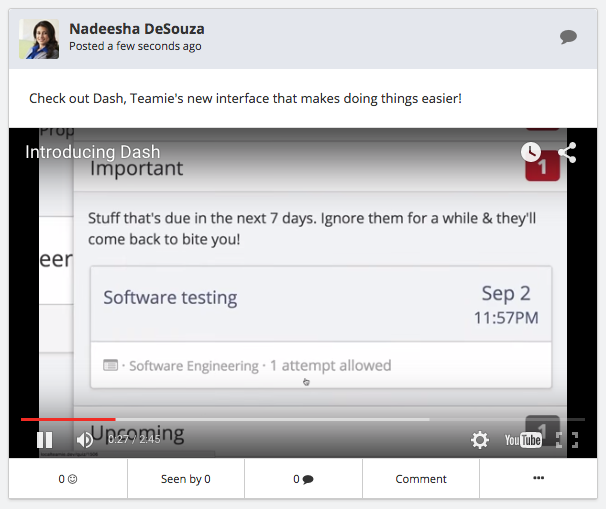 For a learner, the next lesson to read or the current lesson that he/she is reading, will appear right on top of the classroom page. This allows the learner to click through to continue reading that lesson easily.

Other Enhancements
Release Version on Web
The Teamie Release Version now begins to appear on your site in the footer. This number will tell you the version of Teamie that your site is currently running on. Clicking on the version, will link you to release articles on our blog.
As always, if there is something that you'd love to see on the Teamie platform, please write to us at contactus@theteamie.com. We are preparing for some really exciting updates towards the end of the year. Stay Tuned!